Progressive Corporation: Up 22% in Five Months…With More Upside to Come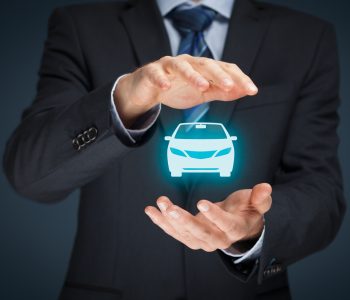 iStock.com/Jirsak
Progressive Delivers Big Gains
Today's chart highlights the benefits of owning what I like to call "the world's best investment."
Regular readers know we love the insurance business. These companies profit from a rock-solid business model, collecting premiums upfront and investing the cash. This essentially represents a huge pool of cheap capital—which Warren Buffett calls free money.
Take recent Passive Monthly Income newsletter recommendation Progressive Corporation (NYSE:PGR), for example. The $35.0-billion industry titan has delivered double-digit compounded returns to shareholders for decades, in addition to lucrative, growing dividends.
Since we pitched shares to subscribers last November, readers have already earned a 20% return on their investment. And based on the company's recent financial results, those gains will likely continue.
The reason for Progressive's success is simple, but a little counterintuitive: most insurance companies don't actually make money by writing insurance. Instead, they earn their profits by investing the float—the pool of cash that insurance companies get to keep between the time customers pay premiums and the time companies pay out claims on their policies.
Progressive, in contrast, consistently makes money from its automotive underwriting operations. It serves as a second profit center for the company. This serves as one of the main reasons why we love this company so much.
For proof, just take a quick glance at the company's financial results.
Last quarter, Progressive paid out just $0.88 in claims on every dollar collected in premiums. Analysts credit this performance to management's outstanding ability to segment customers by their individual risk profiles. This allows the company to allocate higher prices to the worst drivers and retain its safest customers. (Source: "Progressive Reports March 2018 Results," Progressive Corporation, April 17, 2018.)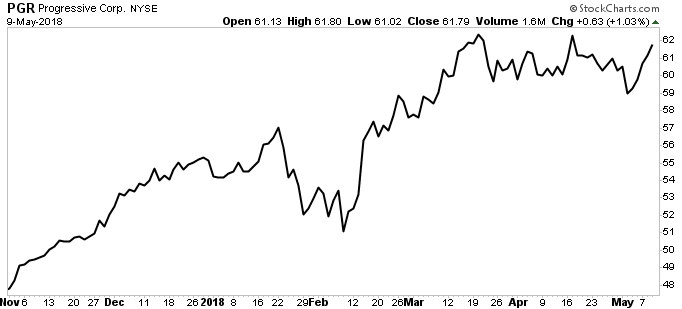 Chart courtesy of StockCharts.com
Additionally, investors should like the company's recent move into home insurance. Last quarter, we saw homeowners' insurance policies grow 30% year-over-year. More importantly, the ability to bundle and move upmarket has boosted auto insurance policies, too. Combined with recent price increases on customers, all of this adds up to strong returns for shareholders.
For these reasons, we see a lot more upside ahead for Progressive Corporation.