Progressive Corp Announces Massive Dividend Hike for Shareholders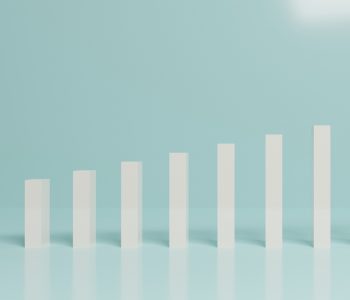 Progressive Corp Delivers a Big Pay Raise for Shareholders
Another year has come and gone. And it's another year of record dividends from Progressive Corp (NYSE:PGR).
Longtime readers know that inclusion in my "Insurance Return Checks" category is reserved for industry members that pay safe, growing distributions to their shareholders. And you can't find many better examples than Progressive Corp.
Most people probably know the company best for its goofy auto insurance TV commercials, which often feature the always-spunky company spokeswoman "Flo." But in recent years, management has expanded Progressive's insurance empire. First, this involved a major expansion into homeowners insurance. And some analysts have speculated that the company's executives are looking to enter the lucrative business of life and casualty insurance.
Famed investors like Warren Buffett, Prem Watsa, and William Robert Berkley built fortunes in the insurance business. And they all willingly share the secret behind the industry's outstanding profitability: it all comes down to a little-known piece of business lingo called the "float."
Customers pay their premiums up front. But insurance companies don't have to start paying out claims for months or years. So in the meantime, insurers have the freedom to invest the premiums as they see fit—earning a steady stream of passive dividend and interest income.
No other business in the world enjoys this type of competitive advantage. Banks pay interest to depositors. Companies pay dividends to shareholders. Landlords pay interest to lenders. But insurance companies, courtesy of their customers, can effectively fund their businesses at zero cost in what amounts to interest-free loans.
Here's what sets Progressive Corp apart: the company has always ranked as one of the most innovative at separating safe drivers from their risky counterparts. Most recently, Progressive became a pioneer at exploiting telematics technology to track customer driving behavior. This has allowed the insurer to lock in safe drivers through discounts, exclude risky motorists, and ultimately pay out less in claims. As a result, the company has consistently ranked as one of the most profitable auto insurers in the industry.
Progressive's expansion into homeowners insurance continues to pay off, too. In 2015, Progressive Corp bought ARX Holding Corp in an $875.0-million deal. By bundling homeowners and auto insurance together, the company could broaden its demographic reach. It also allowed management to better target affluent customers with more disposable income. (Source: "Progressive to Take Controlling Stake in ARX Holding for $875 Million," Reuters, December 16, 2014.)
This dual advantage has allowed Progressive to generate outsized returns for its shareholders. Since mid-2009, PGR stock has posted a total return, including dividends, of 821%. And over that period, the company has ranked as one of the best-performing names in the S&P 500 index.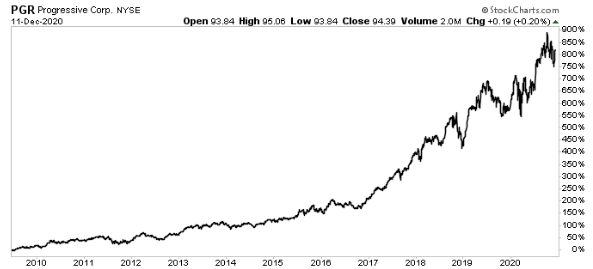 Chart courtesy of StockCharts.com
This has also created a lucrative stream of dividend income for shareholders. In early December, Progressive Corp announced that it would set its annual dividend at $4.60 per share, which is more than double what the company paid out in 2019. The aggressive increase represents a remarkable accomplishment, given the state of the broader economy. It also represents an enormous vote of confidence in the business, on the part of management. (Source: "Progressive Announces Dividend Information and 2021 Annual Meeting Record Date," GlobeNewswire, December 4, 2020.)
That's the benefit of investing in Insurance Return Checks.