Procter & Gamble Co Declares Cash Payment to Shareholders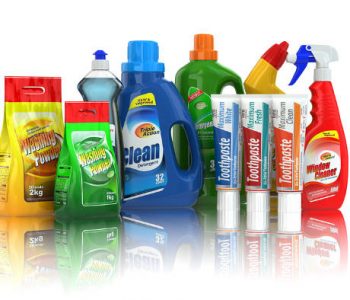 istockphoto
P&G Declares Quarterly Dividend
Today's chart shows "selling the basics" still works at Procter & Gamble Co (NYSE:PG).
Regular readers know we love "boring" businesses, like soda, soap, and beer. These firms don't get a lot of airtime on T.V., but demand for their products stays constant. And you don't have to worry about a new gadget laving these companies in the dust.
P&G represents the perfect example of this idea. I'd bet you have "Tide," "Crest," "Febreze," or another one of the company's product in your house somewhere. With dozens of top consumer brands, the company generates over $65.0 billion in sales each year. You can see the strength of this business in P&G's dividend history.
Also Read:
PG Stock: Why Income Investors Should Own Procter & Gamble Co
In a press release Tuesday, the company declared a quarterly dividend of $0.69 per share. P&G's ex-dividend date will be scheduled for January 19, with shareholders receiving their payment on February 15. (Source: "P&G Declares Quarterly Dividend," Digital Journal, January 9, 2018.)
Longtime shareholders aren't surprised. Since its incorporation in 1890, P&G has paid a dividend to investors every year. Moreover, management has boosted those payments for 61 consecutive years.
And as you can see in the chart below, those small dividend hikes really add up over time. Since 1993, P&G stock has delivered a total return of 1,110%, including dividends. And despite just a blah economy, shares have neared new all-time highs.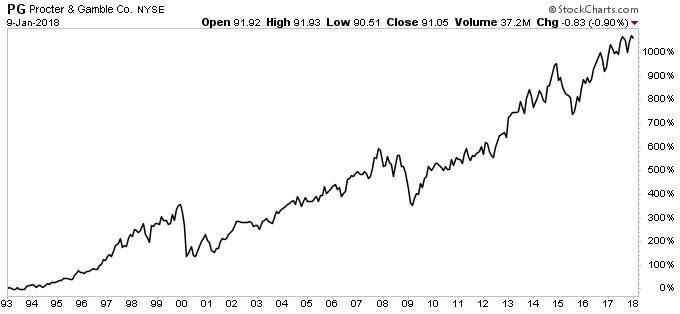 Source: StockCharts.com
As we say over and over again, selling the basics works.