PPL Corp: Rock-Solid Utility Set to Grow Its 6.3% Dividend Yield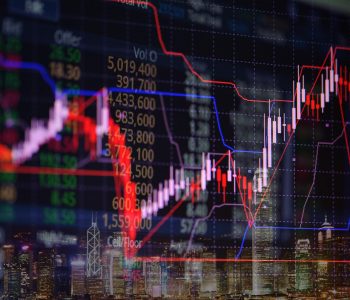 iStock.com/pookpiik
Overlooked Utility Stock Offers a Big Payout
In today's market, the biggest challenge for conservative income investors is finding high-yield stocks with safe payouts. If you go with the most established blue-chip companies, chances are that the yield won't be enough to meet your income requirements.
As a matter of fact, the average S&P 500 company pays just 1.8% at the moment. In other words, if you invest $100,000 in an S&P 500 portfolio, you would be collecting just $1,800 in dividends a year.
And that, my dear reader, is why I want to talk to you about PPL Corp (NYSE:PPL) stock.
Unless you are a direct customer of PPL Corp, this is probably the first time you've heard its name. Indeed, as a utility company, PPL Corp's "boring" business never really makes headlines in the financial media.
What makes the company stand out is its ability to return cash to investors. Right now, PPL Corp has a quarterly dividend rate of $0.41 per share, which comes out to an annual yield of 6.3%. Therefore, investors purchasing PPL stock today would be locking in a yield that is more than three times the S&P 500 index's average.
The payout has been growing, too. PPL Corp has raised its annual dividend 16 times in the past 17 years. (Source: "PPL Corporation Common Stock Cash Dividend," PPL Corp, last accessed June 12, 2018.)
And if you look a bit further back, you'd see that the company has been paying uninterrupted quarterly dividends for 289 quarters.
PPL Stock Pays Increasing Dividends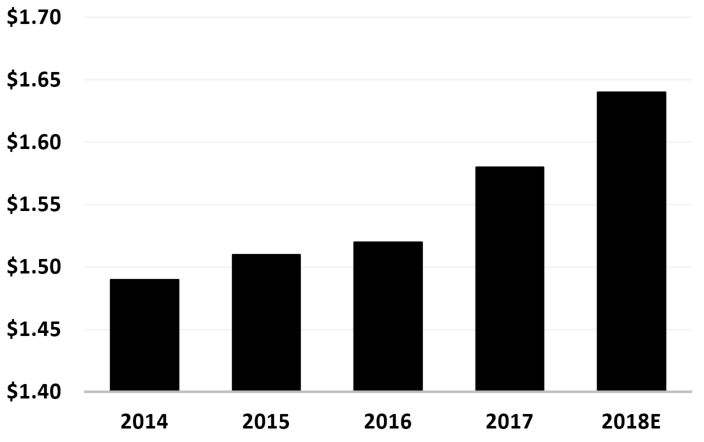 (Source: Ibid.)
But to be honest, the company's excellent dividend history shouldn't really come as a surprise.
PPL Corp is a pure-play regulated utility. The company has around eight gigawatts of regulated electric generating capacity and it serves more than 10 million customers in Pennsylvania, Kentucky, Virginia, and Tennessee—as well as the U.K. On top of that, PPL also has a natural gas delivery business in Kentucky.
Running a utility company is not really an exciting business, but it can be extremely durable. Other than weather conditions, there are very few things that can lead to big changes in people's demand for electricity and natural gas.
Even when the economy enters a downturn, people still need to heat their homes and turn the lights on at night. Consumers will probably postpone their plans of buying new cars in a recession, but utility bills will likely be the last ones they skip.
PPL Corp Delivers Growing Financials
Due to the nature of their business, utility companies are usually known for their stability, rather than growth. But at PPL Corp, profits have been rising.
In the first quarter of 2018, PPL Corp earned a net income of $452.0 million, or $0.65 per share. The per-share figure represented a 10% increase from the $0.59 earned a year ago. (Source: "PPL Corporation Reports First-Quarter Earnings," PPL Corp, May 3, 2018.)
Considering that the company declared total dividends of $0.41 per share for the quarter, it had a payout ratio of 63%, leaving a wide margin of safety.
Top-line growth was equally impressive. For the quarter, PPL Corp generated operating revenues of $2.1 billion, up nine percent from the first quarter of 2017.
The company's booming business could continue into the future. During its latest investor presentation, management said that they expect the utility's base rate to increase at a compound annual growth rate (CAGR) of six to seven percent through 2020. Moreover, the company's earnings per share are projected to grow at a CAGR of five to six percent during this period. (Source: "PPL Investor Meetings June 12-13, 2018," PPL Corp, last accessed June 12, 2018.)
At the end of the day, keep in mind that PPL Corp is a company that's willing to return cash to investors in the form of dividends. So, if the company can deliver on its target growth rate in earnings per share, management will likely have some good news for dividend investors down the road.