Portuguese Bonds Jump on Fears of a Ratings Downgrade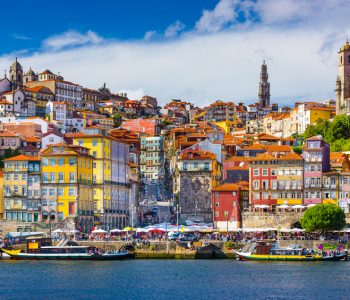 Porto, Portugal old town skyline from across the Douro River.
Will Portugal Earn the ECB's Trust?
Portugal's credit rating came under fire this week as the country struggled to keep its Better Business Bureau (BBB) rating. Holding its creditworthiness above water is a necessary condition for the country to continue selling bonds to the European Central Bank (ECB).
The furor was kicked off by a Reuters interview with Fergus McCormick, the head of sovereign credit rating agency DBRS. In it, he said Portugal's economic growth had been disappointing. "Friday's Q2 GDP release (which showed growth at just 0.2%) raised our concerns about growth prospects, which appear to be slowing into the third quarter," McCormick explained. "Therefore, the outlook remains stable, but pressures appear to be mounting from these various fronts." (Source: "Portuguese bonds under pressure after rating agency's warning," The Financial Times, August 17, 2016.)
McCormick's words unnerved plenty of bond traders, particularly because his agency is the only one empowered to validate Portugal's creditworthiness. Although no one expects DBRS to downgrade Portugal this quarter, the agency has been extremely vocal, raising concerns about Portugal's persistently weak economy and its fragile banking sector. Most importantly, it has warned that newly imposed austerity could further cripple the country's growth outlook.
Unsurprisingly, these concerns injected a certain amount of panic in the market, driving yields on 10-year government bonds as high as 2.97%.
The surge reflected an increase of 11 basis points, a sharp reversal from the month-long decline of Portuguese bond yields. Interest rates have been trending down across Europe's periphery since rates went negative in Germany and Switzerland.
Even so, Portugal's borrowing costs remain acres below the 15% high they reached during the sovereign debt crisis of 2012. The ECB has since coped with a Greek debt default, Britain's exit from the European Union, and innumerable crises of confidence.
At present, Portuguese banks borrow money from the ECB while using government bonds as collateral. However, if these government bonds are stripped of their investment-grade status, the ECB will no longer accept them as surety.
Considering that Portuguese banks currently owe €24.8 billion (US$28.1 billion) to the ECB, a downgrade could seriously impact their ability to raise money. Portugal will have to find some way of stimulating growth in order to convince DBRS it deserve the BBB rating.