Analyst: Philip Morris International Inc. May Raise Dividend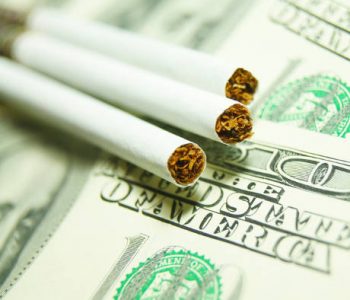 PM Stock: 5% Dividend Increase Possible
Philip Morris International Inc. (NYSE:PM) stock may get a major boost from a possible five percent dividend increase as soon as this week, according to a Wells Fargo & Co. analyst forecast.
In a research note to clients, analyst Bonnie Herzog said the investors in PM stock are likely to get this good news when the Philip Morris board meets on Wednesday to decide on the dividend increase.
If approved, this move will increase the quarterly dividend payment on PM stock to $1.07 a share, offering investors a very attractive dividend yield of 4.4%, the analyst said. (Source: "Philip Morris: 'Dividend Increase Imminent,'" Barron's, September 12, 2016.)
Philip Morris is a global cigarette and tobacco company, with products sold in over 200 countries, capturing about 16% of the global cigarette market outside the United States. Marlboro is Philip Morris most recognized brand.
With a 93% payout ratio, Philip Morris' stock payout will rise above its historical average of 70% and its historical target payout ratio of 65%, Herzog said.
"We believe an acceleration in dividend growth is manageable given PM's strong free cash flow profile and strengthening EPS growth especially as foreign exchange headwinds continue to ease," he added. "We expect the stock to react favorably to the dividend announcement and to outperform both the market and the sector over the next 12 months." (Source: Ibid.)
PM stock surged three percent in New York today, trading at $100.49. adding to its 27% gains in the past one year.
Analyst Sees Philip Morris Stock Price at $116
In July, while announcing the second-quarter earnings, Philip Morris revised its yearly profit forecast up by 10% to 12% for 2016 when compared to the last year.
"We remain fully on track to deliver our full-year guidance, revised today for improving currency, which continues to represent a currency neutral adjusted diluted EPS growth rate," said André Calantzopoulos, chief executive officer of Philip Morris, said in a statement in July. "As previously communicated, we expect the growth to be skewed towards the second half of this year, and the fourth quarter in particular." (Source: "Philip Morris International Inc. (PMI) Reports 2016 Second-Quarter Results," Philip Morris International Inc., July 22, 2016.)
Philip Morris is Herzog's top long-term stock pick; she's predicting its price will increase to $114.00 to $116.00 per share.