Plains All American Pipeline Stock: Outlook for 7.5%-Yielder Bullish in 2023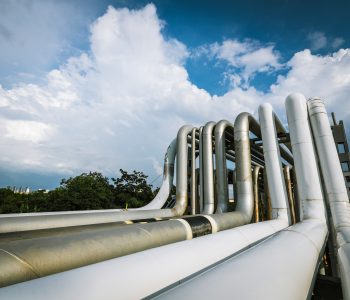 Why PAA Stock Could Keep Rewarding Investors
Energy stocks have been the biggest winners over the last two years, and they could outperform the broader market again in 2023. In 2022, the energy component of the S&P 500 rallied by a whopping 50%. The next-best component in the S&P 500, utilities, went up by less than one percent last year. Meanwhile, the S&P 500 is in a bear market, having gone down by about 20% in 2022.
In response to investor fears of an upcoming recession (which could put pressure on oil and natural gas demand and, therefore, prices), energy firms have been hiking their dividends. Many energy stocks still have paltry dividend yields, though.
At Income Investors, we're always on the lookout for high-yield dividend stocks that are outpacing the broader market in terms of share price. Currently, one of the best energy stocks is Plains All American Pipeline, L.P. (NYSE:PAA). Investors who follow the herd often overlook companies like this, which history shows is a mistake.
Plains All American Pipeline is one of the largest independent midstream energy companies in North America. It's engaged in the gathering, terminaling, storage, and pipeline and truck transportation of crude oil and natural gas liquid (NGL) in the U.S. and Canada. (Source: "Investor Presentation: Fourth-Quarter 2022," Plains All American Pipeline, L.P., last accessed January 3, 2023.)
The company's crude oil segment accounts for roughly 80% of its revenue. The company's pipeline network runs through Colorado, Oklahoma, Texas, Mississippi, Louisiana, and Illinois, as well as Alberta, Canada.
Plains All American Pipeline, L.P.'s infrastructure includes:
About 18,000 miles of oil pipeline
More than 7.0 million barrels per day of crude pipeline tariff volume
More than 110.0 million barrels of oil storage capacity
Four crude oil marine facilities
About 200,000 barrels per day of NGL fractional/condensate processing capacity
About 30.0 million barrels of NGL storage capacity
3,900 NGL rail cars
Plains All American Pipeline, L.P. is always in the process of adding or streamlining its operations. In December 2022, the company announced—through its wholly owned subsidiary, Plains Midstream Canada—that it sold its non-operated/undivided ownership interest in the Keyera Fort Saskatchewan facility to Keyera Corp (TSE:KEY, OTCMKTS:KEYUF) for approximately $270.0 million. The transaction is expected to close in the first quarter of 2023. (Source: "Plains All American Announces Sale of Minority Ownership Interest in Keyera Fort Saskatchewan Joint Venture," Plains All American Pipeline, L.P., December 14, 2022.
Willie Chiang, Plains All American Pipeline's chairman and CEO, said, "The sale proceeds will be utilized to further lower our leverage, strengthen our financial positioning and potentially reinvest in capital-efficient expansions and improvements at the Plains Fort Saskatchewan facility." (Source: Ibid.)
Unlike many of its peers, Plains All American Pipeline, L.P. doesn't need to significantly raise its dividend to attract investors. Plains All American Pipeline stock already has a history of paying reliable, high-yield dividends.
That doesn't mean PAA stock's high-yield dividend doesn't fluctuate. The demand for oil evaporated during the 2008/2009 financial crisis and the recent COVID-19 pandemic. In May 2020, the company cut its quarterly dividend from $0.36 to $0.18 per share. That wasn't a big surprise; oil prices had plunged, and oil tankers were being used as floating storage containers. (Source: "Quarterly Distributions," Plains All American Pipeline, L.P., last accessed January 3, 2023.)
Plains All American Pipeline to Increase Annual Payout by 23%
Thanks to oil demand and prices increasing, Plains All American Pipeline began to raise its quarterly payouts in 2022. In May, the company announced it was increasing its annualized distribution by $0.15 to $0.87, or $0.2175 on a quarterly basis. (Source: "Plains All American Reports First-Quarter 2022 Results," Plains All American Pipeline, L.P., May 4, 2022.)
At its current share price, that represents an annual yield of about 7.5%.
The big annualized dividend increase came on the heels of wonderful first-quarter financial results that topped the company's guidance.
The good times continued in 2022. For the third quarter, the company reported net earnings of $384.0 million; net cash from operating activities of $941.0 million; and earnings before interest, taxes, depreciation, and amortization (EBITDA) of $623.0 million. (Source: "Plains All American Reports Third-Quarter 2022 Results, Increases 2022 Guidance and Announces Multi-Year Capital Allocation Framework," Plains All American Pipeline, L.P., November 2, 2022.)
This allowed Plains All American Pipeline to increase its full-year 2022 adjusted EBITDA guidance by $75.0 million to about $2.5 billion. This represented a $250.0-million increase over the company's previous full-year guidance, which it announced in February 2022. The boosted estimate was a result of increased Permian tariff volumes, higher commodity prices, and margin-based opportunities.
As a result, management said it plans to recommend to the board that it increase Plains All American Pipeline stock's annualized dividend a quarter earlier than usual, by 23% from $0.87 to $1.07 per unit.
Chiang commented, "We continue to execute, and we maintain a constructive view of long-term global energy fundamentals. We also believe our business has reached a positive inflection point, and we are pleased to be achieving our leverage objectives earlier than anticipated, allowing us to increase returns of capital to equity holders in a prudent, long-term manner." (Source: Ibid.)
Beyond 2023, as part of its standard annual review process, management will target annualized distribution increases of approximately $0.15 per unit each year until the company reaches a targeted common unit distribution coverage ratio of approximately 160%.
"Given the positive outlook for our business, operating leverage across our crude oil and NGL footprints and continued focus on capital discipline, we are positioned to continue generating Free Cash Flow and increasing returns to our equity holders over multiple years while further enhancing our financial flexibility," said Chiang.
Plains All American Pipeline, L.P.'s dividend growth coincides with big share-price gains. As of December 28, 2022, PAA stock was up by:
Five percent over the previous three months
18% over the previous six months
28% year-to-date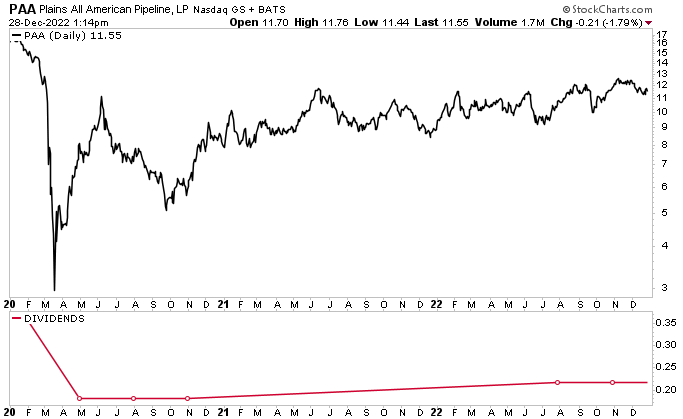 Chart courtesy of StockCharts.com
Plains All American Pipeline stock needs to climb by more than 40% to get to where it was before the pandemic-fueled sell-off at the start of 2020.
The Lowdown on Plains All American Pipeline Stock
What's not to like about Plains All American Pipeline, L.P. right now?
The company has been reporting outstanding financial results and strong guidance. Its share price has been thumping the broader market, and it continues to raise its dividend annually. All that bodes well for PAA stock's price and dividends in 2023.