Plains All American Pipeline, L.P.: Will This 7% Yield Stay Safe?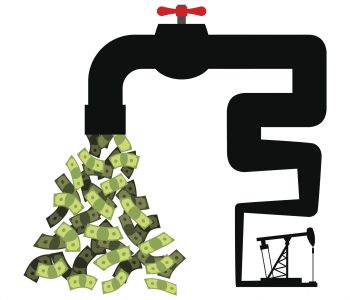 iStock.com/Samuil_Levich
Can You Count on Plains All American Pipeline, L.P.'s Yield?
Americans love a comeback story: Tiger Woods, Mickey Rourke in The Wrestler, or Michael Jordan's return to the NBA. The same applies to stocks. You can make a lot of money by buying shares of struggling companies before their eventual redemption.
Case in point: Plains All American Pipeline, L.P. (NYSE:PAA). The partnership has struggled in recent years thanks to a combination of lower oil prices, tough regulatory hurdles, and a hefty debt load. Those headwinds forced management to slash the distribution by 45% in 2017, which sent unitholders fleeing for the exits.
Since then, however, Plains All American executives have engineered something of a turnaround. And with the oil patch so out of favor on Wall Street, PAA units now yield almost seven percent. That combination of a high upfront yield and potential growth could result in outsized returns going forward.
But investors need to dig into the financials before pulling the trigger on any high-yield stock. So let's dive into the numbers to see if you can trust this payout.
Admittedly, Plains All American had a big mess to clean up.
Back in 2014, the investment community lost their minds over America's shale revolution. Plains All American's executive team borrowed heavily to fund both a swath of expansion projects and an outsized distribution.
That strategy backfired when the bottom fell out of oil prices. The company's long-term debt to adjusted earnings before interest, tax, depreciation, and amortization (EBITDA) ratio ballooned to eight times, one of the highest in the industry. And with bond investors no longer interested in extending credit, Plains All American found itself in a cash crunch.
Since then, however, the partnership has cleaned up its act. Management has slashed costs, sold off assets, and dialed back expansion plans. That has left the firm on a sounder financial foundation.
Today, Plains All American's long-term debt to adjusted EBITDA ratio has dropped to 2.8 times. The represents one of the most conservative balance sheets in the pipeline industry. And more importantly, less debt means lower interest payments, freeing up more cash flow for distributions.
You can see this turnaround in the company's income statement too.
In 2017, Plains All American Pipeline, L.P. paid out $1.95 per unit annually in distributions. Over the same period, the business generated only $1.67 in distributable cash flow. You probably don't need an MBA to see the problem there. (Source: "2019 Full-Year Guidance," Plains All American Pipeline, L.P., last accessed August 27, 2019.)
Today, Plains All American pays out only $1.38 annually per unit in distributions. In 2019, management estimates the business will generate $2.74 in distributable cash flow. That comes out to a payout ratio of only 50%.
Generally, I like to see companies payout 90% or less of their earnings as dividends. This leaves management with some wiggle room in the event of a downturn.
In the case of Plains All American, unitholders have little to worry about. The conservative payout ratio allows executives to keep sending out distributions while funding their growth plans and paring down debt. That strategy will pay off over time.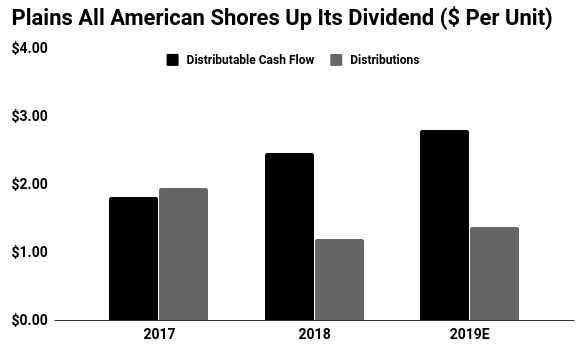 (Source: Ibid.)
What can investors expect going forward?
Last spring, Plains All American Pipeline, L.P. boosted its quarterly distribution by 20% to $0.36 per unit. That was the partnership's first payout bump in over two years.
You can expect more going forward. Over the next few years, the company has dozens of new pipeline projects due to come online. Through 2024, analysts project that the business will grow its cash flows at a high single-digit clip.
As executives start padding the company's bottom line, they'll likely pass that income on to unitholders. In fact, the distribution could grow even faster than cash flows, given the partnership's conservative payout ratio and light debt load.
Therefore, Plains All American Pipeline, L.P.'s seven percent yield looks rock solid.