Piedmont Office Realty Trust, Inc.: Is its 5.2% Yield Safe?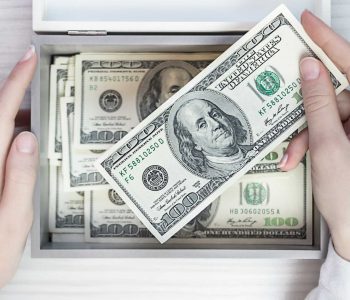 Piedmont Office Realty Trust Stock Is a Top REIT in 2021
For investors fuming at the Federal Reserve for its artificially low interest rates that have slayed income portfolios, one contrarian stock to consider is Piedmont Office Realty Trust, Inc. (NYSE:PDM).
Office real estate investment trusts (REITs) probably aren't on most people's radar, what with COVID-19 decimating the retail business and offices shutting their doors. But once you look under the hood of PDM stock, you'll discover that it isn't a contrarian play at all. Rather, Piedmont is a well financed company with some of the best tenants on the planet.
Thanks to its strong balance sheet, the REIT is able to provide investors with a high-yield dividend. And with a tiny payout ratio, its dividend payout is as safe as can be.
About Piedmont Office Realty Trust, Inc.
Piedmont is a REIT that acquires, develops, and manages commercial real estate property throughout the U.S. Its property portfolio comprises office space that's primarily located in seven of the largest eastern U.S. office markets. (Source: "NAREIT REITworld Conference: November 2020," Piedmont Office Realty Trust, Inc., last accessed January 22, 2021.)
Piedmont derives most of its revenue from tenants in mid- to long-term lease agreements. Piedmont's largest customers in terms of rental revenue are U.S. Government entities, business services companies, and financial institutions. Basically, it's a diverse, financially solid tenant base that won't renege on rent payments or skip out before the end of the month.
Piedmont Office Realty Trust, Inc.'s top 20 tenants are current on their rental obligations, seven of the top eight tenants are A-rated, and 14 of the top 20 tenants are rated investment-grade by S&P and Moody's.
Only about one percent of the company's revenue is generated from retail tenants, and only about two percent of its revenue is generated from co-working tenants.
More than 50% of the company's annualized lease revenue (ALR) is generated from the Sun Belt.
City
Number
of Properties
Total Square Feet
Percentage of
Properties Leased
Percentage of
ALR
Atlanta
9
3.4 Million
86%
18%
Boston
10
1.9 Million
92%
11%
Dallas
13
3.5 Million
86%
20%
Minneapolis
6
2.1 Million
94%
13%
New York
1
1.0 Million
95%
10%
Orlando
6
1.8 Million
93%
10%
Washington
6
1.6 Million
82%
14%
(Source: Ibid.)
The company has a strong balance sheet, with $32.0 million of cash on hand, $500.0 million available from an unsecured line of credit, and zero debt maturing until late 2021.
Since early 2019, Piedmont has sold more than $1.0 billion of assets, redeploying capital into assets within targeted submarkets yielding about 185 basis points higher in yield than the disposed assets.
Overall, Piedmont's 54 assets cover 16.4 million square feet and are 87.4% leased, with an average lease term of 6.3 years. Those are solid numbers, and there's a lot of opportunity for the company to grow.
Piedmont currently owns a three-million-square-foot land bank for additional development. The company owns several land parcels adjacent to existing core holdings (in Atlanta, Orlando, and Dallas) to support significantly pre-leased development opportunities.
High-Yield Dividends
Thanks to its strong balance sheet and prudent acquisition strategy, Piedmont has been able to provide investors with high dividends. (Source: "Dividend History," Piedmont Office Realty Trust, Inc., last accessed January 22, 2021.)
In the third quarter of 2020, Piedmont reported net income of $8.9 million ($0.07 per share), a six percent increase over the third-quarter 2019 net income of $8.4 million (also $0.07 per share). (Source: "Piedmont Office Realty Trust Reports Third Quarter 2020 Results," Piedmont Office Realty Trust, Inc., October 29, 2020.)
The company's core funds from operations were $0.48 per share, compared to $0.45 in the third quarter of 2019.
This allowed Piedmont to declare a dividend of $0.21 per share on its common stock for the fourth quarter of 2020. In that year, Piedmont Office Realty stock paid out $0.84 per share.
As of this writing, its dividend yield stands at 5.2%. The payout ratio for PDM stock is 28.47, which is quite low, suggesting that the company's dividend payouts are well covered by its earnings. That should continue to be the case for years to come.
Capital Gains
Before COVID-19 sent investors running for the hills, Piedmont Office Realty Trust, Inc. had a long history of providing buy-and-hold investors with solid, consistent capital appreciation. Between 2011 and 2019, Piedmont Office Realty Trust stock advanced by approximately 72%, expanding at a compound annual growth rate of 6.2%.
That growth was, of course, upended by the coronavirus pandemic. PDM stock has not fully recovered from the March 2020 sell-off. Currently trading at $16.15, Piedmont Office Realty Trust stock still needs to climb by 45% to get to its record, pre-COVID-19 levels.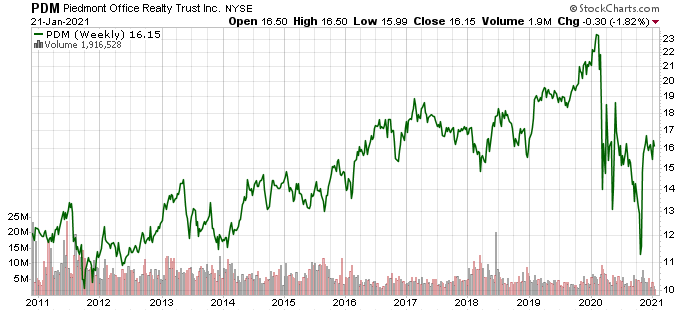 Chart courtesy of StockCharts.com
The Lowdown on PDM Stock
Piedmont Office Realty Trust, Inc. is a great REIT that's highly liquid and well capitalized, maintaining a conservative balance sheet. Its properties are located in strong, amenity-rich growth markets and the company benefits from a diverse and financially secure tenant base.
In spite of COVID-19, Piedmont has continued to report strong rental collection figures, which helped it report stable third-quarter financial results.
Going forward, the company is well positioned to drive income growth through signed lease deals and redevelopment efforts. All of which should help fuel its share price and maintain its high dividend yield.