Physicians Realty Trust: Health-Care Stock With Safe 5% Yield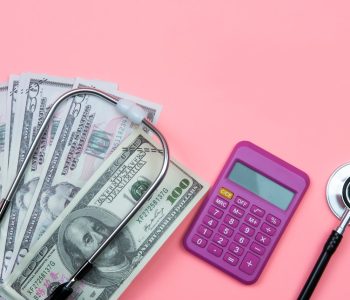 DOC Stock Looks Bullish on $764-Million Deal
When you live in a country where health care is for profit, it's not a bad idea to consider investing in health-care facilities. The limited supply of quality health-care real estate, combined with the increased costs of new construction, has bolstered confidence that tenants will renew their leases. This provides health-care real estate investment trusts (REITs) like Physicians Realty Trust (NYSE:DOC) with steady, growing cash flow.
Physicians Realty Trust is a self-managed REIT that acquires, develops, and manages health-care properties that are leased to physicians, hospitals, and other health-care delivery systems. (Source: "Company Update: October 2021," Physicians Realty Trust, last accessed October 15, 2021.)
Its $5.0-billion health-care real estate portfolio consists of 275 assets diversified across 31 states. The company's portfolio is balanced between on- and off-campus outpatient facilities.
Physicians Realty Trust's Top 10 Tenants

Tenant
Primary State
% of ABR
CommonSpirit – CHI – Nebraska
NE
5.6%
Northside Hospital
GA
4.9%
University of Louisville Health
KY
4.0%
US Oncology, Inc.
TX
3.5%
Baylor Scott and White
TX
2.6%
Ascension – St. Vincent's
IN
2.5%
CommonSpirit – CHI – St. Alexius
ND
2.2%
HonorHealth
AZ
2.1%
Great Falls Clinic (Surgery Partners)
MT
1.8%
CommonSpirit – CHI – Franciscan
WZ
1.8%
(Source: Ibid.)
Moreover, long-term leases with top-quality tenants have enabled Physicians Realty Trust to achieve historical cash flow growth that outpaces its peers. This is helped, in part, by the fact that no metropolitan statistical area (MSA) represents more than eight percent of the REIT's leasable square footage, and no tenant is responsible for more than six percent of its annual base rent (ABR).
Physicians Realty Trust's Top 10 MSAs

MSA
MSA rank
% of ABR
Atlanta, Sandy Springs, & Roswell, GA
9
8.3%
Dallas, Fort Worth, & Arlington, TX
4
8.5%
Louisville, KY & Jefferson County, IN
46
4.6%
Phoenix, Mesa, & Scottsdale, AZ
10
5.3%
Minneapolis, MN, St. Paul, MN, & Bloomington, WI
16
5.2%
Indianapolis, Carmel, & Anderson, IN
33
4.3%
Omaha, NE & Council Bluffs, IA
57
4.0%
Columbus, OH
32
3.5%
Seattle, Tacoma, & Bellevue, WA
15
2.4%
Houston, The Woodlands, & Sugar Land, TX
5
2.5%
(Source: Ibid.)
Because of the resiliency of its portfolio, the REIT's quarterly rent collection rates during the COVID-19 pandemic have been leading in its medical office building peer group.
Q2 2020: 96.9% rent collection
Q3 2020: 98.4% rent collection
Q4 2020: 99.6% rent collection
Q1 2021: 99.7% rent collection
Q2 2021: 99.5% rent collection
(Source: Ibid.)
Acquisition of 15 Class-A Medical Buildings
Like any good REIT, Physicians Realty Trust is always looking for ways to enhance its property portfolio and investor value.
To that end, on October 1, the company announced that it's acquiring 15 Class-A medical office buildings in eight states, comprising approximately 1.5 million square feet, for $764.3 million. The company expects that the transaction will be completed in the fourth quarter of 2021. (Source: "Physicians Realty Trust Announces Agreement to Purchase Medical Office Portfolio For $764 Million," Physicians Realty Trust, October 1, 2021.)
The properties being acquired are approximately 95% leased, with a weighted average remaining lease term of approximately 7.4 years.
All 15 buildings are either located on a health system campus or are affiliated with a health system. Approximately 74% of the aggregate leased space is attributable to investment-grade health systems or their subsidiaries. The acquisition introduces 10 new health system relationships to Physicians Realty Trust.
Upon closing the deal, the first-year unlevered cash yield of the new portfolio is expected to be 4.9%.
It's acquisitions like this that help the REIT continue reporting solid financial results. In the second quarter, its revenue increased by 3.5% year-over-year to $112.9 million. Meanwhile, its net income climbed by 3.4% to $18.1 million, or $0.08 per share. (Source: "Physicians Realty Trust Reports Second Quarter 2021 Financial Results," Physicians Realty Trust, August 4, 2021.)
The REIT's funds from operations (FFO) were up by 2.8% at $58.2 million, resulting in FFO of $0.26 per share on a fully diluted basis.
John T. Thomas, president and CEO, commented, "Our portfolio of best-in-class medical office facilities continued to perform exceptionally during the second quarter, delivering the predictable growth and operating outcomes that medical office investors have come to expect." (Source: Ibid.)
And those investors expect Physicians Realty Trust stock to pay frothy quarterly dividends—which it has been doing. On June 18, the company's board of trustees declared a cash distribution of $0.23 per common share, for a dividend yield of five percent.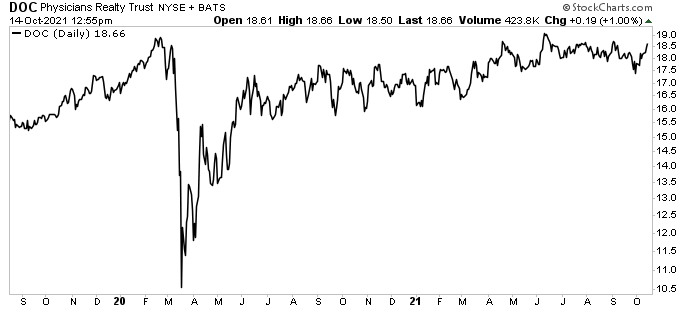 Chart courtesy of StockCharts.com
While DOC stock has essentially erased all of its losses associated with the COVID-19 sell-off—and has been trading near record levels—it hasn't broken through resistance near $19.10. Because of the company's new acquisition, though, Wall Street thinks it will.
Of the analysts providing a 12-month price target for Physicians Realty Trust stock, their average estimate is $20.20, with a high estimate of $21.00. That points to upside of 7.6% and 12.5%, respectively.
Those might not be the kinds of eye-watering gains some investors want to see from DOC stock, but income hogs can take solace in knowing that their investment is being nicely compounded with safe five-percent dividends.
The Lowdown on Physicians Realty Trust
Physicians Realty Trust is a self-managed health-care REIT with a massive portfolio of investment-grade tenants.
Thanks to strategic acquisitions, selective divestitures, long-term leases, high-quality tenants, and careful capital expenditure management, the company has been able to achieve historical cash-flow growth that outpaces its peers. It then passes that capital on to Physicians Realty Trust stockholders in the form of high-yield dividends.