Phillips 66 Partners LP Poised for Market Rebound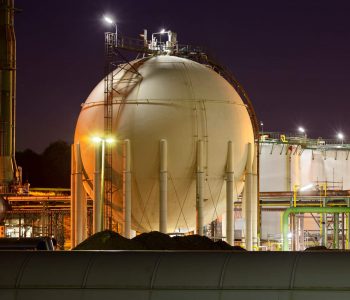 Phillips 66 Partners Stock: Big Dividend & Rising Share Price
Oil and gas stocks plunged in the early days of the coronavirus pandemic, but with vaccines rolling out and the global economy set to rebound, many oil and gas stocks are starting to show signs of life. One oil and gas company with high potential is refining powerhouse Phillips 66 Partners LP (NYSE:PSXP).
Phillips 66 Partners is a master limited partnership (MLP) that owns, operates, develops, and acquires fee-based crude oil, refined petroleum product, and natural gas liquid (NGL) pipelines, terminals, and other transportation and midstream assets. Its biggest customer is Phillips 66 (NYSE:PSX), which owns a 74% interest in the MLP. (Source: "About," Phillips 66 Partners LP, last accessed March 24, 2021.)
Some of the company's extensive high-quality midstream assets are:
Clifton Ridge Crude System, a crude oil pipeline, terminal, and storage system in Sulphur, LA
Sweeny to Pasadena Products Systema, a refined petroleum pipeline, terminal, and storage system that extends from Old Ocean, TX to Pasadena, TX
Eagle Ford Gathering System, a crude oil gathering system that consists of two pipelines and a storage facility near Helena, TX and Tilden, TX
Bayway Rail Rack, a four-track, 120-rail-car crude oil receiving facility in Linden, NJ
Ponca City Refinery Crude Assets, a pipeline and terminal system consisting of 503 miles of pipeline and 1.7 million barrels of storage
(Source: "Operations," Phillips 66 Partners LP, last accessed March 24, 2021.)
Despite having some of the most advanced refiners and one of the most attractive asset footprints of all refinery MLPs, Phillips 66 Partners could not escape the market downturn that hammered the global economy at the start of the pandemic in early 2020.
Before the pandemic, Phillips 66 Partners LP was on the path toward $1.5 billion in annual run-rate earnings before interest, taxes, depreciation, and amortization (EBITDA). That's up from just $150.0 million in 2014.
But again, the pandemic upended everything across the board. During the fourth quarter, total oil, refined products, and NGL pipeline volumes were down 16% year-over-year while terminal throughput was down 24%.
Not surprisingly, this had a negative impact on PSXP stock. While Phillips 66 Partners stock is down 19.5% year-over-year, it's on the rebound, up 36.5% since the start of last October.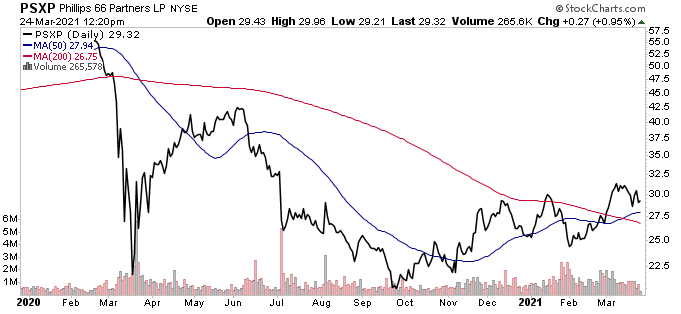 Chart courtesy of StockCharts.com
With the global economy reopening, oil and gas volumes and throughput are expected to rebound. That should help Phillips 66 Partners get back on its path to $1.5-billion annual run-rate EBITDA. Near-term growth will suffer somewhat, though. Management said it plans to invest $165.0 million in projects in 2021, down from $700.0 million in 2020. (Source: "Phillips 66 Announces 2021 Capital Program," Phillips 66 Partners LP, December 14, 2020.)
That said, despite the economic mayhem, Phillips 66 Partners reported solid financial results, with fourth-quarter 2020 earnings of $104.0 million, or $0.40 per unit. The company's fourth-quarter cash from operations was $170.0 million, and its distributable cash flow was $240.0 million. Its adjusted EBITDA was $318.0 million, compared to $313.0 million in the prior quarter. (Source: "Phillips 66 Partners Reports Fourth-Quarter 2020 Financial Results," Phillips 66 Partners LP, January 29, 2021.)
Greg Garland, chairman and CEO, commented, "We delivered another quarter of strong operating performance, demonstrating the reliability of our assets and the stability of our portfolio in a challenging market environment." (Source: Ibid.)
"South Texas Gateway Terminal reached a major milestone with the completion of the second dock and loading of its first Very Large Crude Carrier, and we continue to advance C2G Pipeline construction. We remain focused on reliable operations, completing our projects and disciplined capital allocation."
Dividend History
Phillips 66 Partners LP's financial discipline helps provide investors with a stable, frothy dividend. In January, the company declared a $0.875-per-unit quarterly dividend, or $3.50 on an annualized basis. At the current share price, this represents an annual yield of 11.5% for PSXP stock.
The company has held its distribution at $0.875 for the last five quarters, which makes sense in light of the pandemic. But before COVID-19, Phillips 66 Partners stock had a solid history of rising quarterly dividends.
From the fourth quarter of 2013 to the first quarter of 2020, Phillips 66 Partners has raised its dividend in 26 consecutive quarters.
| | |
| --- | --- |
| Year | Annual Dividend |
| 2020 | $3.50 |
| 2019 | $3.40 |
| 2018 | $2.93 |
| 2017 | $2.4 |
| 2016 | $1.97 |
| 2015 | $1.58 |
| 2014 | $1.11 |
(Source: "Distribution History," Phillips 66 Partners LP, last accessed March 24, 2021.)
The Lowdown on Phillips 66 Partners LP
Is PSXP stock's dividend safe? And is there a chance Phillips 66 Partners will start to increase its unit payout?
I think so. The company's distribution coverage ratio of 1.2 provides management with plenty of financial wiggle room to raise its distribution.
With a growing share price, though, even if Phillips 66 Partners raises its payout, chances are the yield will slip from 11.5%. But that's a trade-off most investors would be willing to take.
Thanks to Phillips 66 Partners LP's enviable asset footprint, PSXP stock is poised for solid growth on the market rebound. The company reported solid fourth-quarter results, it continues to provide high-yield dividends, and its share price is on the move.