Philip Morris International Inc.: A Sin Stock Worth Getting Caught With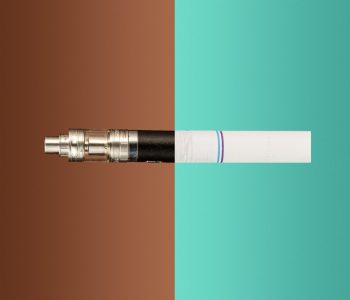 Philip Morris Stock Trading at Record Highs; Still Pays 4.9% Dividend
A perfect storm has made it possibly the perfect time for investors to embrace sin stocks. Interest rates are still near record lows and stocks are near record highs. That's great for initial investments, but it means dividend yields are dropping hard.
Where are income-starved investors supposed to go to get safe, high yields?
The yields on traditional blue-chip stocks are reliable and tend to grow every year, but the payouts aren't astronomical. That's the risk/reward tradeoff. The average dividend yield of all Dow Jones Industrial Average stocks is 2.2%. The current yield on the S&P 500 is a paltry 1.4%, its lowest level since the new millennium and its second-lowest reading on record.
If you're looking for a stock that provides investors with strong, long-term capital appreciation and a long history of raising its frothy dividends, then look no further than tobacco giant Philip Morris International Inc. (NYSE:PM).
Philip Morris operates 38 production facilities and produces more than 700 billion cigarettes each year. The company's machines can produce up to 20,000 cigarettes every minute. (Source: "Making Cigarettes," Philip Morris International Inc., last accessed May 19, 2021.)
Philip Morris International's products are sold in more than 180 markets. In many of these markets, the company holds the No. 1 or No. 2 position by market size. Philip Morris has six of the top 15 international brands. (Source: "Building Leading Brands," Philip Morris International Inc., last accessed May 19, 2021.)
Even if you're not all that familiar with the name Philip Morris, I'm pretty sure you've heard of some of the company's brands.
"Marlboro" has been the No. 1 international cigarette brand in the world since 1972. In 2019, it accounted for 37% of Philip Morris International Inc.'s total cigarette shipment volume. In that year, Marlboro's volume outside the U.S. and China was 263 billion cigarettes.
"L&M" originated in the U.S. in 1953 and is the fourth-best-selling international cigarette brand outside the U.S. and China. In 2019, L&M had volume of 93 billion cigarettes. "Chesterfield" is the third-largest international Philip Morris brand, with volume of 57 billion cigarettes in 2019.
Some of the company's other leading international brands are "Bond Street," "Philip Morris Next," "Parliament," and "Red & White." Its popular regional brands include "Dji Sam Soe," "Sampoerna," "Belmont," "Canadian Classics," and "Delicados."
Philip Morris has also been aggressively commercializing smoke-free alternatives to cigarettes. The company calls them "reduced-risk products" (RRPs).
Morris International Inc. has a range of RRPs in various stages of development, scientific assessment, and commercialization. In this category, the company has introduced its heated tobacco system, "IQOS."
Big Capital Appreciation
Since going public in 2008, PM stock has advanced by 266%, expanding at a compound annual growth rate (CAGR) of 14.6%.
Philip Morris stock is up 52.5% year-over-year, 32.5% over the last six months, and 20% year-to-date. As you can see in the following chart, this dividend stock is trading at record levels, having recently broken through a resistance level at $97.30.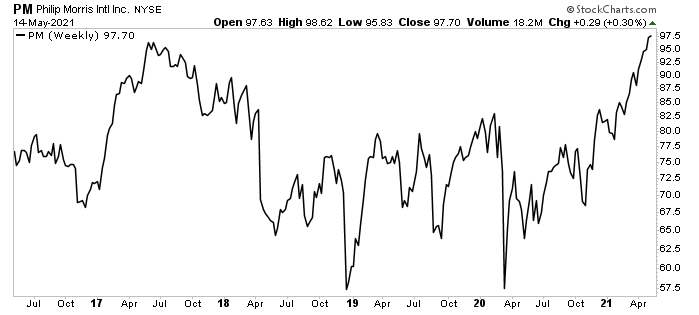 Chart courtesy of StockCharts.com
Wall Street thinks PM stock has room to grow. All seven analysts following Philip Morris International Inc. have issued "Buy" ratings, with an average 12-month share-price forecast of $109.71. That represents a 12.3% increase from the current level. The highest 12-month forecast sees Philip Morris stock hitting $114.00, which is a 16.6% increase from the current level.
Keep in mind, Wall Street analysts are fairly conservative. A 12-month share price forecast of $125.00 is certainly within reach.
Dividend Growth
More impressively, perhaps, is Philip Morris International's dividend. The company has increased its annual dividend every year since going public in 2008, representing a total increase of 160.9%, or a CAGR of 8.3%. (Source: "Stocks, Dividends and Bonds," Philip Morris International Inc., last accessed May 19, 2021.)
That means Philip Morris gave investors a raise during the Great Recession and during the coronavirus pandemic, which was the worst economic period since the Great Depression.
PM stock currently pays a quarterly dividend of $1.20, or $4.80 on an annual basis. Philip Morris stock's dividend yield stands at 4.9%. With a payout ratio of just 86.1%, the annual dividend is not just safe, but the company has more than enough financial wiggle room to raise it again in 2021. Philip Morris has a history of raising its quarterly dividend in September.
Excellent Start to 2021
For the first quarter of 2021 ended March 31, Philip Morris announced that its total net revenue increased six percent year-over-year to $7.59 billion. The company's net revenue from smoke-free products accounted for 28% of its total net revenue. (Source: "Philip Morris International Inc. Reports Strong 2021 First-Quarter Reported Diluted EPS of $1.55 Versus $1.17 in 2020," Philip Morris International Inc., April 20, 2021.)
The company earned $2.4 billion, or $1.55 of earnings per share (EPS), compared to $1.8 billion, or $1.17 of EPS, in the same period in the previous year. On an adjusted basis, the EPS were $1.57, a 28% increase over the first-quarter 2020 EPS of $1.21.
André Calantzopoulo, CEO, noted, "We are pleased to have delivered a very strong start to the year, with top and bottom-line results coming in well ahead of our expectations for the first quarter despite the ongoing challenges of the pandemic." (Source: Ibid.)
For fiscal 2021, Philip Morris revised its guidance upward, and it now expects to report diluted EPS in the range of $5.93 to $6.03. This represents year-over-year growth of about 15% to 17%. In February, the company provided full-year EPS guidance of $5.90 to $6.10.
The Lowdown on Philip Morris International Inc.
Philip Morris International Inc. is a tobacco juggernaut with a reliable, addicted customer base. The company has a solid portfolio of regional and international brands and has introduced new products to counter the falling number of cigarette smokers. Moreover, Philip Morris continues to deliver great financial results and guidance.
All this should help the company deliver strong cash flows, which should help juice PM stock and allow it to provide investors with growing dividends.