13.5%-Yielding PermRock Stock Pays Reliable Monthly Dividends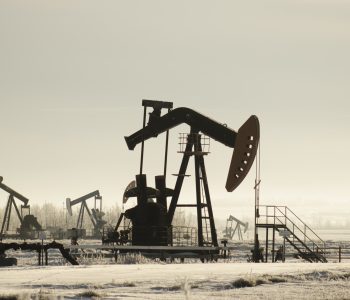 PRT Stock's Annualized Payout Jumped 76% in 2022
The energy sector was the biggest winner in the stock market in 2021 and 2022, and analysts expect it to lead the market again in 2023. That's great news for investors in PermRock Royalty Trust (NYSE:PRT), an oil and gas exploration and production company.
Founded in 2017, PermRock owns a perpetual interest in energy-producing properties in the Permian Basin in Texas. It receives an 80% net profit interest from the sale of production, rather than a specific portion of production. (Source: "Form 10K," U.S. Securities and Exchange Commission, November 14, 2022.)
PermRock Royalty Trust's underlying properties consist of approximately 35,390 gross (22,997 net) acres in the Permian Basin. That basin extends over 75,000 square miles in West Texas and Southeastern New Mexico. The trust has produced more than 30 billion barrels (Bbls) of oil and more than 75 trillion cubic feet (Tcf) of natural gas.
The company has been reporting superb financial results and rewarding its investors with monthly, ultra-high-yield dividends.
For the third quarter of 2022, PermRock Royalty Trust reported net profit income of $3.5 million, a 55% increase over the $2.3 million in the same prior-year period. Its distributable income in the third quarter of 2022 advanced 59% year-over-year to $3.4 million, or $0.275 per unit.
The trust's year-to-date net profits (as of the end of the third quarter of 2022) went up by 71% year-over-year to $9.8 million, while its distributable income grew by 77% to $9.1 million, or $0.746 per unit.
That positive momentum carried into the fourth quarter of 2022.
In October, the company generated $2.4 million in oil cash receipts, a $600,000 increase over the prior month's figure. The increase was due to an increase in oil prices and sales volumes. In October 2022, oil averaged at $85.53 per barrel, compared to $84.90 in September. Also in October 2022, the company's natural gas receipts totaled $220,000, an $80,000 decrease from the prior month's figure. Natural gas per 1,000 cubic feet (Mcf) was $6.81, compared to $9.01 in the prior month. (Source: "PermRock Royalty Trust Declares Monthly Cash Distribution," PermRock Royalty Trust, December 19, 2022.)
This resulted in a monthly cash distribution of $981,975, or $0.080716 per unit, for a yield of 13.5%. In contrast, the S&P 500 only has a dividend yield of 1.7%.
PermRock went public in 2018 and paid its first monthly dividends in May of that year. As would be expected, PermRock stock's monthly payout fluctuates based on oil and gas prices and sales volumes, as you can see in the red line on the chart below.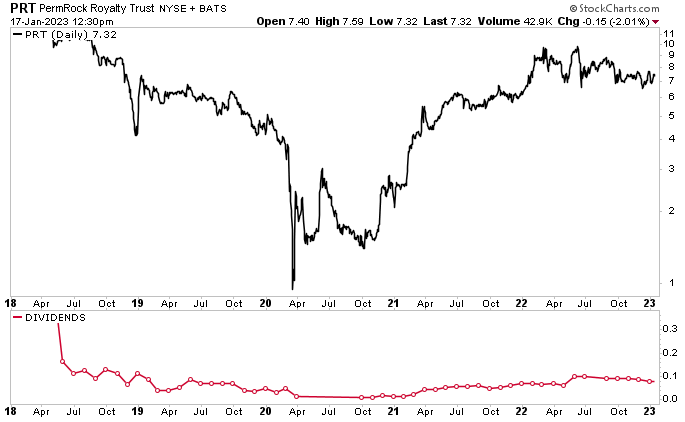 Chart courtesy of StockCharts.com
PermRock Royalty Trust suspended PRT stock's monthly dividend from April to August 2020. Not a huge surprise. That's because the COVID-19 pandemic led to a global economic shutdown, which led the demand for oil and gas to evaporate. That's a good example of why investors who are interested in high-yield dividend energy stocks need to pay close attention to where we are in the economic cycle.
Since 2020, PermRock stock's distribution has been climbing annually.
| | |
| --- | --- |
| Year | Dividends/Share |
| 2022 | $1.011357 |
| 2021 | $0.605881 |
| 2020 | $0.157014 |
| 2019 | $0.726501 |
| 2018 | $1.281452 |
(Source: "Cash Distributions," PermRock Royalty Trust, last accessed January 19, 2022.)
In addition to paying ultra-high-yield monthly dividends, PRT stock has seen its share price ride the energy wave. Since bottoming in March 2020, PermRock stock has rallied by an impressive 597%.
In 2022, PRT stock advanced 16%. That's a far cry from the performance of the S&P 500, which closed out the year flirting with a bear market.
The Lowdown on PermRock Royalty Trust
PermRock Royalty Trust is an outstanding oil and gas exploration and production company with a strong foothold in the Permian Basin of West Texas.
Thanks to the high demand for oil, the company has been reporting fabulous monthly financial results, which allows it to pay ultra-high-yield monthly dividends. The high demand for oil is expected to continue in 2023 due to the war in Ukraine, demand from China rebounding, and potential oil production cuts by the Organization of the Petroleum Exporting Countries (OPEC).
PermRock stock will not always be bullish, nor will its distribution always be high, but right now, it's in a sweet spot, which should make even the most discerning dividend hog happy.