PepsiCo, Inc.: The Next Dividend Check Will Be Bigger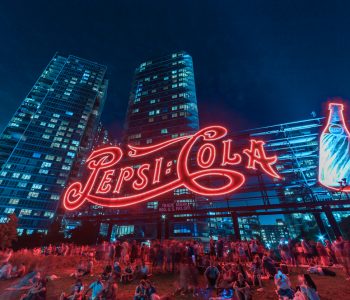 iStock.com/Michele Pevide
A Top Pick for Dividend Growth Investors
One of the easiest ways to find how much you can earn from a dividend stock is to check its yield on financial web portals like Google Finance or MarketWatch. For instance, if you look up PepsiCo, Inc. (NASDAQ:PEP), you'll see that both of these web sites say that it yields 2.9%. (Source: "PepsiCo Inc.," MarketWatch, last accessed April 17, 2019.)
What's neat is that if an investor purchases PEP stock today, I'm 100% certain that they'll earn a yield higher than that. And I can even tell you exactly how much the actual yield is.
PEP Stock's Impressive Yield
The most common way to calculate a company's dividend yield is a very simple one: you take its latest dividend payment per share, annualize that amount, and then divide by the company's stock price. In the case of PepsiCo, Inc., the company paid a quarterly dividend of $0.93 on March 29, 2019, which translated to an annualized amount of $3.71 per share. With a stock price of $127.01, that gives PEP stock an annual yield 2.9%.
However, investors who have been following PepsiCo closely may have noticed a paragraph from a press release earlier this year. It says, "The Company today announced a 3 percent increase in its annualized dividend per share to $3.82 from $3.71 per share, effective with the dividend expected to be paid in June 2019." (Source: "PepsiCo Reports Fourth-Quarter and Full-Year 2018 Results; Provides 2019 Financial Outlook," PepsiCo, Inc., February 15, 2019.)
In other words, while the company is yet to declare the next dividend, we already know how much that amount is going to be: Starting with the June 2019 payment, PepsiCo's quarterly dividend will be $0.955 per share (calculated by dividing $3.82 by four). That would be $0.03 more than its March payout.
And based on the company's share price, investors who buy PEP stock as of this writing would earn a yield of three percent. That's higher than what Google Finance and MarketWatch suggest.
PepsiCo, Inc.: A Rising Income Play
What's more impressive, though, is how long PepsiCo has been growing this dividend stream. That announcement earlier this year marked the company's 47th consecutive annual dividend increase. (Source: "Dividend Information," PepsiCo, Inc., last accessed April 17, 2019.)
In other words, what we are seeing here is a great example of a recession-proof income stock. Our economy has gone through plenty of ups and downs over the last 47 years. But even in the toughest time, PepsiCo managed to pay its shareholders bigger dividend checks than it did in the previous year.
Of course, PEP stock also tumbled during many market downturns. But in volatile times, its steadily increasing income stream gave investors a peace of mind.
Therefore, it shouldn't come as a surprise that PEP shares have always been highly sought after. In just the last five years alone, PepsiCo stock has surged 49%.
PepsiCo, Inc. Stock Chart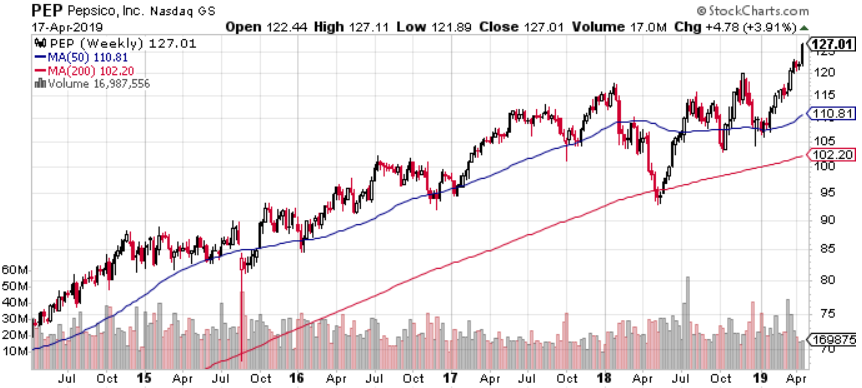 Chart courtesy of StockCharts.com
The best part is, despite being in business for literally over a century, PepsiCo is still growing. In the first quarter of 2019, the company generated $12.9 billion in revenue, representing a 2.6% increase year-over-year. (Source: "PepsiCo Reports First-Quarter 2019 Results; Reaffirms 2019 Financial Targets," PepsiCo, Inc., April 17, 2019.)
Note that during the quarter, currency headwinds had a three-percent negative impact on PepsiCo's top line. On an organic basis, the company's constant currency revenue was up 5.2%.
For full year 2019, management expects PEP's organic revenue to grow by four percent from 2018.
And risk-averse income investors would be glad to see that after decades of continuous dividend hikes, the company's payout remains safe. In 2018, PepsiCo generated core earnings of $5.66 per share while declaring total dividends of $3.59 per share, achieving a very conservative payout ratio of 63.4%. In the first quarter of this year, the company's core earnings of $0.97 per share also provided more than enough coverage for its quarterly dividend payment of $0.93 per share.
The Bottom Line on PEP Stock
With an entrenched position in the global food and beverage industry, PepsiCo, Inc. is ready to return a tremendous amount to cash to investors. For the current year, management plans to pay $5.0 billion in dividends and return another $3.0 billion to shareholders through buybacks.
However you look at it, PEP stock remains a top pick for dividend growth investors for 2019 and beyond.