PEP Stock: Why PepsiCo, Inc. Is a Top Dividend Stock for 2017 and Beyond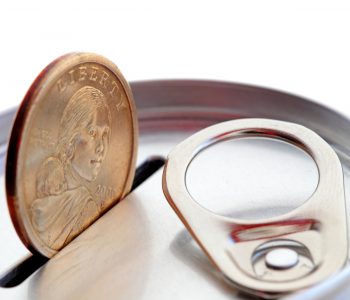 PEP Stock Delivering Enormous Returns
On October 29, 1958, Mr. and Mrs. Z bought 100 shares of PepsiCo, Inc. (NYSE:PEP) stock for $2,413.44. They collected the company's handsome dividends over the years and held on to those shares till this day.
Want to know how much their initial investment is worth right now?
$1,273,838!
In a letter to PepsiCo, Mr. and Mrs. Z's financial advisor wrote, "By focusing on the business and the value of the stock, their grandchildren have their college and future education secured." (Source: "Edited Transcript – PEP – PepsiCo Inc Annual Shareholders Meeting," PepsiCo, Inc., May 3, 2017.)
This is a great example of how the simple buy-and-hold strategy could work magic over the long term. The best part is that this couple are certainly not the only ones benefiting from the growth in PepsiCo. Due to the dramatic surge in PEP stock price over the decades, many long-term investors have enjoyed enormous returns.
PEP Stock Chart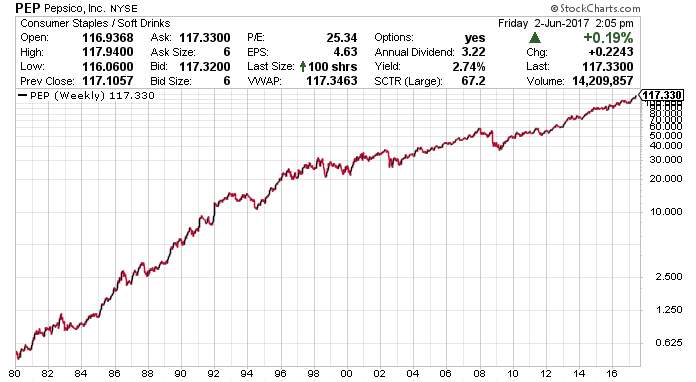 Source: StockCharts.com
Of course, what we just looked at happened in the past. Going forward, is PEP stock still good enough for income investors?
I believe the answer is "yes."
You see, one of the reasons why PEP stock surged so much was the growth in the company's business. From just a trademark and a syrup recipe, PepsiCo has grown to become one of the largest food and beverage companies in the world, selling products to customers in more than 200 countries and territories.
The company's deeply entrenched position in the food and beverage industry makes PEP stock a great income play. Soda and chips may seem like a boring business, but the demand for them tends to stay stable throughout economic cycles. This means PepsiCo can make money even during economic downturns.
Moreover, the food and beverage industry is one where brand name matters. There are plenty of companies making similar products to PepsiCo, but people are willing to pay a premium for brand name products, especially when it comes to things they put into their body. By having an established position in this industry, PepsiCo is well positioned to continue its success.
And if you are wondering whether the ongoing health and wellness trend may cause some damage to the soda and chip company, note that PepsiCo has much more than just "Pepsi" and "Lay's." For instance, the company's "Quaker" oats and "Tropicana" orange juice have become staples for health-conscious consumers. As a matter of fact, more than 45% of PepsiCo's net revenue today comes from what it calls "guilt-free" products, which includes the company's "Everyday Nutrition" products and low-calorie beverages and snacks with low levels of sodium and saturated fat. (Source: "Edited Transcript – Q1 2017 PepsiCo Inc Earnings Call," PepsiCo, Inc. April 26, 2017.)
Don't forget that despite being a century-old company, PepsiCo is still growing. In the first quarter of 2016, the company's organic revenue growth was 2.1%. Core earnings came in at $0.94 per share, which represented a seven-percent increase under constant currency. For full-year 2017, PepsiCo expects to deliver eight-percent growth in core constant currency earnings per share. (Source: "PepsiCo Reports First Quarter 2017 Results; Reaffirms 2017 Financial Targets," PepsiCo Inc, April 26, 2017.)
The Bottom Line on PEP Stock
With the company's business already established, PEP stock may not shoot through the roof like the old days. However, there is still a convincing argument for owning PepsiCo right now: dividends. Because of the company's entrenched position in a slow-changing industry, it can afford to distribute some of its profits to shareholders in the form of dividends.
PepsiCo has raised its annual payout every year for 45 consecutive years. Based on its rock-solid business, I think PEP stock's dividend hike streak could continue well into the future.