PepsiCo, Inc.: PEP Stock Is a Future Dividend King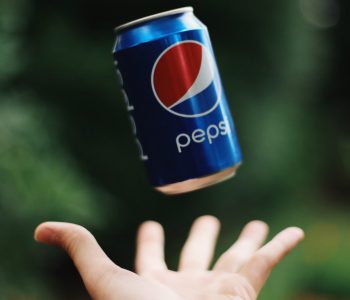 A Top Pick for Dividend Growth Investors
In the U.S. stock market, few companies have served long-term income investors better than the Dividend Kings. The reason lies in the definition: to qualify as a Dividend King, a company must have raised its dividend payout every year for at least 50 consecutive years.
That's a quite a tough requirement, given all the ups and downs that our economy had gone through. In fact, among the thousands of companies that trade on U.S. stock exchanges, there are only 30 Dividend Kings at the time of this writing.
Today's company is not a Dividend King yet, but it's very close to becoming one: PepsiCo, Inc. (NASDAQ:PEP).
PepsiCo is one of the largest food, snack, and beverage companies in the world, with products sold in more than 200 countries and territories. Many of the company's brands, such as "Frito-Lay," "Gatorade," "Pepsi-Cola," "Quaker," and "Tropicana," are household names.
The food and beverage industry may not seem that exciting, but it has produced many reliable dividend-payers. The reason is simple: consumers buy these products on a regular basis, so established players in the industry run recurring businesses.
PepsiCo has 23 brands that each generate more than $1.0 billion in estimated annual retail sales. (Source: "About the Company," PepsiCo, Inc., last accessed November 2, 2020.)
With its recurring business, PepsiCo, Inc. can pay recurring dividends. Better yet, PEP stock's payout has been on the rise. Looking back, we see that the company has raised its dividend every year for the past 48 years. (Source: "Dividend Information," PepsiCo, Inc., last accessed November 2, 2020.)
And even after decades of growth, recent dividend increases were not insubstantial. Take a look at the following bar graph. In 2010, PEP stock paid total dividends of $1.86 per share. This year, the company is paying $3.955 per share. That's an increase of 112.6%!
PepsiCo, Inc. (NASDAQ:PEP) Dividend History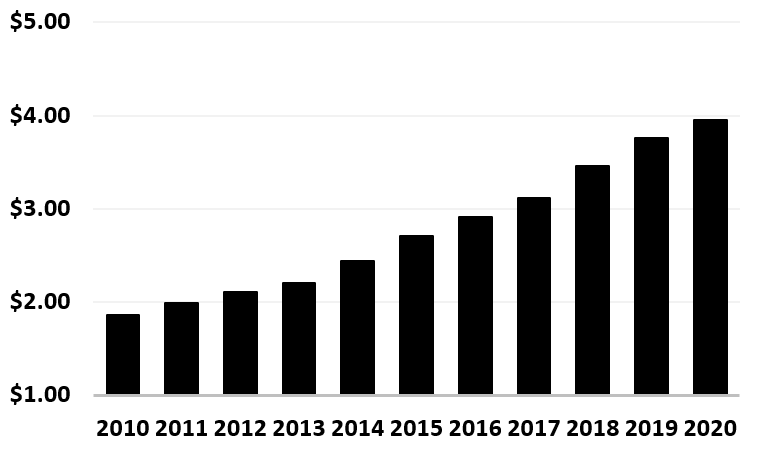 (Source: Ibid.)
Right now, the world economy is going through a major slowdown due to the COVID-19 pandemic, but PepsiCo's business remains resilient. Whether the economy is booming or in a recession, products like "Quaker" oats and "Tropicana" orange juice remain staples on people's tables, and cans of "Pepsi" cola are still affordable to most.
Looking at the company's latest earnings report, PepsiCo generated $18.1 billion of revenue in the third quarter of its fiscal year 2020, which ended September 5. The amount represented a 5.3% increase year-over-year. Excluding the impacts of acquisitions, divestitures, and foreign exchange translation, the company's organic revenue grew 4.2% year-over-year. (Source: "PepsiCo Reports Third Quarter 2020 Results; Provides Updated 2020 Financial Targets," PepsiCo, Inc., October 1, 2020.)
The bottom line was even more impressive, as PepsiCo's core earnings came in at $1.66 per share, marking a nine percent year-over-year increase on a constant-currency basis.
Note that both the revenue and earnings figures topped Wall Street's estimates. On average, analysts expected the company to earn $1.49 per share on $17.2 billion of revenue.
Also, considering that PEP stock declared a cash dividend of $1.0225 per share for the quarter, its core earnings covered the payout with ease.
Keep in mind that PepsiCo achieved those numbers despite the impact from the COVID-19 pandemic. To put things in perspective, S&P 500 companies that have released third-quarter results as of October 23 reported blended year-over-year revenue declines of 2.9% and blended year-over-year earnings declines of 16.5%. (Source: "Earnings Insight," FactSet, October 23, 2020.)
Of course, that does not mean PepsiCo won't be affected by the pandemic. In its earnings conference call, the company's chief financial officer, Hugh F. Johnston said, "…we had about $150 million worth of COVID cost in Q3, and that will continue to some degree in Q4 as well." (Source: "Edited Transcript PEP.OQ – Q3 2020 PepsiCo Inc Earnings Q&A Conference Call," PepsiCo, Inc., last accessed October 1, 2020.)
Still, management is projecting organic revenue growth of four percent in full-year 2020. The company's core earnings per share are guided at $5.50, meaning if PepsiCo meets the guidance, its dividends would be well covered for the year.
Bottom Line on PepsiCo, Inc.
Trading at $139.07 per share, PepsiCo stock offers an annual dividend yield of around 2.9%.
Obviously, it's not a particularly high yielder. But with a resilient business that's still growing, the company should have no problem continuing its 48-year dividend-hike streak. In two years, I expect to see PEP stock become a Dividend King.