PEP Stock: How This Couple Turned $2,400 into $1.27 Million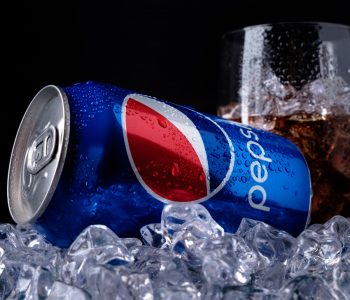 iStock.com/Fotoatelie
52,680% Return from This One Stock?
It was October 1958, the Soviet Union had just performed another nuclear test, the Yankees had just beat the Braves to win the 55th World Series, and Mr. and Mrs. Z decided to purchase 100 shares of PepsiCo, Inc. (NYSE:PEP) stock.
At that time, 100 shares of PEP stock cost around $2,400. But PepsiCo is a dividend-paying stock, so, over the years, Mr. and Mrs. Z collected the company's generous payments.
Here's the best part: Mr. and Mrs. Z never sold their PEP stock. They held on to their shares through all the stock splits and market movements. Today, their original investment is worth over $1.27 million. That's a return of 52,680%, not including all the dividends that Mr. and Mrs. Z have collected along the way. In fact, the return was so amazing that the couple's financial advisor decided to write a letter to PepsiCo about their story.
"By focusing on the business and value of the stock, [Mr. and Mrs. Z's] grandchildren have their college and future education secured," the letter said. The story was then shared by PepsiCo's Chair and Chief Executive Officer Indra Nooyi at this year's shareholder meeting. (Source: "PEP – PepsiCo Inc Annual Shareholders Meeting," PepsiCo, Inc., last accessed August 17, 2017.)
The neat thing about Mr. and Mrs. Z's success is that they didn't use any complicated trading strategy. In fact, the only thing needed to achieve this astronomical return was patience. The couple didn't even bother signing up for a dividend reinvestment plan.
Moreover, you didn't need to be a stock-picking guru to find PepsiCo stock in 1958. The company's iconic drink, "Pepsi-Cola," was developed in the 1890s. It wasn't always sunshine and rainbows for the company, but, by the 1950s, PepsiCo was already a major player in the beverage industry and was establishing bottling plants in Europe and Africa.
Of course, not everyone has an investment horizon of more than five decades. But, for a company as solid as PepsiCo, the "buy-and-hold" strategy could still work, even in today's environment. As the chart below shows, investors who bought PEP stock as recently as 2010 would have achieved triple-digit returns.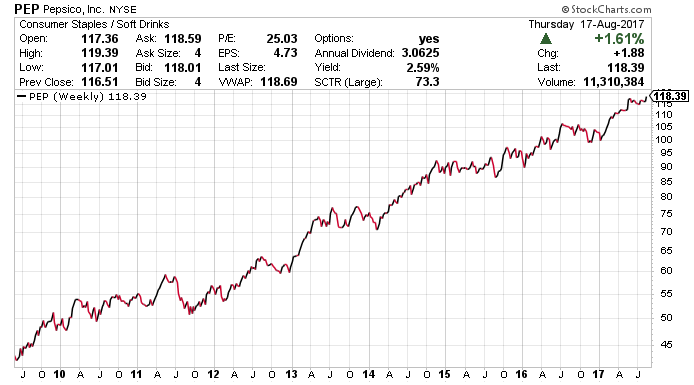 Chart courtesy of StockCharts.com
Other than oversized capital gains, PepsiCo stock also stands out when it comes to dividends. The company is a "dividend aristocrat," meaning it has raised its payout every year for at least 25 years.
In fact, PepsiCo has done that almost twice over because the company has increased its quarterly dividend rate for 45 consecutive years. The latest dividend hike, which was announced in May, was a solid seven-percent increase. (Source: "Shareholder Information," PepsiCo, Inc., last accessed August 17, 2017.)
At the end of the day, keep in mind that the reason why PEP stock deserves income investors' attention is its rock-solid business. As a multinational food and beverage company, PepsiCo has 22 brands that each generates more than $1.0 billion of sales every year. These brands include "Pepsi," "Lays," "Gatorade," and "Quaker."
PepsiCo's deeply-entrenched market position has translated into recurring revenues and profits. And that's why the company has been paying generous dividends for decades, and will likely keep doing so for decades to come.
Also Read:
PEP Stock: Why PepsiCo, Inc. Is a Top Dividend Stock for 2017 and Beyond
Which Is Better? The Coca-Cola Co (KO) Stock or PepsiCo Inc (PEP) Stock?
The Top 10 Dividend Aristocrat Stocks for High Yields