People's United Financial, Inc.: Why This Bank Stock Could Be Better Than Others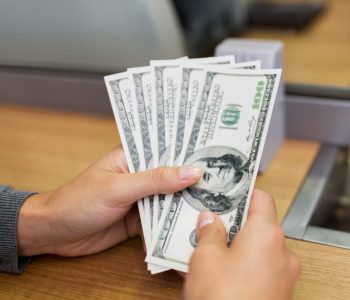 Earn Reliable Income from a Regional Bank Stock?
There are a lot of regional banks in the U.S. that pay a decent dividend, but income investors don't always look at them. Perhaps one of the reasons has to do with what happened to banks just over a decade ago. The financial crisis of 2007–2008 led to a lot of bank failures in America, including many regional banks. Even the banks that were considered "too big to fail" had to cut their dividends.
And that, my dear reader, is why People's United Financial, Inc. (NASDAQ:PBCT) could be special.
Headquartered in Bridgeport, CT, People's United Financial is the owner of People's United Bank, a regional bank in the Northeast with more than $60.0 billion in assets. The bank provides commercial and retail banking, as well as wealth management services, through a network of more than 400 retail locations in Connecticut, New York, Massachusetts, Vermont, New Hampshire, and Maine.
Obviously, there are financial institutions with substantially more assets and much bigger geographical presence than People's United Bank. And with a market capitalization of about $5.3 billion, People's United Financial stock does not get much attention from the financial media.
But here's a fact: People's United Financial has raised its dividend every year for 27 consecutive years. That means, during the early-2000s recession and the 2007–2008 financial crisis, this regional bank was still increasing the cash payouts to its shareholders. (Source: "Common Dividend History," People's United Financial, Inc., last accessed November 19, 2020.)
In the banking industry, that's a stellar track record.
Of course, a solid dividend-growth history does not prevent a company's share price from fluctuating. Due to the COVID-19 pandemic and its expected economic impact, the U.S. stock market had a major sell-off in March. And while major indices have bounced back, not every ticker has made a full recovery. PBCT stock, for instance, is still down more than 25% year-to-date.
And that could be an opportunity for dividend investors.
You see, at a constant-cash payout, a company's dividend yield moves inversely to its share price. So as People's United Financial stock tanked, its yield went up.
Better yet, People's United Financial's dividend did not just remain constant—it was rising. On April 23, the company's board of directors voted to increase the common stock quarterly dividend from $0.1775 per share to $0.18 per share.
The result is that, at its current share price, PBCT stock offers a generous annual dividend yield of 5.9%.
Of course, in today's low-yield environment, high-yield stocks are not exactly known for their dividend safety. And because of the severity of the pandemic-induced recession, past performance really does not guarantee future results these days.
As you'd expect, People's United Financial, Inc.'s business has been impacted by the pandemic. But according to the company's latest earnings report, things have started to improve.
For instance, the bank's provision for credit losses (PCL) was $26.8 million in the third quarter of 2020. This represented a substantial decline from the $80.8 million of PCL in the second quarter, and was also lower than the $33.5 billion of PCL in the first quarter. (Source: "People's United Financial Reports Third Quarter Net Income of $144.6 Million, or $0.34 per Common Share," People's United Financial, Inc., October 22, 2020.)
Meanwhile, loan deferrals dropped from $7.1 billion on June 30 to approximately $1.6 billion on September 30. To put that in perspective, the bank had $45.2 billion in total loans at the end of September.
Also in the third quarter, the company generated operating earnings of $144.7 million. This not only marked a huge increase from the $101.0 million earned in the second quarter, but was also higher than the $135.5 million earned in the year-ago period.
The best part is that People's United Financial stock's generous dividends remained safe. Take a look at the chart below. It shows the company's operating common dividend payout ratio since the beginning of 2020. The ratio is calculated by dividing common dividends paid by operating earnings for each reporting period.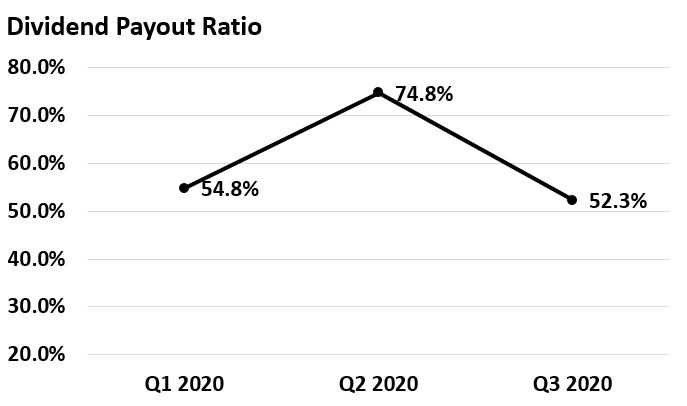 (Source: Ibid.)
Note that, as risk-averse income investors, we want to see low payout ratios in these extraordinary times because they leave a margin of safety. Unsurprisingly, the payout ratio jumped from the first quarter to the second quarter due to the economic downturn. However, it quickly fell back to a comfortable 52.3% in the third quarter.
Final Thoughts on People's United Financial, Inc.
Bottom line: People's United Financial, Inc. offers oversized dividends and has had no problem covering its payout, even during the current pandemic.
As it stands, PBCT stock looks like a solid high-yield opportunity for income investors.