Pembina Pipeline Stock: Growing, High-Yield Dividend Stock Reports Record Results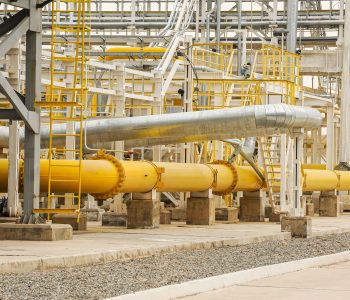 Undervalued PBA Stock Has 25.5% Upside & Pays High-Yield Dividends
Oil and natural gas stocks may not be as exciting as technology stocks, but when it comes to industries that are operating in their sweet spot, few can compete with the energy sector these days. It was the only sector to have a positive stock market performance in 2022, with most energy stocks experiencing significant growth that year.
In a year when the S&P 500 fell by 19.6%, shares of Pembina Pipeline Corp (NYSE:PBA) ripped higher by—coincidently—19.6%. The outlook for Pembina Pipeline stock is bullish for 2023, with analysts providing a 12-month share-price target of $38.73 to $42.60, which points to potential gains in the range of about 15% to 25%.
Why the bullish sentiment? For 2022, Pembina Pipeline reported record earnings and record adjusted earnings that exceeded the high end of the company's revised guidance range. Moreover, management has provided strong guidance for 2023.
For dividend hogs, PBA stock provides reliable high-yield dividends. Until recently, the Canada-based company paid its dividends monthly; starting in 2023, it switched to paying its dividends quarterly.
In 2022, Pembina Pipeline raised its common share dividend by 3.6%. Pembina Pipeline stock currently pays quarterly dividends of CA$0.6525 per share, which is equal to the total dividends per share it paid in the fourth quarter of 2022 (CA$0.2175 per month). (Source: "Stock & Dividend," Pembina Pipeline Corp, last accessed April 17, 2023.)
That works out to a current yield of 5.8%.
For shareholders receiving their common-share dividends in U.S. funds, the amount of the dividend depends on the Canadian/U.S. dollar exchange rate on the payment date. As of this writing, CA$1.00 equals about US$0.75.
The next quarterly payments are expected to be made on the last business day of June, September, and December to shareholders of record on the 15th day of the corresponding month.
Furthermore, in 2022, Pembina Pipeline reached its target to repurchase CA$350.0 million worth of its own common shares, redeemed CA$300.0 million worth of preferred shares, and reduced leverage to the low end of its target range.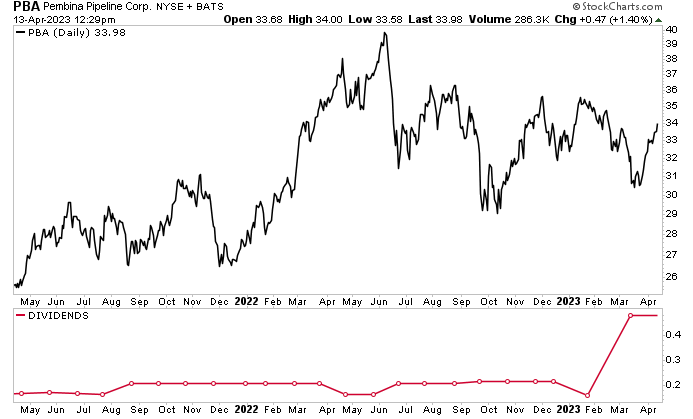 Chart courtesy of StockCharts.com
About Pembina Pipeline Corp
Pembina Pipeline Corp is a Calgary, Alberta-based oil and gas company that provides energy transportation and midstream services. The company operates through three segments: Pipelines, Facilities, and Marketing & New Ventures. (Source: "Operations," Pembina Pipeline Corp, last accessed April 17, 2023.)
The Pipelines segment provides pipeline transportation, terminaling, storage, and rail services for crude oil, condensate, natural gas liquids (NGL) and natural gas in key hubs in the U.S. and Canada. This segment manages pipeline transportation capacity of 3.1 million barrels of oil equivalent, above-ground storage of 11.0 million barrels, and rail terminaling capacity of about 145,000 barrels of oil equivalent per day. (Source: "Pipelines Division," Pembina Pipeline Corp, last accessed April 17, 2023.)
Throughout 2022, Pembina Pipeline Corp continued to make progress on its growth projects. Notably, it completed Phase VII and Phase IX of its Peace Pipeline expansion and the Empress Cogeneration project, which are collectively under budget. The company also restarted the construction of its previously deferred Phase VIII Peace Pipeline expansion. That project, which remains on time and on budget, is expected to begin service in the first half of 2024. (Source: Pembina Pipeline Corp, February 23, 2023, op. cit.)
Pembina Pipeline Corp is also proceeding with its construction of RFS IV, a new 55,000-barrel-per-day propane-plus fractionator, at its existing Redwater fractionation and storage complex. The new fractionator will help the complex meet customer demand.
The Facilities segment manages Pembina Pipeline's natural gas processing and NGL fractionation facilities and related infrastructure. (Source: "Facilities Division," Pembina Pipeline Corp, last accessed April 17, 2023.)
The company's natural gas gathering and processing assets are strategically located in the Western Canadian Sedimentary Basin (one of the world's largest reserves of petroleum and natural gas) and Williston Basin, and are integrated with Pembina Pipeline's other businesses. The Facilities segment includes about 354,000 barrels per day of NGL fractionation; 21.0 million barrels of cavern storage and associated pipeline and rail terminaling facilities; and the company's recently completed liquefied propane export facility on Canada's West Coast.
Pembina Pipeline Corp also owns a 125-acre bulk marine export terminal in Vancouver, B.C. The facility consists of four vessel berths with rail infrastructure.
The Marketing & New Ventures segment buys and sells hydrocarbon liquids and natural gas originating in the Western Canadian Sedimentary Basin and other basins. (Source: "Marketing & New Ventures," Pembina Pipeline Corp, last accessed April 17, 2023.)
Record 2022 Earnings & Adjusted EBITDA
On February 23, Pembina Pipeline Corp announced its financial results for fourth-quarter and full-year 2022.
The company reported fourth-quarter earnings of CA$243.0 million, or CA$0.39 per share, up by 204% over the CA$80.0 million, or CA$0.08 per share, recorded in the same prior-year period. Its fourth-quarter adjusted earnings before interest, taxes, depreciation, and amortization (EBITDA) went down by five percent year-over-year to CA$925.0 million.
Pembina Pipeline Corp's cash flow from operations increased in the fourth quarter by 36% year-over-year to CA$947.0 million. Meanwhile, its adjusted cash flow slipped by six percent year-over-year to CA$690.0 million.
The company's full-year earnings climbed by 139% year-over-year to a record CA$3.0 billion. Its adjusted EBITDA advanced nine percent year-over-year to a record CA$3.8 billion. Its 2022 cash flow from operations climbed by 11% to CA$2.9 billion. Its full-year adjusted cash flow from operations went up by one percent year-over-year to CA$2.7 billion.
For 2023, Pembina Pipeline Corp is reiterating its full-year adjusted EBITDA guidance range of CA$3.5 to CA$3.8 billion. The midpoint estimate reflects an increase of about five percent year-over-year. The company expects its full-year cash flow from operating activities to exceed its dividend payments and capital expenditures.
The company plans to use its additional incremental cash flow to help pay down its debt, strengthen its balance sheet, and fund future capital projects.
The Lowdown on Pembina Pipeline Stock
Pembina Pipeline Corp essentially represents the trifecta of dividend investing: record financial results; strong guidance; and rising, inflation-thumping dividends.
PBA stock is a great high-yield dividend stock that has increased its payout for the last six years. By all accounts, that winning streak should extend to seven years in 2023.