Paychex, Inc. Set to Soar as Economy Reopens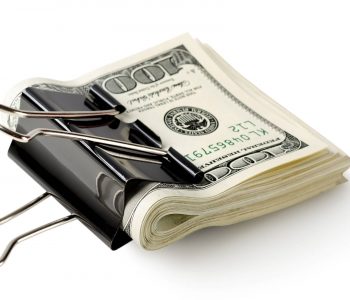 COVID-19 Vaccine Could Be a Big Catalyst for Paychex, Inc.
One year into the COVID-19 pandemic and the end finally appears to be in sight.
COVID-19 vaccines will provide a definite boost to the U.S. economy. Almost 15.0 million Americans lost their jobs as a result of the pandemic. But as governments loosen lockdown restrictions, many of those people will get back to work. (Source: "Unemployment Rose Higher in Three Months of COVID-19 Than It Did in Two Years of the Great Recession," Pew Research Center, June 11, 2020.)
All of which means good news for Paychex, Inc. (NASDAQ:PAYX).
The company provides human resources, payroll, and benefits services to small and medium-sized businesses. In other words, it performs many of the boring back-office functions that companies need to keep their numbers straight. And this important service typically results in steady, recurring cash flows. That explains why Paychex stock has remained a member of the Automated Income model portfolio for years.
Admittedly, the pandemic presented two big problems for Paychex's business. First, the company usually charges clients fees based on the number of their employees. So when businesses began laying off staff in the recession, that took a bite out of Paychex's revenues. Second, Paychex earns interest income on funds held for clients. But with the Federal Reserve slashing yields to basically zero, the company has seen this passive income stream dry up.
You can see the impact of these dual problems in Paychex's most recent financial results. Overall fiscal first-quarter sales dropped six percent year-over-year. Excluding a one-time charge, the company's operating margins came in at 33.8%, compared to 35.2% during the same period a year earlier. Diluted earnings per share, once again excluding any one-off impairments, plunged 19% to $0.59 apiece. (Source: "Paychex, Inc. Reports First Quarter Results," Paychex, Inc., October 6, 2020.)
In the many years I've followed this company, I don't think I've ever seen such a disappointing quarter.
But PAYX shareholders have some reason to be optimistic. Client service revenues improved substantially from the absolutely terrible numbers we saw reported in the spring and summer. That suggests employers have reduced the pace of layoffs. And for Paychex, that should put a floor underneath the company's drop in revenues.
"The effects of the COVID-19 pandemic continue to impact our results causing unfavorable year-over-year comparisons, however, client retention has remained strong and sales performance is accelerating with year-over-year growth in the number of clients sold," wrote Martin Mucci, Paychex's president and chief executive officer, in a note to shareholders. (Source: Ibid.)
"We continue to provide excellent customer service and invest in our business while remaining cost-conscious. Cost-saving initiatives are underway and proceeding as expected."
And this could be just the beginning.
In early December, the U.S. Bureau of Labor Statistics reported that the U.S. economy added 245,000 jobs during the month of November. The nationwide unemployment rate came in at 6.7%, which was down sharply from the peak of 14.7% we saw in the spring. And with a full reopening of the economy on the horizon, analysts expect employers to add millions of jobs over the next few months. (Source: "Payroll Employment Rises by 245,000 in November; Unemployment Rate Edges Down to 6.7%," The U.S. Bureau of Labor Statistics, December 4, 2020.)
That means it's a great time to be a payroll processor.
Paychex, Inc. executives seem optimistic. In their commentary for investors, management raised the lower end of their guidance for fiscal 2021. Those executives now see the company's total revenues dropping by between two and four percent. They expect adjusted earnings per share to drop by between six and eight percent. Not great. But it's far better than the worst-case scenario that analysts originally feared.
Wall Street has taken notice. At the start of the pandemic, PAYX stock lost nearly half of its value. But with signs of an economic recovery on the horizon, the stock has regained all of the ground it lost in the spring. In fact, management's better-than-expected guidance sent Paychex stock to fresh all-time highs in November.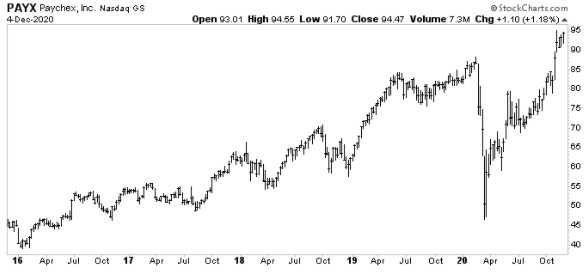 Chart courtesy of StockCharts.com
Bottom line: As the economy recovers from the COVID-19 pandemic, payroll processors like Paychex, Inc. look poised to prosper. If we get a quick vaccine rollout, government officials will likely resume opening up restaurants, bars, sports, airlines, and other industries.
That will result in millions of Americans going back to work. And importantly for shareholders, it will result in millions of dollars in additional fees getting paid to Paychex.