Paychex, Inc.: This Dividend Stock Is Also a Pandemic Recovery Play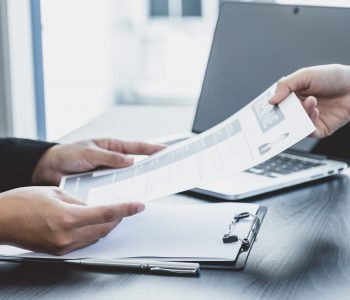 Time to Check out Paychex Stock
In a world of soaring tickers, Paychex, Inc. (NASDAQ:PAYX) doesn't get much investor attention. The company's shares plunged during the market sell-off in March 2020, bounced back later, and are now trading around the same level as they were just before the COVID-19 outbreak.
However, PAYX stock could be an opportunity, as it's one of the more solid dividend payers in today's market. Better yet, as the economy continues to recover from the impacts of the pandemic, the company's business could return to prosperity.
Allow me to explain.
Headquartered in Rochester, NY, Paychex, Inc. is in the human capital management (HCM) business. The company provides a wide range of solutions, such as payroll, benefits, human resources, and insurance services.
The HCM industry is not an exciting one by any stretch of the imagination, but it's essential to businesses, both large and small. Paychex has been in the industry for over 45 years, and it has established a strong market position. Today, the company serves more than 680,000 payroll clients at more than 100 locations in the U.S. and Europe. (Source: "Second Quarter Highlights and Financial Results: Fiscal 2021," Paychex, Inc., last accessed March 5, 2021.)
For the most part, the HCM industry has been very durable, due to the recurring nature of the business. And that has allowed Paychex stock to pay reliable dividends.
Over the years, the company has managed to boost its payout. In 2010, Paychex's dividends totaled $1.24 per share. In 2020, they totaled $2.48 per share. That translates to a 100% dividend increase over the past decade, which is quite impressive for a decades-old company operating in an industry that's not exactly known for growth. (Source: "PAYX Dividend History," Nasdaq, last accessed March 5, 2021.)
Of course, the COVID-19 pandemic has presented some serious challenges to the HCM industry. When the outbreak started and lockdowns were imposed, many companies began laying off workers at an unprecedented pace. For a company that charges clients fees to process payroll, that wave of layoffs was not good for business.
Indeed, in the first quarter of Paychex's fiscal year 2021, which ended August 31, 2020, the company generated $932.2 million in total revenue, representing a six-percent decline year-over-year. Its adjusted earnings came in at $0.63 per share, down 11% from the $0.71 per share in the year-ago period. (Source: "Paychex, Inc. Reports First Quarter Results," Paychex, Inc., October 6, 2020.)
But here's the thing: even though the pandemic is not over—and a lot of companies are still in the doldrums—Paychex's business has already shown signs of improvement.
In the second quarter of the company's fiscal year 2021, which ended November 30, 2020, its revenue totaled $983.7 million. The amount was not only $51.5 million more than what Paychex earned in the August quarter, but was also down just one percent on a year-over-year basis. (Source: "Paychex, Inc. Reports Second Quarter Results," Paychex, Inc., December 23, 2020.)
At the bottom line, Paychex generated adjusted earnings of $0.73 per share for the second quarter, which actually marked a four-percent increase year-over-year.
The improvements have led management to raise their outlook. Last October, they expected the company's revenue to decline by two to four percent and its adjusted earnings per share to decline by six to eight percent in full-year fiscal 2021. By December, management was anticipating revenue growth in the range of negative three percent to flat, and adjusted earnings to decline by one to four percent.
Keep in mind that, in both the first and second quarters of Paychex's fiscal 2021, the company's adjusted earnings per share were in excess of its quarterly dividend payment of $0.62 per share.
At its current share price, PAYX stock offers an annual dividend yield of 2.7%.
Bottom Line on Paychex, Inc.
Last but certainly not least, the U.S. labor market has continued to recover. In February, nonfarm payroll employment increased by 379,000 and the unemployment rate fell from 6.3% to 6.2%. (Source: "Employment Situation Summary," U.S. Bureau of Labor Statistics, March 5, 2021.)
With the COVID-19 vaccine rollout and more reopening measures, the U.S. economy will likely add more jobs in the months to come. As one of the leading players in the HCM industry, Paychex, Inc. can certainly benefit from this trend.
Bottom line: as it stands, Paychex stock is a solid dividend stock. But given the dynamics of the economy, it could also represent a pandemic recovery play.