Pattern Energy Group Inc: This Clean Energy Stock Now Yields 7.6%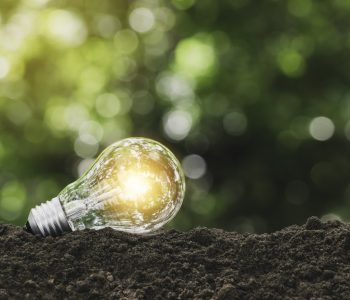 iStock.com/Mintr
Investors Can Earn a 7.6% Yield From the Clean Energy Boom
The boom in clean energy has reshaped America's power industry, making investors fortunes in the process.
Over the past two years, renewable energy, led by solar and wind, has been the fastest-growing source of electricity. That has created lucrative income streams for shareholders, who prize the industry for its reliable cash flows.
Pattern Energy Group Inc (NASDAQ:PEGI) is one such stream. Since going public in 2013, the company has accumulated a sprawling collection of clean energy assets. Those have thrown off an impressive amount of income, most of which management has returned to shareholders.
But is Pattern Energy Group a good place for income hunters to put their money to work today? Time to examine this distribution.
Pattern Energy Group Inc Overview
Prospective investors will spot one big problem with Pattern Energy Group: the payout ratio.
Last year, Pattern Energy Group generated $167.0 million in cash available for distribution. From that total, management paid out $166.0 million to investors. (Source: "Pattern Energy Reports Fourth Quarter and Year End 2018 Financial Results," Pattern Energy Group Inc, March 1, 2019.)
Generally, I like to see businesses pay out 90% of their profits as distributions. This leaves executives with some wiggle room in case the industry has a down year or two.
So in the case of PEGI stock, shareholders have good reason to be worried. With the company running in the red zone, even the slight mix-up could result in a dividend cut. That doesn't leave analysts with a lot of confidence.
That said, the company has a plan to address this problem.
Pattern Energy Group has a three-part plan to boost earnings. The strategy includes improving the profitability of existing assets, purchasing new clean-energy facilities, and making several large-scale acquisitions.
This combination of initiatives should boost cash flow at a 10%-plus compound annual rate over at least the next two years. That would be welcome relief for shareholders. If achieved, that would reduce the company's payout ratio to a more sustainable 80%.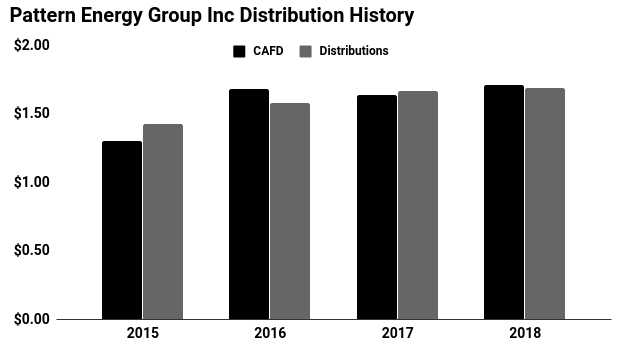 (Source: "Investor Presentation May 2019," Pattern Energy Group Inc, last accessed June 11, 2019.)
The Bottom Line on PEGI Stock
Pattern Energy Group Inc's plan looks realistic.
Thanks to the boom in clean energy, management has plenty of acquisition opportunities. And last quarter, efficiency gains at the company's existing facilities provided a nice boost to the bottom line.
Of course, there's a big difference between cash flow targets and actually achieving those goals. Management, however, has proven that they can deliver on their promises.
Income hunters should give this 7.6% yield a further look.