Papa John's Boosts Dividend by 20%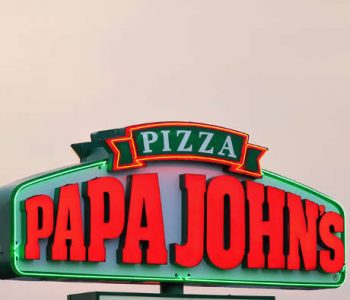 Pizza Chain Forecast to Perform Well
New York, NY — Papa John's Int'l, Inc. (NASDAQ:PZZA) announced today that the board of directors has approved a 14% increase in the quarterly dividend.
The hike will result in a quarterly dividend rate of $0.20 per share, or $0.80 on an annual basis, payable August 19, 2016, a company statement said. (Source: "Papa John's announces 14% increase in quarterly dividend," Investor Relations, Papa John's, July 28, 2016.)
Papa John's, a Kentucky-based take-out and pizza delivery restaurant chain, will announce its second-quarter results after the market closes on August 2.
Papa John's International Inc. is poised to perform well as civil and political disruptions ahead of a contentious U.S. election prompt Americans to stay in rather than eat out, according to KeyBanc analyst Chris O'Cull. (Source: "Analyst Upgrades Papa John's," Bloomberg, July 20, 2016.)
The analyst upgraded the stock to "Overweight" from "Sector Weight" and upped his price target to $80.00, which is the highest among analysts surveyed by Bloomberg.
"After speaking with several large operators and industry contacts, we believe the recent decline in casual dining restaurant segment fundamentals—traffic down three percent to five percent the past several weeks—may be the result of consumers eating more at home amid the current political/social backdrop, which we believe could last through the November election," he writes. "We do not believe the consumer has 'entrenched,' but has likely shifted more in favor of convenience, benefiting pizza delivery operators like Papa John's." (Source: Ibid.)
Analysts expect Papa John's to post revenue of $414 million in the second quarter, which represents a growth of 3.8% from $399 million in the same period a year ago. Same-store sales growth and unit growth are expected to drive Papa John's revenue growth. (Source: "Will Papa John's Share Price Continue to Rise after Its 2Q16 Results?" Market Realist, July 26, 2016.)
By the end of the first quarter, the company operated 169 more restaurants, which include 32 company-owned restaurants and 137 franchised restaurants. The increase in company-owned restaurants increases the company's revenue though an increase in sales.
Franchised restaurants increase the franchise fee, royalties, and revenue from commissaries. In 2Q16, analysts are expecting the company to add 32 more units overall. These increased units, along with its same-store sales growth expectation of 2.3%, are expected to drive Papa John's 2Q16 revenue. (Source: Ibid.)
In the past three months, Papa John's stock has surged 30%. It was trading at $73.68 this morning on the NASDAQ Stock Exchange.