PAC Stock: Up 57% in Seven Months, with Plenty of Upside Left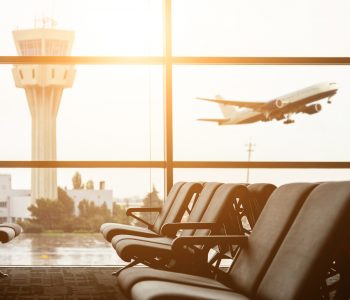 iStock.com/william87
Up 57% in Mexico: What to Do Next
I crushed it on Mexico!
Last year, analysts worried a Trump Presidency would spark a trade war. Investors unloaded their positions, dumping high-quality assets at any price.
We told readers to forget the headlines. In January, I started combing through the market's discount bin and highlighted Grupo Aeroportuario del Pacifico (NYSE:PAC), or GAP.
"[Grupo Aeroportuario del Pacifico is] one dividend stock for the next 50 years." I wrote. "And, thanks to President-elect Trump, investors can scoop up shares at a once-in-a-lifetime bargain price."
I got it exactly right. The doom and gloom predictions didn't come true. Grade-A stocks soared over the following weeks.
On GAP, we now have a 57% gain in seven months. So, where do we go from here?
Surprisingly, I expect shares to keep marching higher.
Ugly headlines make stocks cheap. I find that when business booms, it often gets worse. And when everything looks bad, things get better.
The headlines from Mexico look awful. With NAFTA negotiations ramping up this summer, stocks still sell for a big discount. And despite the run in recent weeks, you can still find wonderful businesses selling for bargain prices.
GAP remains one of my favorites.
This firm owns a collection of airports across Western Mexico, accounting for more than a quarter of the nation's air traffic. If you've ever flown into Tijuana, Los Cabos, or Puerto Vallarta, you've visited one of GAP's properties.
And because these cities are so small, it just doesn't make sense to build an airport next door. And for some destinations, GAP owns the only runway in town.
Normally, you'd have to pay a big markup to own this kind of monopoly. Yet today, GAP still sells at a discount to historical multiples. When all of the ugly headlines die down, I can see a stock like this once again trading at a premium to the rest of the market.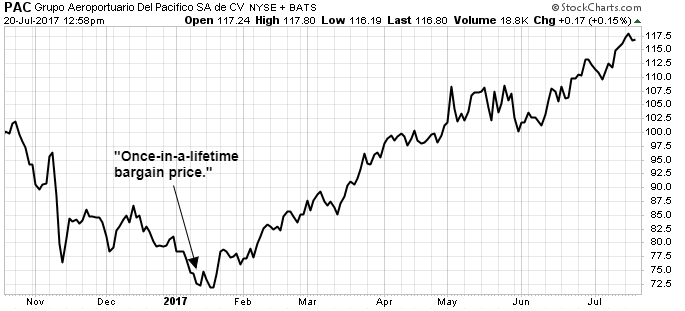 Source: StockCharts.com
In the meantime, we lock in a big dividend.
Last quarter, management paid out a $1.79 per share distribution. That comes out to an annual yield of 4.9%.
I expect this payout should keep growing. PAC stock keeps finding new ways to squeeze money out of travelers' pockets, including advertisements, restaurants, duty-free stores, and financial services. Analysts project the distribution to keep growing at a low-teen clip, give or take a few percentage points.
Bottom line: Nobody likes Mexico except me–and my readers.
Sure, top names like GAP no longer trade at once-in-a-lifetime bargains. Shares, though, still represent a cheap, hated asset.
You haven't missed it yet, so take a second look at these stocks now.