Own a Slice of 154,000 Acres of Farmland With This 1 Investment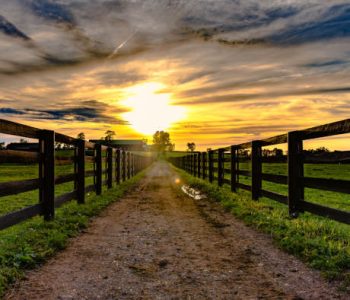 iStock.com/Jacqueline Nix
If You Want Income, Should You Look Here?
I started my career in the wealth management office of a small town. Much to my surprise, some of our richest clients came from rural areas outside of the big cities.
A lot of the wealth in this region came from agriculture investments made generations ago. The seemingly endless amount of money was created when someone's great-grandfather bought some farmland for a few dollars an acre.
So when I discovered a company that could help investors get a piece of this business, I took an interest. That company is Gladstone Land Corp (NASDAQ:LAND), a real estate investment trust that buys, manages, and rents out farmland. It currently owns interests in about 154,000 acres of agricultural properties across the country.
Farmland doesn't have the same appeal as the more exotic investments out there. Agriculture, however, has created a massive, reliable amount of wealth for investors over generations.
Rather than work the land itself, Gladstone Land Corp rents out its properties to farmers for an upfront payment. Typically, rental rates come in at between four and six percent of the property's value.
Aside from a few expenses, most of these rental profits get passed on to shareholders. Since going public in 2013, management has boosted the distribution of LAND stock on 11 occasions. Today, the business pays a monthly distribution of $0.04 per unit, which comes out to an annual yield of four percent.
Investors can supplement their returns with impressive capital gains, too. More land is lost every year to salinization, soil erosion, climate change, and urban development. The amount of arable land per person worldwide has halved over the last 40 years, according to David Gladstone, founder and CEO of affiliate Gladstone Capital Corporation (NASDAQ:GLAD). (Source: "Episode #114: David Gladstone, 'Farmland Is One of the Most Stable Assets One Can Own'," Meb Faber Research, July 25, 2018.)
For investors, these trends have resulted in outstanding returns. In 1967, for instance, the average acre of farmland in the United States sold for only $168.00. Today, that same acre of farmland would auction for over $3,100 per acre. (Source: "Average U.S. farm real estate value, nominal and real (inflation adjusted), 1967-2017," United States Department of Agriculture, last accessed August 27, 2018.)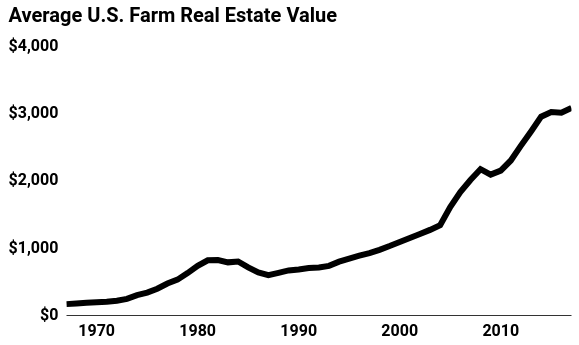 (Source: Ibid.)
Of course, farmland comes with its own set of risks. Lower crop prices have resulted in lower rental income.
What's more, higher interest rates could also clip the demand for shares as investors look for safer returns in fixed-income securities.
I should also point out Gladstone Land Corp's relatively small size. With a market value under $220.0 million, it can be difficult to accumulate a large position. Even a modest-sized trade can move the value of shares.
All that said, LAND stock compensates investors well for the risks they're taking. Farmland has fallen out of favor with stock traders in recent years as most of the hot money moved into cryptocurrencies and tech stocks. That has created an opportunity to scoop up some wonderful assets at a bargain price.