Walt Disney Co: The Most Overlooked Reason to Own Disney Stock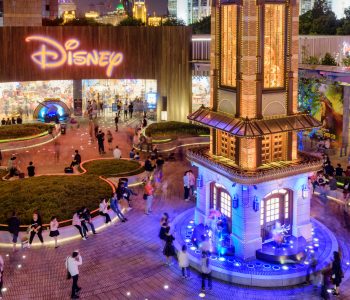 iStock.com/efired
DIS Stock Surging to New Heights
For the most part of the last four years, Walt Disney Co (NYSE:DIS) stock has been trading sideways. Most recently, though, the company has finally broken out of its previous trading range and is now flying in uncharted territory.
Just take a look at the Disney stock chart below and you'll see what I mean:
Walt Disney Co Stock Chart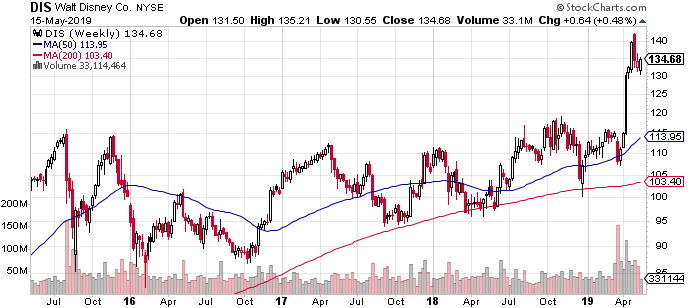 Chart courtesy of StockCharts.com
There are many reasons why investors are loading up shares of this Burbank, California-based entertainment giant. For instance, the company has put out a bunch of blockbuster films, including Avengers: Endgame, which already grossed $2.5 billion at worldwide box office and is poised to become the highest grossing movie of all time. (Source: "All Time Box Office," Box Office Mojo, last accessed May 15, 2019.)
Then there's the company's move into on-demand video streaming, which happens to be one of the fastest-growing industries right now. Disney's own service, called "Disney+," is scheduled to launch in the fourth quarter of this year. With contents from Disney, Pixar, Marvel, Star Wars, and National Geographic and an approachable subscription price of $6.99 per month, Disney's streaming service could give Netflix, Inc. (NASDAQ:NFLX) a serious run for its money.
The latest earnings report looked pretty solid, too. On average, Wall Street analysts expected Disney to earn $1.58 per share on $14.36 billion of revenue in the second quarter of the company's fiscal year 2019. As it turned out, Disney reported $14.92 billion of revenue and adjusted earnings of $1.61 per share for the quarter, beating both top- and bottom-line estimates. (Source: "The Walt Disney Company Reports Second Quarter and Six Months Earnings for Fiscal 2019," Walt Disney Co, May 8, 2019.)
Walt Disney Co: An Overlooked Dividend Stock
These are all solid points to consider, but in my opinion, there's one thing about Disney stock that often gets overlooked by market participants: the company's dividend policy.
You see, when I say Disney stock was trading sideways, I don't mean investors had to go home empty-handed. This is because while DIS shares didn't always move in the direction we wanted, the company did offer investors a way to earn a return with certainty. And that is through dividends.
Consider this: in calendar year 2013, Walt Disney Co declared total dividends of $0.86 per share. In 2018, it declared total dividends of $1.72 per share. That translates to an increase of 100% in just five years. (Source: "Walt Disney Company (The) Dividend Date & History," Nasdaq, last accessed May 15, 2019.)
Other than doubling its payout, Walt Disney Co has also increased its payment frequency during this period. You see, from 1999 to 2014, the company was following an annual distribution schedule. That is, once Disney paid a dividend, shareholders had to wait another year for the next dividend check.
But that changed in 2015; in that year, the company switched to paying semi-annual dividends. So instead of getting one check every 12 months, investors can now collect DIS stock dividends twice a year.
With a semi-annual dividend rate of $0.88 per share, Disney stock offers an annual yield of 1.3%.
The yield itself may not seem like much, but keep in mind that dividend growth is what makes the company stand out. Since 2010, management has raised Disney's annual payout every single year.
And based on Disney's financials, the company should have no problem continuing that track record. In its fiscal year 2018, which ended September 29, 2018, the company earned an adjusted net income of $7.08 per share. Its dividends, on the other hand, totaled just $1.68 per share for the fiscal year. In other words, the company had a payout ratio of 23.7%. (Source: "The Walt Disney Company Reports Fourth Quarter and Full Year Earnings for Fiscal 2018," Walt Disney Co, November 8, 2018.)
In the first six months of Disney's fiscal year 2019, which ended March 30, 2019, the company generated adjusted earnings of $3.45 per share while declaring a semi-annual dividend of $0.88 per share. That translated to a payout ratio of 25.5%.
Longtime readers of this column would know that I generally prefer companies that pay out less than 75% of their profits. This is because when a company has that kind of margin of safety in its dividend policy, it has a good chance of keep paying that dividend even if business slows down.
In the case of Walt Disney Co, though, we see that the company was paying out just around one quarter of its profits—a ratio that's well within my comfort zone. Such a conservative payout ratio also means if management wants to continue raising the dividend, there's plenty of room to do so.
The Bottom Line on Walt Disney Co
Disney's safe and growing dividend stream was one of the main reasons why we recommended DIS stock to subscribers of our Income for Life advisory back in August 2015. And that thesis continues to hold true today.
For investors who want to own a dividend growth stock for the long term, Walt Disney Co remains one of the top candidates to consider.