Outfront Media Inc: A 7.4% Yield on the Verge of an Upgrade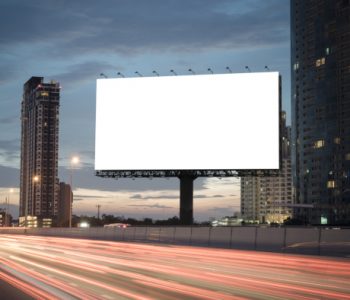 iStock.com/utah778
Can You Trust This 7.4% Yield?
Income investors and high yields go together like college students and an open bar; it's a natural combination.
And like an open bar, high yields can sometimes cause a hangover for your portfolio. Most big payouts come from struggling businesses, which can result in painful losses for shareholders.
But that doesn't mean you should become a high yield teetotaler. Once in a while, I stumble across a stock that offers both a big upfront payout and improving fundamentals. And when you find that winning combination, it can result in outstanding profits.
Such is the case with Outfront Media Inc (NYSE:OUT). This company's billboard business has hemorrhaged sales as more ad dollars shift online. Thanks to a plunging share price, the yield on shares has ticked up to 7.4%.
Should income connoisseurs just pass on this one? Not really. Behind the scenes, this company has engineered an impressive turnaround. Let's dig into the financials.
OUT Stock: Is the Writing on the Wall?
I want to get the big problem out of the way first: Outfront's profitability has deteriorated in recent years.
Outdoor billboards have become a tough sell in the digital era. Because businesses like Alphabet Inc (NASDAQ:GOOGL) and Facebook, Inc. (NASDAQ:FB) offer precise targeting, marketing dollars have moved online.
You can see the problem for Outfront in the chart below. Last year, the company's adjusted fund flows from operations (AFFO) dropped 7.1%.
That never put the distribution in jeopardy. Outfront has always generated more than enough cash flow to fund its payout. Declining profitability, however, should always set off alarm bells.
That situation has started to change, however.
Over the past year, Outfront Media Inc has embarked on a digital transformation. This has included spending millions upgrading existing billboards, moving most canvasses to digital displays.
But it's on the analytics side where things get really interesting. By combining data from cell phone carriers, Outfront can better figure out who's looking at their ads and when. As a result, the company can laser target ads depending on demographics, time of day, or day of the week.
Advertisers, of course, will pay more money for this targeting. Last quarter, we saw organic revenue jump seven percent year-over-year. Investors loved the report, sending shares of OUT stock soaring 15% during the next trading session.
This puts Outfront's payout on a much firmer foundation.
Right now, management pays out 72% of AFFO as distributions. That sits at the upper end of my comfort zone.
But if Outfront's digital transformation pays off, it could put a floor underneath cash flow. That would force me to upgrade OUTstock's dividend safety. It could even pave the way for more distribution hikes.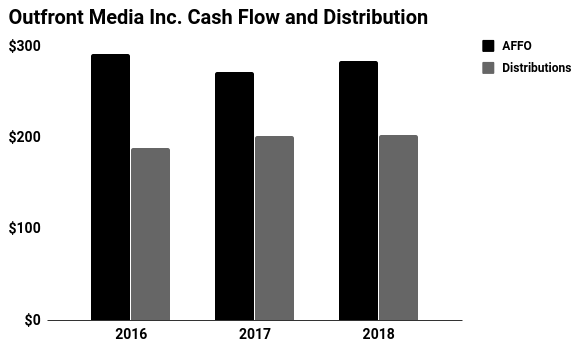 Source: "Investor Relations," Outfront Media Inc, last accessed December 17, 2018.

The Bottom Line on OUT Stock
Now, you can't call Outfront's turnaround a sure thing yet.
One great quarter doesn't make a trend. We need to keep a close eye on the company's financial results to see this digital transformation play out.
But Outfront Media Inc. recent numbers look encouraging. This 7.4% yield looks reasonably safe.
At the very least, I don't think OUT stock will give you a financial hangover.