OUTFRONT Media Inc Now Yielding 7% After a Dividend Hike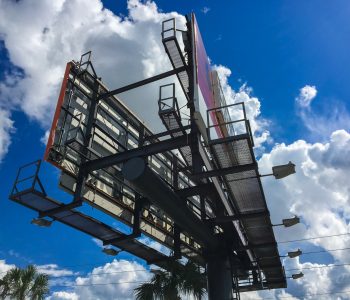 This Dividend Stock Deserves a Look
In an era when digital advertising can target audiences quite precisely, billboard ads may not seem that attractive to marketers. Yet one company that's known for its billboard assets just delivered some good news to its shareholders. I'm talking about OUTFRONT Media Inc (NYSE:OUT), which owns a portfolio of billboard, transit, and mobile advertising assets in North America.
On February 25, the company announced that its board of directors declared a quarterly cash dividend of $0.38 per share. The amount represented a 5.6% increase from OUT stock's previous dividend payment. The new dividend will be paid on March 31, 2020 to shareholders of record as of March 6. (Source: "OUTFRONT Media Announces Quarterly Dividend," OUTFRONT Media Inc, February 25, 2020.)
Trading at $21.64 per share as of this writing, OUTFRONT Media stock offers an annual dividend yield of seven percent.
As mentioned, in this day and age, marketing dollars are mostly going to online advertising, but that doesn't mean there's no demand for out-of-home advertising structures. In fact, if you take a look at the latest earnings report from OUTFRONT Media, you'll see that the company's business has actually improved.
In the fourth quarter of 2019, OUTFRONT Media generated $488.1 million of revenue, a 7.9% increase year-over-year. Growth was across the board, as the company's billboard revenue grew 6.3% year-over-year to $321.1 million while its transit and other revenues surged 11.1% from a year ago to $167.0 million. (Source: "OUTFRONT Media Reports Fourth Quarter and Full Year 2019 Results," OUTFRONT Media Inc, February 25, 2020.)
At the same time, the company earned $98.0 million in operating income in the fourth quarter, up 7.3% from what it earned in the year-ago period.
In full-year 2019, OUTFRONT Media's total revenue rose 11% to $1.8 billion while its operating income increased by a whopping 31.6% to $309.1 million.
The neat thing is, this billboard company is structured as a real estate investment trust (REIT). That means it's required by law to distribute at least 90% of its profits to investors in the form of dividends. In return, REITs pay little to no income tax at the corporate level.
By being a REIT, OUTFRONT Media Inc also reports something called adjusted funds from operations (AFFO). To see whether a REIT's dividends are safe in a given reporting period, investors can simply compare the company's AFFO to its actual payout for that period.
In 2019, OUTFRONT Media generated AFFO of $334.1 million. The amount was up 11.5% from what it earned in 2018. And since the REIT paid total cash dividends of $208.1 million in full-year 2019, it had an AFFO payout ratio of around 62%.
Again, this marked a sizable improvement because, in 2018, OUTFRONT Media's AFFO payout ratio was 68%. (Source: "2019 Fourth Quarter," OUTFRONT Media Inc, February 25, 2020.)
If you've been following this column, you'd know that when it comes to REITs, I prefer companies that pay out less than 90% of their AFFO in dividends because this way, they have a margin of safety. In the case of OUT stock, its 2018 payout ratio was already within my comfort zone, and its 2019 numbers made the margin of safety even wider.
Bottom Line on OUTFRONT Media Inc
Even though OUTFRONT Media Inc doesn't come from a booming industry, it managed to churn out some very impressive growth rates.
Adding in its recently boosted dividend and a more-than-decent yield of seven percent, I'd say OUTFRONT Media stock deserves a spot on an income investor's watch list.