Orchid Island Capital Inc: This 15.2% Yielder Making a Turnaround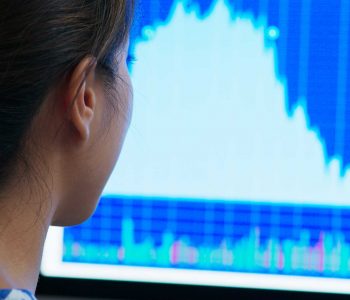 This High-Yield Stock Looks Interesting
Investing in turnaround businesses can be lucrative, especially in this extraordinary market environment.
Think about it. As the COVID-19 pandemic sent shock waves across the economy, a lot of companies saw business deteriorating. Seeing the impact of the pandemic, investors started unloading their shares. And that's why the U.S. stock market plunged earlier this year.
But then, the economy started to reopen and sentiment changed. While it may take time for businesses to get back to where they were before the coronavirus outbreak, investors are forward looking, so the market bounced back quickly.
The key here, of course, is to invest in businesses that can successfully engineer a turnaround. But what does a turnaround really mean? From a sales decline to growth? Or from a loss to a profit?
There are a number of ways that we can measure the progress. But in the case of dividend-paying companies, looking at their dividend payout can be incredibly useful.
This is because nowadays, earnings can be adjusted, but dividends are still paid in cold, hard cash. No matter how clever a company's management is at using accounting tricks, the dividend won't be sustainable if the business is in a slump.
And that's why, in light of the COVID-19 pandemic, we saw a lot of dividend cut announcements alongside the market sell-off.
Orchid Island Capital Inc (NYSE:ORC) was one of the many companies that slashed their payout earlier this year.
At the beginning of 2020, the Vero Beach, Florida-based mortgage real estate investment trust (REIT) was paying investors a dividend of $0.08 per share every month. On April 8, the board of directors reduced the monthly dividend rate to $0.055 per share, marking a 31.25% cut. (Source: "Dividend History," Orchid Island Capital Inc, last accessed August 25, 2020.)
The reality, unsurprisingly, was that the company's business was negatively impacted by the pandemic. In the first quarter of 2020, Orchid Island Capital Inc generated net interest income of $19.1 million, or $0.30 per common share. However, the mortgage REIT experienced a net portfolio loss of $108.2 million for the quarter, which included realized and unrealized losses on residential mortgage-backed securities (RMBS) and derivative instruments, and net interest income realized on interest rate swaps. After subtracting that net portfolio loss and $2.1 million in other expenses from net interest income, the company was left with a net loss of $91.2 million. (Source: "Orchid Island Capital Announces First Quarter 2020 Results," Orchid Island Capital Inc, April 30, 2020.)
But that was not the whole story, as the turnaround came quicker than many had thought it would. On July 15, the mortgage REIT raised the monthly cash dividend by 9.1% to $0.06 per share.
Later that month, Orchid Island Capital reported second-quarter results, showing that its net interest income improved to $22.8 million, or $0.34 per share.
Most importantly, instead of having a sizable portfolio loss—like it did in the first quarter—the mortgage REIT recorded net portfolio gains of $28.7 million in the second quarter.
After deducting $2.8 million in expenses from the net interest income and net portfolio gains, the company's net income came in at $48.8 million. (Source: "Orchid Island Capital Announces Second Quarter 2020 Results," Orchid Island Capital Inc, July 30, 2020.)
And that's not all. On August 19, Orchid Island Capital's board approved another 8.3% increase to the company's monthly dividend rate, raising it to $0.065 per share.
One of the reasons behind those dividend hikes is ORC's REIT structure. In order for the company to maintain its REIT status, the company needs to distribute at least 90% of its annual taxable income to stockholders through dividend payments. In return, REITs pay little to no income tax at the corporate level.
In other words, as a REIT improves its bottom line—like what ORC has just done—its payout to shareholders is likely going to be on the rise.
It should also be noted that Orchid Island Capital Inc focuses on investing in agency RMBS, meaning the principal and interest payments of these securities are backed by the Federal National Mortgage Association (Fannie Mae), the Federal Home Loan Mortgage Corporation (Freddie Mac), or the Government National Mortgage Association (Ginnie Mae).
Orchid Island Capital Inc (NYSE:ORC) Stock Chart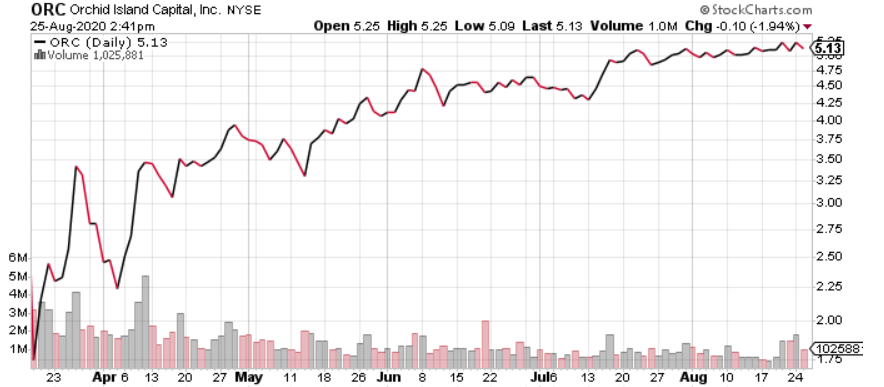 Chart courtesy of StockCharts.com
The turnaround has also been noticed by market participants. Since reaching a low in March, ORC stock has surged more than 170%.
With Orchid Island Capital shares trading at $5.13 apiece, the company's new monthly dividend rate translates to an annual yield of 15.2%.
Ultimately, mortgage REITs don't really have the best reputation when it comes to dividend safety. But with a solid turnaround story and oversized monthly dividend payments, ORC stock could be worth a look for yield hunters.