OneMain Holdings Inc: Wall Street Says You Can Trust This 13% Dividend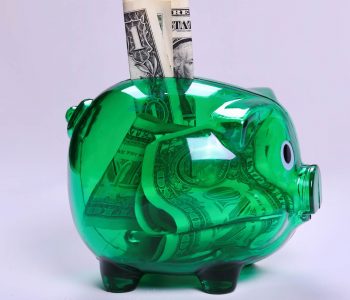 OneMain Stock: Frothy Dividend & Strong Price Appreciation
OneMain Holdings Inc (NYSE:OMF) is one of Wall Street's best-kept secrets. An overlooked financial services company, OneMain provides investors with healthy capital appreciation and a frothy dividend yield. You can't ask for much more than that. And the company's outlook remains solid, with 10 out of 10 analysts covering OMF stock giving it a "Strong Buy" rating.
What's the big deal about OneMain? On the surface, it looks like most other consumer finance companies. It provides personal loan products, credit insurance, and non-credit insurance. It also services loans owned by third parties. (Source: "About Us," OneMain Holdings Inc, last accessed March 13, 2021.)
It's OneMain's customer base that's unique. The company serves Americans who get rejected by traditional lenders because they have non-prime credit scores. And with 40% of American adults unable to cover a $400.00 emergency, it's imperative that everyone has access to responsible credit.
There are a lot of Americans with non-prime credit scores, approximately 100 million. What can bruise your credit score? Everything from getting divorced, to having unreliable income, to being new to the U.S., to having no credit.
Naturally, traditional banks, if they even choose to deal with non-prime borrowers, will probably require larger upfront payments, fees, and—of course—higher interest rates.
If you're struggling to begin with, taking on a high-cost loan or using credit cards just perpetuates a cycle of debt. OneMain Holdings Inc provides safe financial products that adhere to state and federal regulations.
With 2.3 million customers, OneMain is America's largest personal installment loan company. Providing personal and auto loans ranging from $1,500 to $20,000, OneMain helps its customers meet their critical financial needs, including debt consolidation, home and auto repairs, medical procedures, and other major expenses.
OneMain Holdings Inc doesn't charge prepayment penalties, and to help its customers rebuild their credit scores, it provides financial tools, education, and other resources. Investors might think this is a risky venture, but fewer than nine percent of OneMain's customers go into default. That's pretty close to the national average at traditional financial institutions.
It's a big segment that helps OneMain bring in a lot of money. For the fourth quarter, the company announced that its:
Revenue surged 18.0% to $853.0 million
Pre-tax income climbed 38.0% to $476.0 million
Net income inched up 4.3% to $359.0 million
Earnings per share went up 39.0% year-over-year and 43.0% sequentially to $2.67
(Source: "OneMain Holdings, Inc. Reports Fourth Quarter 2020 Results," OneMain Holdings Inc, February 8, 2021.)
"Our fourth quarter financial results reflected continued strength across the core drivers of our business, as well as our focused efforts to support customers during this continued period of uncertainty," said Doug Shulman, OneMain's chairman and CEO. (Source: Ibid.)
"While the macro environment remains uncertain, we have advanced key strategic initiatives over the past year, and feel confident about our ability to add even more value to our customers, shareholders and other stakeholders as the macro environment stabilizes."
These kinds of results have helped propel OneMain stock considerably higher in 2021. As of this writing, OMF stock is up 77% year-over-year and up 458% since bottoming in March 2020. The momentum has continued in 2021, with the stock rallying 26.5% year-to-date and trading at record levels.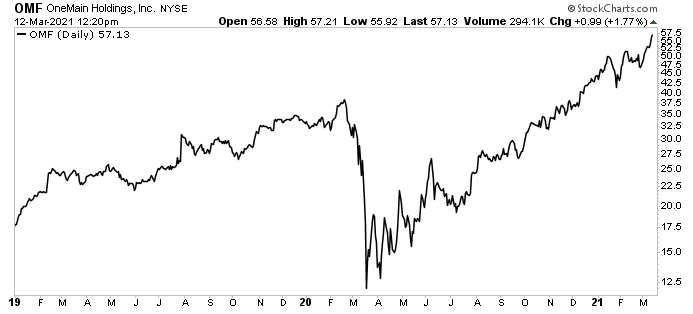 Chart courtesy of StockCharts.com
Strong financials also mean OneMain stock can provide investors with high dividends. OMF stock also provides supplemental dividends. Every second and fourth quarter, OneMain Holdings Inc pays out its minimum dividend per common share. In the first and third quarters, it pays out a one-time supplement.
On February 8, OneMain declared a dividend of $3.95 per share. Going forward, the company expects to maintain a minimum quarterly dividend of $0.45 per share.
The company's annual dividend yield stands at 13.1%, with a forward dividend rate of $7.06 per share. (Source: "OneMain Holdings, Inc. (OMF)," Yahoo! Finance, last accessed March 13, 2021.)
The payout ratio is just 63.6%, which provides the company with lots of room to continue paying—and even raising—its juicy dividends. Analysts believe OneMain will pay $8.30 in dividends per share in 2021, which would increase the dividend yield to 14.5%.
The Lowdown on OneMain Holdings Inc
OneMain Holdings Inc is an excellent consumer finance company operating in a lucrative, niche market—one that the big banks shy away from.
This hasn't hurt the company; it continues to report great financial results, which helps propel OneMain stock higher and allows it to provide investors with ultra-high dividends.