OHI Stock: A High-Dividend Stock Yielding 7.93%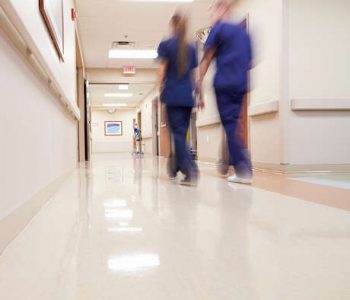 OHI Stock Is a Rock-Solid Healthcare REIT
Chasing high-dividend stocks might not always be a rewarding experience. Sometimes a company's yield is high simply because investors don't believe those payouts will be sustainable. But this real estate investment trust (REIT) with a 7.93% dividend yield could be an exception. I'm talking about Omega Healthcare Investors Inc (NYSE:OHI) stock.
Omega Healthcare Investors is a REIT that invests in and provides financing to the long-term healthcare industry. The company has a particular focus on skilled nursing facilities in the U.S. OHI's portfolio of investments includes approximately 1,000 properties located in 42 states and the U.K.
The most obvious reason why dividend investors should take a look at OHI stock is its handsome yield. Right now, the company has a quarterly dividend rate is $0.61 per share, translating to an annual yield of 7.93%. When many companies in today's stock market yield next to nothing, Omega Healthcare Investors' dividend yield truly stands out.
What's more impressive is the company's track record when it comes to growing its payout. The latest dividend, which was declared last month, represented OHI's 17th consecutive quarterly dividend increase. From 2005 to 2015, Omega Healthcare Investors was the top healthcare REIT for total shareholder return. (Source: "Omega Announces Seventeenth Consecutive Increase in Its Quarterly Common Stock Dividend," Omega Healthcare Investors Inc, October 13, 2016.)
But of course, there are other types of REITs on the market, such as residential, retail, and office. What's so special about healthcare REITs?
Well, compared to other types of REITs, healthcare REITs could be more recession-proof. If the economy slows down, businesses might be taking a hit, and if businesses are closing down, the demand for retail and office space would be affected as well. The demand for long-term care, on the other hand, is relatively inelastic. This means no matter how the economy is doing, healthcare REITs could keep collecting their rent.
At the same time, healthcare REITs could also benefit from the ongoing demographic trend. According to the Population Reference Bureau, the number of Americans aged 65 and older is projected to more than double from 46 million today to over 98 million by 2060. The 65+ group in the U.S. is expected to increase by 18 million between 2020 and 2030 alone. (Source: "Aging in the United States," Population Reference Bureau, December 2015.)
As more baby boomers enter their golden years, the long-term care industry could get a solid boost. And if it does, healthcare REITs like OHI stand to win.
At the same time, Omega Healthcare Investors is well diversified. The company's investments are geographically diverse and are operated by a varied group of established, middle-market healthcare operators. No single state accounts for more than 11% of OHI's total rent and interest revenue.
And in case you didn't know, Omega Healthcare Investors earns rent from "triple net" leases. This means the tenant, rather than the landlord, is responsible for paying net real estate taxes, net building insurance, and net common area maintenance on the leased property. Not having to pay those expenses is certainly a good thing for the landlord—which, in this case, is OHI.
Is This the Right Time to Get Onboard This High Dividend Stock?
Right now, OHI stock is having a bit of a hiccup because the company just reported earnings. In the third quarter of 2016, Omega Healthcare Investors generated $224.6 million of operating revenue, up 11.2% year-over-year. Net income came in at $82.1 million, a 1.4% decline from the year-ago period. (Source: "Omega Announces Third Quarter 2016 Financial Results; $428 Million of New Investments and Increased Dividend for 17th Consecutive Quarter," Omega Healthcare Investors Inc, October 31, 2016.)
The year-over-year increase in revenue was mainly due to the acquisition of Aviv REIT Inc. and new investments competed in 2015 and 2016. Funds from operations, a key measure of a REIT's performance, was $162.6 million, which represented a 10.2% increase year-over-year. In the trading session following the company's earnings report, OHI stock tumbled 3.39% to $30.75.
However, the thing is that the company's outlook hasn't really changed. Despite the stock market's response to the earnings report, OHI is still a rock-solid healthcare REIT ready to capture the upcoming growth of the long-term care industry. Dividend investors searching for yield should take a serious look at OHI stock.