Is Omega Healthcare Investors Inc's 9% Payout Safe?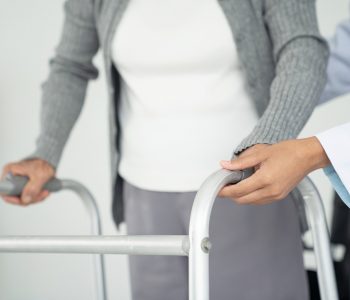 Will Omega Healthcare Investors Inc's Distribution Survive COVID-19?
The COVID-19 pandemic has rocked the entire U.S. economy, but perhaps few industries have suffered more than long-term care facilities.
Nursing homes accounted for four out of every five COVID-19-related deaths in Canada (as of May). (Source: "Canada's Nursing Home Crisis: 81 Percent of Coronavirus Deaths Are in Long-Term Care Facilities," The Washington Post, May 18, 2020.)
Outbreaks among the most vulnerable members of our society have tarnished the long-term care industry's reputation and have pushed many companies in the industry to the brink.
None of which is good news for Omega Healthcare Investors Inc (NYSE:OHI). The real estate investment trust (REIT) owns almost a thousand senior care facilities across the United States and the United Kingdom. Numerous analysts have dialed back their profit estimates on concerns that the industry could struggle in the years ahead.
Which raises the question: Is Omega's distribution safe? While the business had the reputation of being a reliable moneymaker, OHI unitholders need to reevaluate amid the COVID-19 pandemic.
Let's dive into the financials.
First off, Omega's business has held up far better than what some investors expected a few months ago. In the second quarter of 2020, management collected more than 99% of rent and mortgage payments. Altogether, Omega generated $189.8 million in fund flows from operations, a common measure of profitability in the real estate business. (Source: "Omega Reports Second Quarter 2020 Results: Completed $50 Million in New Investments," Omega Healthcare Investors Inc, August 5, 2020.)
During that same period, management paid out $152.5 million in distributions. Generally, I like to see companies leave executives with a bit of financial wiggle room. Omega's 80% payout ratio sits well within my comfort zone.
Furthermore, management has also taken steps to shore up the partnership's balance sheet.
Earlier this summer, Omega repaid $300.0 million of its revolving line of credit. Management also sold seven properties, adding an extra $38.0 million to the partnership's cash reserves. (Source: Ibid.)
More importantly, Omega doesn't have much in the way of debt coming due soon. That gives the business plenty of time to navigate the current economic crisis without having to worry about paying off or rolling over outstanding liabilities.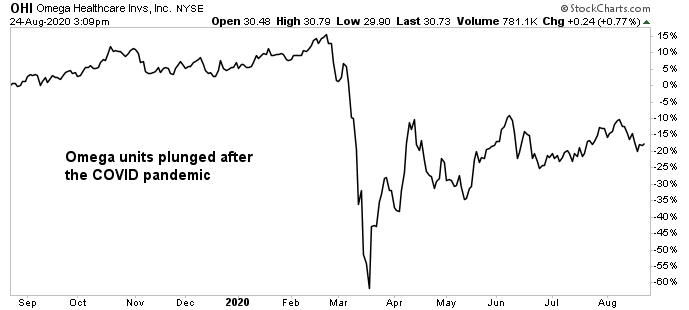 Chart courtesy of StockCharts.com
Admittedly, Omega isn't out of the woods yet.
The partnership's tenants, nursing home operators, will face a one-two combination of lower occupancy rates and higher operating costs related to COVID-19. That could mean delayed or missed rent payments from some of Omega's most vulnerable renters.
But so far, the trust has held up far better than expected. A low payout ratio and strong balance sheet also gives management options to navigate the current crisis.
That means Omega Healthcare Investors Inc's dividend looks reasonably safe for now.