Omega Healthcare Investors Inc: This 7% Yield Is Just What the Doctor Ordered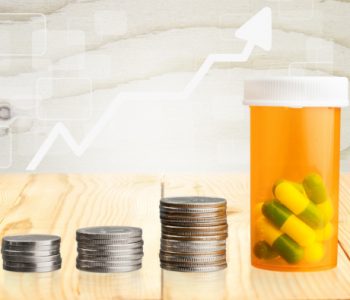 iStock.com/artisteer
REIT With a Solid Yield

If you want to make a lot of money over the next few years, you need to keep an eye on healthcare.
Each day, 10,000 baby boomers turn 65. That means more aches, more pain, and more illness.
It's great news for shareholders (if it's polite to celebrate such a thing). Analysts project the coming "gray tsunami" will spark an unprecedented wave of healthcare spending. That will likely translate into growing streams of dividend income for investors.
Take Omega Healthcare Investors Inc (NYSE:OHI), for instance. The real estate investment trust (REIT) earns steady rental income from a portfolio of senior housing properties across the U.S. and the United Kingdom. And with the ranks of customers growing each day, the trust has seen its income soar.
But can you count on OHI stock's seven-percent yield? It never hurts to double-check whenever you see a big payout.
Is OHI Stock's 7% Yield Safe?
Omega Healthcare Investors Inc's balance sheet stands in fine financial health.
By our count, the trust has taken on only $5.21 in debt for every dollar generated in earnings before interest, taxes, depreciation, and amortization (EBITDA). The business also generates more than $4.00 in free cash flow for every dollar paid in interest expenses.
Those ratios look reasonable for a real estate company. Given the recession-proof nature of the business, there is even room to leverage the balance sheet further.
The income statement has been managed in a conservative manner, too.
In 2018, executives project that Omega Healthcare Investors Inc will generate between $3.03 and $3.06 per unit in adjusted fund flows from operations. This represents a common measure of financial performance in the industry.
At the moment, OHI stock pays out an annual distribution of $2.64 per unit. That comes out to a payout ratio of around 85%.
Generally, I like to see businesses pay out 90% or less of their earnings as distributions. That means that Omega Healthcare's payout ratio sits well within my comfort zone. The REIT will likely continue to mail out payments, even in the event of a bad year or two. In fact, I suspect those distributions will continue to grow.
Omega receives fixed rental payments from tenants with annual increases baked into the contract. Management, therefore, can project their rental income out years ahead of time.
And that demographic tailwind I mentioned above? Thanks to an aging population, demand for new senior housing has shot through the roof. Executives plan to pad their portfolio income through rent hikes and new property purchases.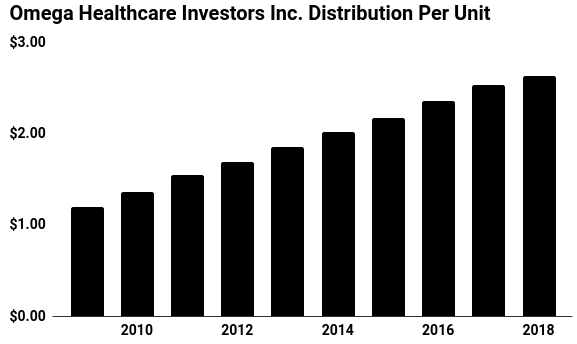 Data courtesy of Omega Healthcare Investors Inc
The Bottom Line on OHI Stock
The biggest downside here? Interest rates.
REITs compete directly with fixed-income securities for capital. If the Federal Reserve keeps jacking up rates, investors might dump riskier trusts like Omega Healthcare Investors Inc for safer bond coupons.
That said, any sell-off would allow investors to earn higher yields. I would look at any sell-off triggered by higher interest rates as a buying opportunity.
But those risks aside, this seven-percent yield from OHI stock looks remarkably safe.