OHI Stock (NYSE:OHI): Earn a Safe 8.2% Yield from Real Estate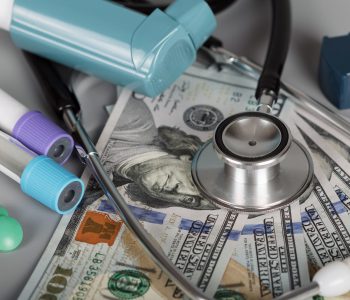 iStock.com/Laboko
High-Yield Stock Backed by a Growing Business
Real estate is a good place to earn a passive income, but not everyone wants to be a landlord. Stuffed drains, broken pipes, and late payments can quickly become a hassle for those with an income property.
But there is a way for investors to earn a solid rental income without dealing with all the hassles. All it takes is a phone call to your broker or a few clicks on the computer screen, and you could be earning a more-than-eight-percent yield on your investment.
This is perfectly legal. And the payments are safe.
In fact, the company behind this 8.2% yielder has been raising its payout every single quarter.
I'm looking at Omega Healthcare Investors Inc (NYSE:OHI), a real estate investment trust (REIT) headquartered in Hunt Valley, Maryland.
As the name suggests, OHI specializes in healthcare properties. The company's portfolio includes approximately 1,000 locations in 42 states in the U.S. and the U.K. Around 85% of those properties are skilled nursing or transitional care facilities, with the remaining 15% being senior housing properties.
The company pays generous dividends. With a quarterly dividend rate of $0.64 per share, Omega Healthcare Investors' dividend yield is 8.2%.
Of course, there are plenty of stocks with much higher dividend yields. What makes OHI stand out is the growth in its payout and in its financials.
Also Read:
10 Best Real Estate Stocks to Own in 2017
REIT ETF List: Earn Regular Income from These Real Estate ETFs
Omega Healthcare Investors has been paying uninterrupted quarterly dividends since its founding in 1992. It has also raised its payout every quarter for the past 20 quarters. In other words, if you owned this high-yield stock for the past five years, you would have collected a bigger dividend check in the mail every single quarter. (Source: "Dividends," Omega Healthcare Investors Inc, last accessed July 31, 2017.)
Since 2011, the company's quarterly dividend rate has increased by 60%. But what's equally impressive is the growth in the company's profits and cash flows.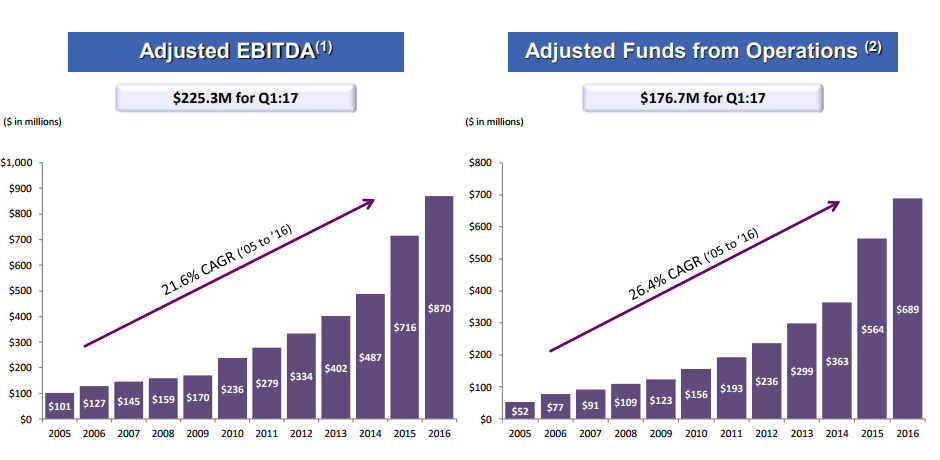 Source: "Investor Presentation – June 2017," Omega Healthcare Investors Inc, last accessed July 31, 2017.
As shown in the above chart, this high-yield stock's adjusted earnings before interest, tax, depreciation, and amortization has grown from $101.0 million in 2005 to $807.0 million in 2016. That translates to a compound annual growth rate (CAGR) of 21.6%.
Funds from operations is an important metric for a high-yield stock because that's where dividends come from. Omega Healthcare Investors' adjusted funds from operations (FFO) grew from $52.0 million to $689.0 million over this period. That's a CAGR of 26.4%!
The most recent earnings report brought more good news for investors of this high-yield stock. In the first half of 2017, the company generated $1.61 of FFO per share while declaring $1.25 of dividends per share. This means OHI stock was generating more than enough cash to cover its distributions. (Source: "Omega Announces Second Quarter 2017 Financial Results; Increased Dividend Rate for 20th Consecutive Quarter," Omega Healthcare Investors Inc, July 31, 2017.)
Don't forget: aging demographics could further boost the demand for skilled nursing and seniors housing properties. With a large and diversified portfolio of those properties, OHI's future business could get even better.
If you are looking for a company that offers both a high yield and dividend safety, Omega Healthcare Investors should be near the top of your list.