OHI Stock: Collect Rising Payouts from This 8.1% Yielder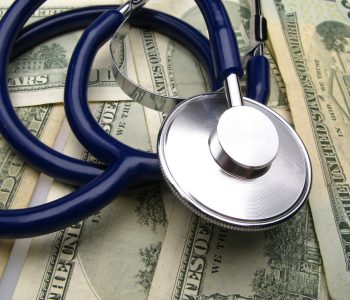 iStock.com/graffoto8
A High-Yield Stock That Offers Quarterly Payout Increases
In today's market, a high-yield stock is usually the result of one of the following two scenarios: terrible share price performance or generous dividend payments.
The first scenario is easy to understand. A company's dividend yield is calculated by dividing its annual payout by the stock price. So if the stock plunges, the yield goes up.
However, tumbling share prices reflect the market's concern about the company's business. For investors looking to generate a long-term income stream, high-yield stocks of this first scenario may not be the best choice.
The good news is, the 8.1% yielder I'm about to show you is not the result of the first scenario. In fact, since 2012, the company's share price has surged 33%.
In other words, this company is able to offer a high dividend yield because of its generous payout.
I'm looking at Omega Healthcare Investors Inc (NYSE:OHI), a real estate investment trust (REIT) that specializes in healthcare properties.
Headquartered in Hunt Valley, Maryland, the company's portfolio includes investments in in 972 healthcare properties. The majority of them are skilled nursing/transitional care facilities, with the remaining being senior housing properties.
Right now, the company has a quarterly dividend rate of $0.64 per share. At the current share price, that translates to an annual dividend yield of 8.1%.
What's more impressive than a high dividend yield is the company's ability to raise its payout. Omega Healthcare Investors is a "dividend achiever," meaning it has increased its dividend every year for at least 10 years. More recently, though, its dividend hikes have become a lot more frequent.
The chart below shows the company's per-share dividend paid since the beginning of 2012: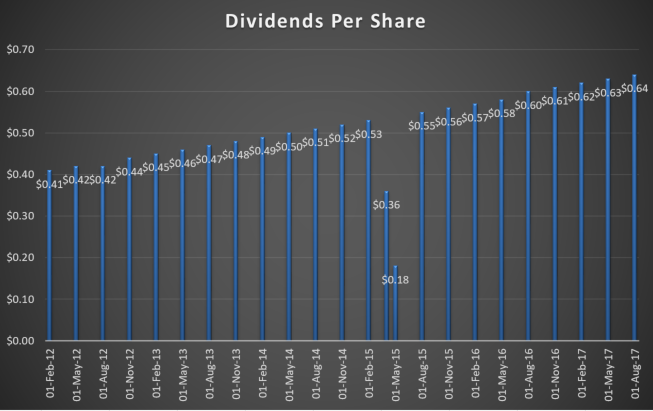 Source: "Dividends," Omega Healthcare Investors Inc, last accessed August 17, 2017.
As you can see, OHI stock has raised its payout every quarter in the last five years. For the record, the dip in May 2015 was because that dividend was paid in two separate installments due to the closing of an acquisition. The latest dividend hike, which was announced last month, marked the company's 20th consecutive quarterly dividend increase. (Source: "Omega Announces Twentieth Consecutive Increase in Its Quarterly Common Stock Dividend and Release Date of Second Quarter Earnings and Conference Call," Omega Healthcare Investors Inc, July 13, 2017.)
Of course, with all these dividend increases, you might be wondering whether the payout is sustainable. So let's take a look at its financials.
In the real estate business, a key metric to look for is funds from operations, or FFO. FFO is basically cash flow from operations. In order for the company to pay sustainable dividends, it must be able to generate enough cash.
Based on Omega's financial reports so far this year, we see that the company generated FFO of $1.61 per share in the first six months of 2017. And since it paid $1.25 of total dividends per share in the first two quarters, Omega's payout ratio is 77.6%, leaving a margin of safety. (Source: "Omega Announces Second Quarter 2017 Financial Results; Increased Dividend Rate for 20th Consecutive Quarter," Omega Healthcare Investors Inc, July 26, 2017.)
Also Read:
Best 3 Healthcare ETFs to Invest in 2017
Best Pharmaceutical Dividend Stocks to Watch in 2017
And the best could be yet to come. We currently live in a world with an aging population, which means the demand for healthcare will likely increase going forward. With a large and diversified portfolio of healthcare properties, Omega Healthcare Investors stock is well positioned to capitalize on this demographic trend.
That's why for investors looking for a high-yield stock that also offers growth opportunities, this healthcare REIT should be near the top of their list.