OHI Stock: 1 High-Yield Stock for the Next 10 Years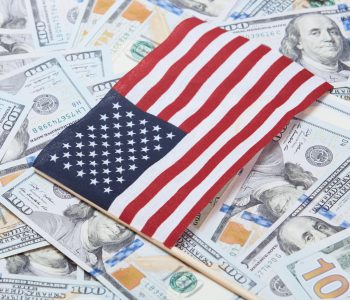 iStock.com/Zhenikeyev
High-Yield Stock Now Pays Out 8.1%
Today's chart highlights my favorite place to hunt for high-yield stocks: healthcare.
Regular readers know an aging America represents one of my favorite investment themes. As baby boomers get older, they'll spend more money on treatment, medical products, and other health services.
One company set to profit is Omega Healthcare Investors (NYSE:OHI). This firm has built a portfolio of nursing homes and other medical properties across the country which have paid out steady distributions to unitholders. And with the ranks of seniors projected to grow in the coming years, this little-known dividend payer could turn into a cash machine.
Running a healthcare business has become a license to print money, for starters. The number of U.S. residents age 65 and over hit 49.2 million in 2016, according to the Census Bureau. By 2030, the agency projects that figure to nearly double. (Source: "An Aging Nation," United States Census Bureau, April 10, 2017.)
Needless to say, an older population will mean more doctor visits and higher demand for other medical services. A study, conducted by the Centers for Medicare and Medicaid Services, reported Americans spent $3.4 trillion on medical services in 2016. By 2025, the agency projects total outlays could top $5.5 trillion. (Source: "National Health Expenditure Projections, 2016–25: Price Increases, Aging Push Sector To 20 Percent Of Economy," Centers for Medicare and Medicaid Services, March 2017.)
The graying baby boomers generation resembles a huge meal working its way through a snake. But while demographics provide a tailwind for the healthcare sector, various industries will react differently. As this group ages, you will first see demand for medical clinics, then hospitals, and ultimately nursing centers and long-term senior housing.
Omega has a hand in all of these pots. Over the past few years, management has built a sprawling real estate empire across 42 states and the United Kingdom. Omega's portfolio now includes over 1,000 properties, in addition to a growing mortgage lending business to nursing homes, retirement communities, and acute care facilities.
These real estate holdings provide steady and growing rental income. Last year, the business saw revenues increase 21%. Since 2013, top-line sales have grown at a 20% clip every single year.
It gets better. Omega signs tenants to "triple-net" leases, which pass most the property level expenses (i.e. insurance, maintenance, property taxes, etc.) back to businesses. That means almost all of the company's growing rental income flows straight to the bottom line. For owners, this has created a tidy income stream.
Over the past decade, management has more than doubled the payout to unitholders. Today, units pay out a quarterly distribution of $0.64 each, which comes out to an annual yield of 8.3% yield.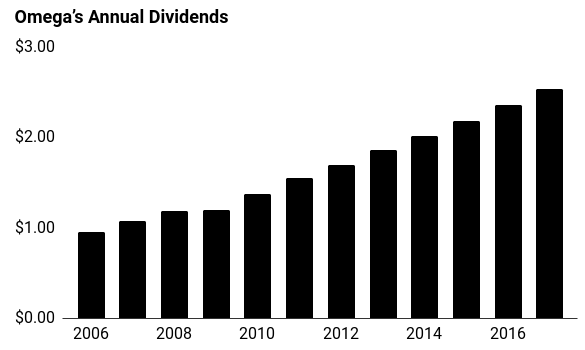 Source: Yahoo! Finance
Things get interesting when you project these numbers out another 10 years. Assuming Omega continues to grow its distribution at a high-single-digit clip, units will pay out $6.35 annually by 2027. Based on the current market price, that comes out to a yield on cost of 20%.
Of course, any number of unforeseen events could shoot that forecast out the window. That said, I'm using the lower-end of analysts' estimates here. Even under the most conservative scenario, we have a big bargain of safety and our return potential looks impressive.
The Bottom Line on OHI Stock
Omega Healthcare Investors continues to grow earnings at a double-digit clip. And thanks to a savvy business model, the business could become a cash machine in the years ahead. This high-yield stock is one name to own for the next decade or more.