Office Properties Income Trust: You Could Earn a 7.9% Yield From "Uncle Sam"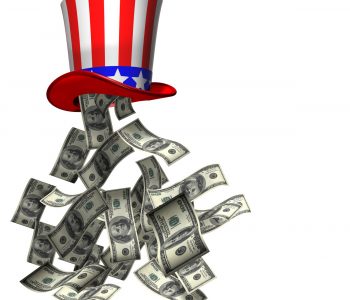 iStock.com/PaulFleet
Can You Trust Office Properties Income Trust's 7.9% Yield?
"Nothing can be said to be certain, except death and taxes," Benjamin Franklin once wrote.
Franklin certainly knew what he was talking about. Our world has changed in many ways since the Founding Father put those words to paper, but the U.S. government has never failed to tax its citizens.
But did you know there's a way to get some of that money back? Last year, Office Properties Income Trust (NASDAQ:OPI) made its stock exchange debut. The real estate investment trust (REIT), which leases out most of its buildings to government agencies, allows investors to collect ongoing rent checks from "Uncle Sam."
OPI stock pays an upfront yield of 7.9%—not a bad payout in a world of zero-percent interest rates. But can such a generous distribution possibly be safe? Let's dig into the details.
First off, office buildings are often risky investments.
Unlike houses or apartments, which tend to generate recession-proof income, commercial renters can and do break leases in an economic downturn. Properties can also remain vacant for months, leaving investors on the hook for mortgage and bill payments.
Office Properties Income Trust, however, avoids many of these problems. Government agencies account for almost 40% of the firm's rental income, followed by blue-chip, investment-grade companies. That conservative strategy results in a steady stream of profits that rolls in like clockwork. (Source: "NARREIT REITWEEK 2019 Investor Conference June 2019," Office Properties Income Trust, last accessed August 22, 2019.)
This conservatism extends to the partnership's balance sheet, too. By my measure, OPI has only $6.00 in long-term debt for every dollar generated of earnings before interest, taxes, depreciation, and amortization (EBITDA)—slightly below the industry average. That puts the firm in the position to survive an unexpected industry downturn or a sharp rise in interest rates.
Of course, the acid test for the safety of any distribution is the payout ratio. But here too, Office Properties stands on a solid financial foundation.
For 2019, OPI management estimates that the business will generate $2.93 per unit in cash flow available for distributions. From this total, the business is on track to pay out $2.20 in dividends.
That comes out to a payout ratio of 75%. As a rule of thumb, I like to see companies pay no more than 90% of their earnings as distributions. So Office Properties has left itself enough wiggle room to keep making payments even in the event of a downturn.
Of course, you can't call Office Properties stock a sure thing. The REIT is quarterbacked by an external manager: RMR Group Inc (NASDAQ:RMR). That, some analysts argue, can create conflicts between unitholders and executives.
Future investment returns will also depend on the performance of the top brass. If executives overpay for future deals or poorly manage existing properties, that will bite into investor returns.
That said, Office Properties Income Trust has organized its financial affairs in a conservative fashion. And when your largest tenant is the U.S. government, unitholders can sleep easy at night.
This 7.9% looks safe for now.