Oasis Midstream Partners LP: This High-Yield Stock Now Pays 12.5%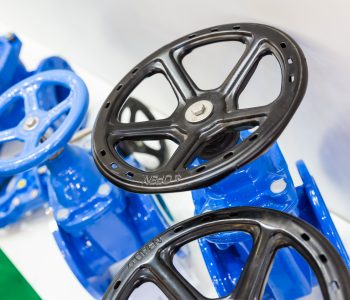 Can You Really Trust This High-Yield Stock's 12.5% Payout?
High-yield stocks can be the "cigarettes" of the dividend investing world: addictive, potentially risky, and hazardous to your wealth.
For the most part, I avoid them. Because most high-yield stocks represent troubled businesses, I toss most of the names that cross my desk into the dustbin.
But once in a while, I find an exception: that rare breed of stocks that offers a triple-threat of growth, safety, and high yield. And today's stock, which sports an impressive 12.5% payout, could fit into that category.
Oasis Midstream Partners LP (NYSE:OMP) is a master limited partnership (MLP). The firm owns a collection of oil and natural gas plants, pipelines, and processing facilities. Investors prize these assets because they throw off steady income regardless of where energy prices go.
But can you really trust such a high-yield stock? Savvy investors always check the financials before scooping up shares of any business, especially one with such a big payout. Let's dive into the numbers here.
To begin with, Oasis Midstream Partners LP has developed an impressive track record.
Many of the company's assets are located in the fast-growing North Dakota Bakken shale field. And over the past few years, management has expanded their operations into the West Texas Delaware Basin.
While shale drilling has sparked a boom in oil production in these regions, the industry suffers from a shortage of infrastructure to actually ship, store, and process all of the energy coming out of the ground.
As a result, Oasis's collection of midstream assets are veritable licenses to print money. This has led to booming cash flows, which have grown more than 10-fold in just the past three years.
For unitholders, this has translated into a growing income stream. Oasis has raised its distribution on six occasions since going public in 2017, with the most recent payout bump in November. That short but impressive history bodes well for investors.
This partnership stands on a firm financial foundation, too. For 2019, analysts estimate that Oasis Midstream Partners LP will generate $120.9 million in distributable cash flow (DCF). From this total, management is on track to pay out $64.7 million.
That comes out to a payout ratio of almost 54%. Generally, I like to see companies maintain a little wiggle room and pay 90% or less of their cash flow in dividends. So Oasis Midstream's current distribution sits well within my comfort zone.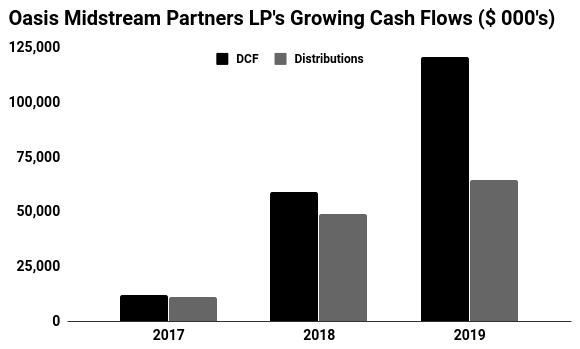 (Source: "Stock Information," Oasis Midstream Partners LP, last accessed November 26, 2019.)
So what could go wrong here? Customer risk.
Oasis Midstream Partners generates most of its revenue from the North Dakota Bakken field. Worse, the partnership earns most of its revenue from a single customer, Oasis Petroleum Inc. (NYSE:OAS).
I have written before about the dangers of relying on one customer. If anything should come along and wipe out a company's "one," it leaves the business in a vulnerable position. In the case of Oasis Midstream Partners LP, any issues with its main customer could interrupt the partnership's dividend stream.
Management, however, has taken steps to address this problem. As mentioned above, executives have expanded their business into other oil fields. The partnership has also signed deals with new customers in recent years, diversifying its income streams.
So no, we can't call this 12.5% yield perfect. But it seems that the market is compensating investors well for the risks they're taking.
Income hunters might want to give this name a look.