O Stock: 1 Monthly Dividend Stock to Retire On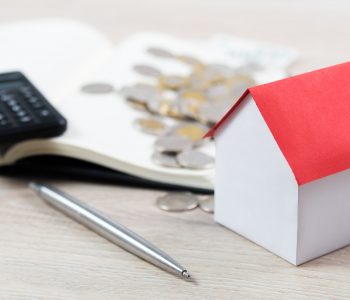 iStock.com/Photografeus
Earn a Safe and Steady Income from This Monthly Dividend Stock
If retirement investors have to choose just one monthly dividend stock, it would have to be this one.
It's a company that has made 564 consecutive monthly dividend payments.
In other words, for the past 47 years, the company has delivered a dividend check to its investors every single month.
These dividend checks have supplemented the monthly income of numerous retirees over the years. And for those that are still working, these monthly dividend checks can be of great help when building a nest egg.
The company is so proud of this achievement that it actually brands itself as "The Monthly Dividend Company."
Of course, I'm talking about Realty Income Corp (NYSE:O).
As the name suggests, the company aims to generate a stream of income from real estate. And it has done a pretty good job at that since its founding in 1969.
Headquartered in San Diego, California, Realty Income owns and operates a huge real estate portfolio. The company completed its initial public offering (IPO) in 1994 and was added to the S&P 500 Index in 2015.
Growing Monthly Dividends
When it comes to earning an income from dividend-paying companies, the only thing that's better than a steady stream of dividends is a growing stream of them. And that's what Realty Income has been delivering.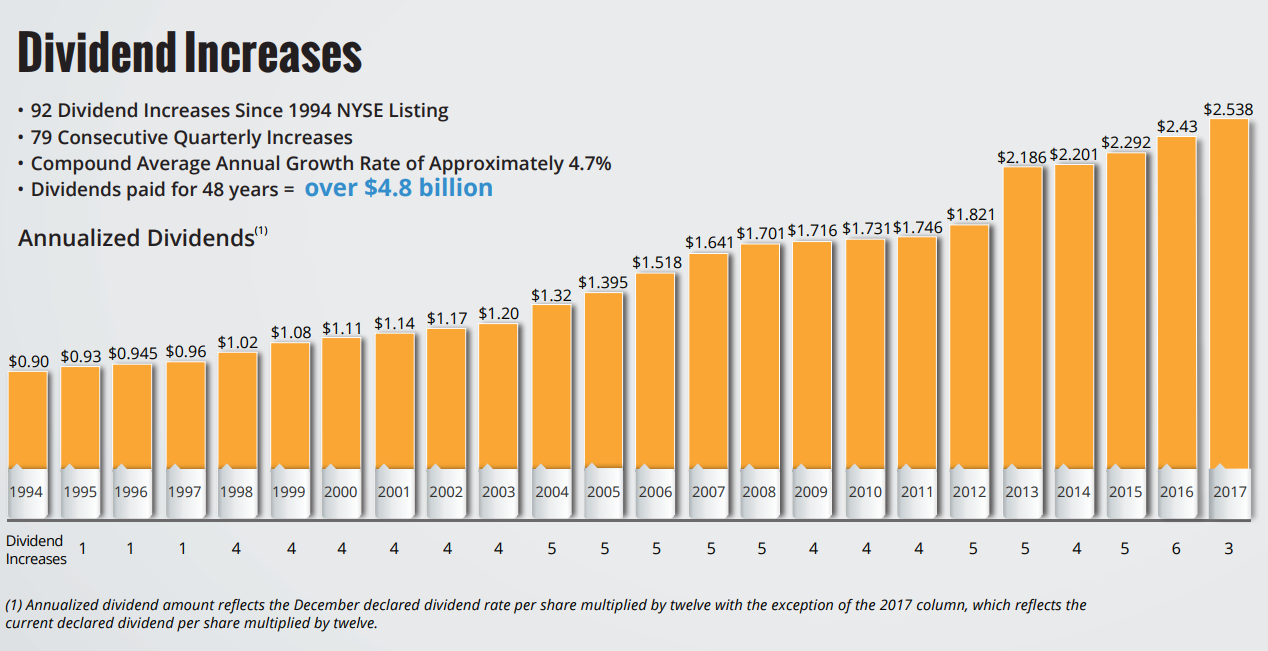 Source: "Dividend Increases," Realty Income Corp, last accessed July 27, 2017.
Most dividend-paying companies would be proud if they could raise their dividends once a year. But Realty Income was able to do so at a much faster pace. Since the company became public in 1994, it has raised its monthly dividend rate a total of 92 times. Moreover, the last 79 dividend hikes of Realty Income stock were consecutive quarterly increases.
Imagine a retirement investor who uses monthly dividends as their main source of income. If they had bought Realty Income stock 20 years ago, the company's 79 consecutive quarterly dividend hikes meant the investor would have received a pay raise every three months.
From 1994 to today, the per-share payout of this monthly dividend stock has increased at a compound annual growth rate (CAGR) of approximately 4.7%.
But what about investors who are still saving for retirement?
Well, as it turns out, this monthly dividend stock has also done a tremendous job helping investors build wealth over time.
If an investor had bought $100.00 worth of Realty Income stock in 1994, the investment would be worth $2,566 by the second quarter of 2017. That's a return of 2,566%!
Now, imagine someone who went bigger and put $10,000 in the company in 1994. Today, the stake would be worth $256,600.
As the chart below shows, O stock has substantially outperformed the S&P 500 Index, the Dow Jones Industrial Average, the NASDAQ Composite, and the Equity REIT Index since its IPO.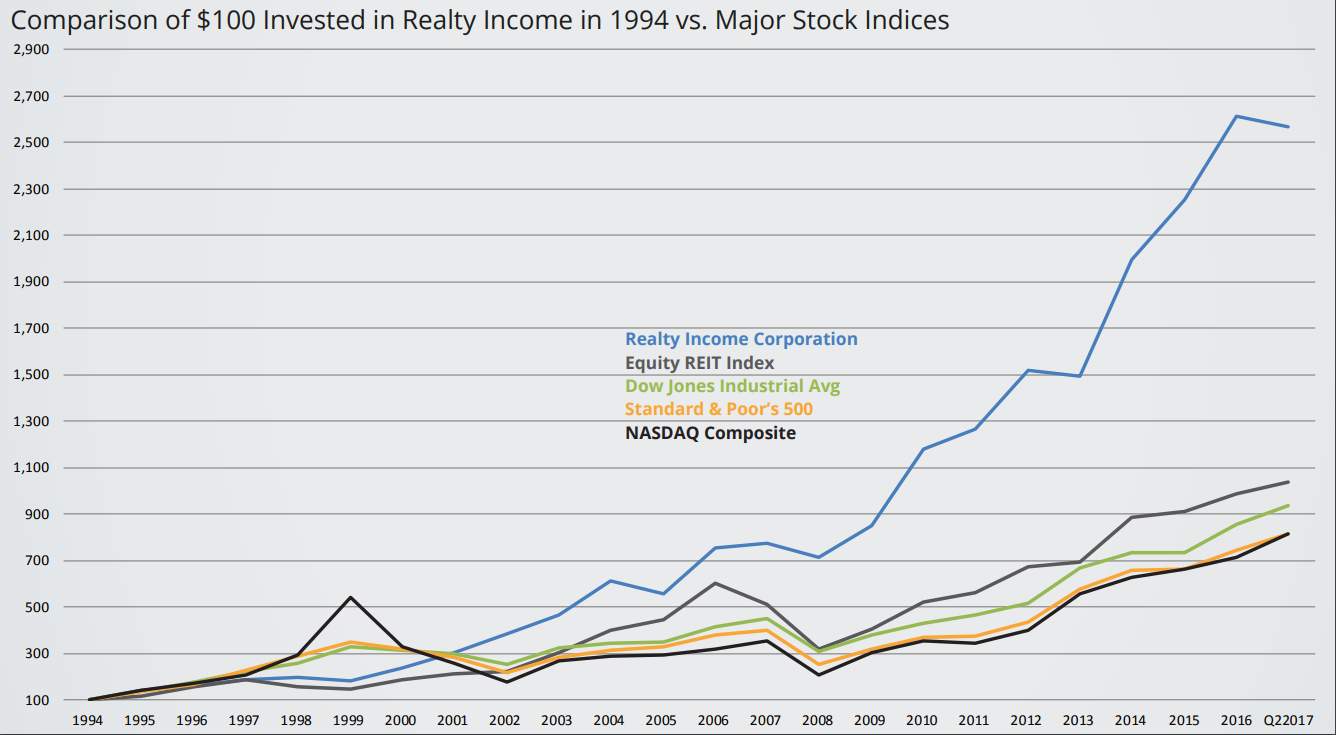 Source: "Comparison of $100 Invested in Realty Income in 1994 vs. Major Stock Indices," Realty Income Corp, last accessed July 27, 2017.
Some analysts like to separate companies into growth stocks and income stocks, but that method may lead to investors ignoring some great opportunities. Realty Income is the perfect example of how an income stock can also deliver extraordinary growth over time.
Don't forget that investors that don't need to spend all the monthly dividend checks can boost their returns by reinvesting dividends. Realty Income offers a Direct Stock Purchase and Dividend Reinvestment Program. It allows investors to directly purchase shares from Realty Income and reinvest their dividends into additional shares of the company without any fees or commissions.
Also Read:
7 Best Growth and Income Stocks for 2017
10 Best Real Estate Stocks to Own in 2017
Investors interested in signing up for the plan can contact Realty Income's transfer agent Wells Fargo Shareowner Services. There is, however, an initial setup fee of $5.00.
Investors familiar with DRIP investing would know that it unleashes the powerful force of compound interest. Each time you reinvest your dividends, it increases the number of shares you own so the next dividend payment will be bigger. Most stocks pay quarterly dividends so DRIP investors usually reinvest their dividends four times a year.
Realty Income, on the other hand, pays monthly dividends. So DRIP investors of Realty Income stock can reinvest on a monthly basis. For the same nominal dividend yield, the more frequent the compounding period, the higher the effective yield will be for a stock under DRIP investing.
A Rock-Solid Business
The reason why Realty Income can deliver such impressive returns is the company's rock-solid business. As a giant landlord, its portfolio is well diversified.
Right now, Realty Income's portfolio consists of 5,028 properties located in 49 states and Puerto Rico. It has 250 commercial tenants coming from 47 different industries. This level of diversification means if one region or one industry enters a downturn, the impact on the whole company's business would be limited and the company would still be able to cover its dividends. Indeed, despite all the ups and downs in the economy, Realty Income has been providing investors with dependable monthly dividends for decades.
And that's why Realty Income is a top monthly dividend stock for 2017 and beyond.