Verizon Communications Inc: A Top Pick for Dividend Investors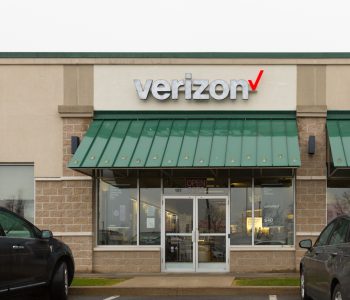 iStock.com/helen89
Verizon Stock Pays Rock-Solid Dividends
If you are looking for a generous and reliable stream of dividend income, Verizon Communications Inc. (NYSE:VZ) stock deserves your attention.
Headquartered in New York City, Verizon is a multinational telecommunications conglomerate. The company offers a wide range of services. In particular, its 4G LTE network covers 98% of the U.S. population.
According to Statista, Verizon is currently the largest wireless carrier in the country by the number of subscriptions—with a market share of 35.3% as of the end of March 2018. (Source: "Wireless subscriptions market share by carrier in the U.S. from 1st quarter 2011 to 1st quarter 2018," Statista, last accessed July 9, 2018.)
Telecom is an industry with high barriers to entry. As a result, there are just four major players in the U.S. wireless carrier sector: Verizon, AT&T Inc. (NYSE:T), Sprint Corp (NYSE:S), and T-Mobile US Inc (NASDAQ:TMUS). As the biggest player in the industry, Verizon generates oversized profits.
The best part is, the company is willing to return some of those profits to shareholders in the form of dividends. Right now, Verizon has a quarterly dividend rate of $0.59 per share, which comes out to an annual yield of 4.6%.
That amount has been growing, too. While VZ stock only started trading in July 2000 (as a result of the merger between Bell Atlantic and GTE), the company has been paying dividends for much longer than that. If you take into account Verizon's history as its predecessor, you'd see that the company has paid steady or increasing dividends for more than three decades.
In just the past five years alone, VZ stock's quarterly dividend rate has increased by 14.6%. (Source: "Dividend History," Verizon Communications Inc., last accessed July 9, 2018.)
Verizon Communications Inc. Is Gaining Subscribers
Usually, when a company is well established and has already captured a significant portion of its target market, growth would slow down.
In the case of Verizon, though, the telecom giant still manages to grow its business. Last year, Verizon's wireless segment had retail postpaid net additions of 2.1 million, which included 1.8 million smartphones, 31,000 tablets, and 1.3 million other connected devices. (Source: "Verizon closes 2017 with strong wireless customer growth and retention, well-positioned in new markets," Verizon Communications Inc., January 23, 2018.)
The company's growth momentum has continued. In the first quarter of 2018, Verizon had another 260,000 retail postpaid net additions. Among those, 220,000 were postpaid smartphone net additions. (Source: "Verizon begins 2018 with strong momentum," Verizon Communications Inc., April 24, 2018.)
If you live in the U.S., you have probably noticed the promotional efforts from the wireless carriers. Even though there are only four main players in the industry, each one of them is trying hard to take business away from the others.
The good news is, Verizon has a rather loyal customer base. In the first quarter of 2018, retail postpaid churn at Verizon Wireless came in at just 0.8%. This also marked the fourth consecutive period when the company's customer retention was 0.8% or better. (Source: Ibid.)
Financial Performance
With an expanding subscriber base, Verizon managed to crank out growing financials. In the first quarter of 2018, the company generated $29.9 billion of revenue, representing a 3.2% year-over-year increase on a comparable basis.
Bottom-line growth was even more impressive. Excluding special items, Verizon's adjusted earnings came in at $1.17 per share in the first quarter, up 23.2% from the year-ago period.
In particular, the company's adjusted earnings per share was more than enough to cover its quarterly dividend of $0.59 per share declared during the reporting period.
As income investors, we know that dividends come from profits. Therefore, it's always nice to find a company whose earnings easily meet its dividend obligations.
VZ Stock Is Good Value for Money
Of course, when you have a rock-solid dividend stock, you would expect others to notice it, too. The neat thing is, while Verizon is a well-known company, its stock is not exactly what you would call expensive in this day and age.
Verizon has a trailing 12-month price/earnings (P/E) multiple of 12.5 times, which is substantially lower than the integrated telecommunications services industry's average P/E ratio of 21.4 times. (Source: "Verizon Communications Inc (VZ.N)," Reuters, last accessed July 9, 2018.)
Moreover, VZ stock has a price to sales ratio of 1.6 times and a price to cash flow ratio of 6.1 times. Again, these two numbers are much lower than the industry's average price to sales and price to cash flow ratios of 4.3 times and 10.6 times, respectively.
In today's bloated market, Verizon stock could represent good value for money.
Bottom Line on Verizon Communications Inc.
At the end of the day, don't forget that, at any given cash payout, a company's dividend yield moves in the opposite direction of its stock price. Therefore, because VZ stock hasn't been bid up as much as its peers, the company can still offer a sizable income stream.
In fact, with an annual yield of 4.6%, Verizon Communications Inc. is currently the highest-yielding component of the Dow Jones Industrial Average.
Yield-seeking investors should take a serious look at this telecom giant.