This Dividend Aristocrat Now Yields 7%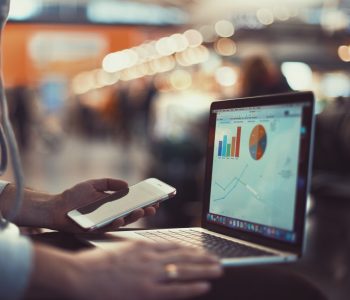 AT&T Inc. Continues to Defy Coronavirus Pandemic
The COVID-19 crisis has hammered investors.
Dozens of blue-chip stocks have slashed or suspended their payouts. And as companies scramble to conserve cash, analysts expect those dividend cuts to continue.
But some companies continue to thrive. Even in a downturn, people still have to "buy the basics." And that has allowed the businesses that provide these essentials to post respectable profits.
For proof, you only need to take a quick glance at the names I've highlighted to subscribers of my Retirement Riches advisory. Kimberly Clark Corp's (NYSE:KMB) household products, Southern Co's (NYSE:SO) utilities business, and Union Pacific Corporation's (NYSE:UNP) railroad operations have all held up well in the downturn. For shareholders of these businesses, that has resulted in an ongoing stream of dividend income.
Today's company fits into the same mold.
AT&T Inc. (NYSE:T) is the big kahuna of the telecom business. The firm has direct access to more than 170.0 million customers (more than half of U.S. households) across its various product offerings. And that should translate into steady returns (and dividends) for shareholders. (Source: "AT&T CEO Provides Update to Shareholders," AT&T Inc., September 17, 2019.)
Admittedly, you can't call AT&T immune to the COVID-19 pandemic.
Wireless equipment sales plunged in the first quarter as, unsurprisingly, customers weren't going out to stores to buy phones or change carriers. Media revenues also dropped on lower ad spending and movie ticket sales.
Overall, AT&T estimates that the direct costs related to COVID-19 totaled $430.0 million, or about $0.05 per share, during the first quarter. These costs include temporary 20% pay raises for frontline workers and a $250.0-million bump in bad-debt reserves for missed bill payments. (Source: "Edited Transcript: T – Q1 2020 AT&T Inc Earnings Call," AT&T Inc., April 22, 2020.)
Despite these challenges, AT&T has continued to thrive. Even in a recession, people have to stay connected. That means AT&T has always enjoyed steady demand for its services.
That seems to be especially true during the current COVID-19 recession. In the age of social distancing, our electronic devices have become the only bridge to communicate with friends and family. That means consumers have become even more dependent on Internet toll-takers like AT&T.
So it should come as no surprise to see the company posting blowout financial results.
In April, AT&T reported that its first-quarter diluted earnings jumped almost 13% to $0.63 per share. Revenues topped $42.8 billion, crushing Wall Street's expectations. (Source: "AT&T Reports First-Quarter Results," AT&T Inc., April 22, 2020.)
And those weren't the only highlights.
During the same period, AT&T added 163,000 net postpaid wireless customers. That's double the number of subscribers the company added during the same period in 2019. And while management stopped disconnecting customers for nonpayment in response to the COVID-19 crisis, this reported figure excludes those accounts.
More impressively, AT&T's average revenue per customer also jumped. That allowed the company's wireless service division to post a 2.5% increase in sales versus the same period a year ago. (Source: Ibid.)
"…I think by and large what we've seen in past economic stress, the last thing that people don't want to pay is probably their cellphone bill," said AT&T's Chief Operating Officer John Stankey to shareholders in a conference call. "[W]e got a great base and an important product…" (Source: "AT&T Inc. (T) Q1 2020 Earnings Call Transcript," The Motley Fool, April 22, 2020.)
And CEO Randall Stephenson thinks AT&T could emerge from the crisis even stronger than before. Thanks to the sudden rise in remote offices, we have seen a sharp spike in network traffic. That elevated demand likely won't subside even as the economy reopens, given that many companies might allow employees to work from home permanently.
How exactly that shift will impact AT&T's financial results remains unclear. Given the uncertainty related to COVID-19, management dropped their 2020 profit guidance. Right now, no one can predict earnings per share for the next quarter, let alone the next five years.
But AT&T executives remain committed to rewarding shareholders.
Earlier this year, the company boosted its quarterly dividend by a penny to $0.52 per share. That has raised the forward yield on AT&T stock to about seven percent.
(Source: "AT&T Inc. Historical Common Dividends Data," AT&T, Inc., last accessed July 10, 2020.)
In fairness, that small dividend bump won't knock the socks off of some investors. But right now, we're seeing payouts getting slashed left and right. The company boosting its distribution in the midst of the current pandemic is a huge vote of confidence in the underlying business.
Bottom line: AT&T Inc. succeeds by selling an essential service that everyone needs. And that applies doubly so in a pandemic. That should allow this business to continue cranking out respectable returns (and dividends) for the foreseeable future.