Sanchez Midstream Partners LP: A 17.8% Yield with Room to Grow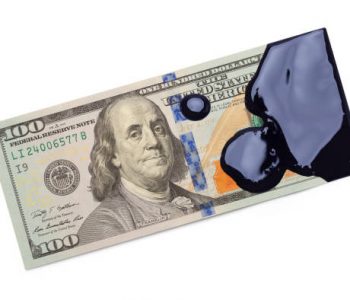 iStock.com/Michael Burrell
Is This 17.8% Yield Safe?
Sanchez Midstream Partners LP (NYSEAMERICAN:SNMP) is an energy infrastructure company that owns several assets in the South Texas Eagle Ford region. Its businesses include the Raptor Gas Processing Facility, the Seco Pipeline, and the Western Catarina Midstream system, which includes dozens of small gathering pipelines.
It's important to keep in mind that infrastructure companies like Sanchez don't make money by drilling for energy, but by transporting and processing oil and natural gas. These businesses earn a small fee on each barrel that flows through its network, so regardless of where commodity prices go, these businesses still make money.
SNMP stock has a short but impressive dividend history. The partnership has paid a distribution to shareholders every quarter since going public in 2015. Over this period, management has boosted that payout by 13%.
That distribution looks reasonably safe. Last quarter, the business generated $1.10 in cash flow for every dollar paid out in distributions.
I'd prefer that executives leave themselves a bit more wiggle room. The low coverage ratio doesn't leave much margin for error in the event of a downturn. But given the relative stability of these assets, investors don't have too much to worry about.
That payout will also likely continue to grow. New technologies have unlocked vast amounts of oil and natural gas. The South Texas Eagle Ford, where most of Sanchez Midstream Partners LP's assets are based, represents one of the fastest-growing energy basins in the country.
Soaring production means income for owners of energy infrastructure. Analysts see Sanchez's earnings growing at a mid-single-digit clip over the next five years, most of which should get passed on to shareholders.
Management could pad these earnings further through acquisitions. In recent quarters, Sanchez has announced several joint venture agreements to expand its portfolio and grow the underlying business. Assuming executives don't overpay for these deals, additional streams of cash flow could boost shareholder distributions over the long haul.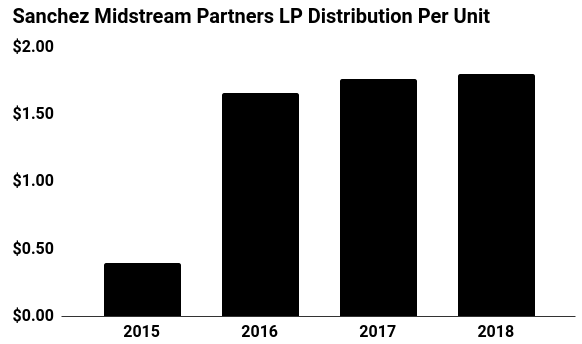 (Source: "Distribution History," Sanchez Midstream Partners LP, last accessed August 17, 2018.)
The big risk here would be a big slowdown in the oil patch.
If energy prices dropped for a sustained period of time, drillers would eventually curtail production. That would eventually result in lower fee income for Sanchez and fewer distribution hikes for shareholders.
Sanchez also has a highly leveraged balance sheet. To fund the expansion, management issued a large number of convertible preferred shares. If these preferred investors wanted to convert, it would seriously dilute existing SNMP stockholders.
No doubt, Sanchez Midstream Partners LP stock comes with some uncertainty. You have to expect that any time you see a dividend yield this high. But with a payout approaching almost 20%, prospective investors are getting well compensated for the risk.