Special Dividends: Little-Known Stock Authorizes Large Cash Payment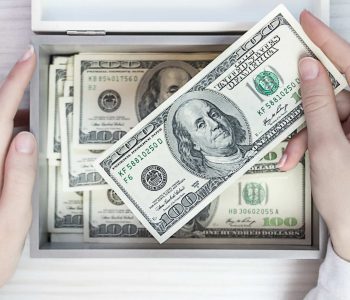 Gardening Company Announces Special Dividends to Shareholders
If only all of my stocks paid out large, special dividends like Scotts Miracle-Gro Co (NYSE:SMG).
Back in March, I wrote a favorable column about the fertilizer company. At the time, I predicted that management would milk their cash cow topsoil business to fund respectable dividends. Management could pad that income stream further by expanding into marijuana supplies. 
Then COVID-19 happened. Since the March issue of my paid advisory Automated Income, Scotts Miracle-Gro shares have posted a total return, including dividends, of 48%. That has crushed the performance from the broader stock market. And the company's stock now ranks as one of the best performers in the world year-to-date. 
But this could be just the beginning. 
Admittedly, Scotts Miracle-Gro hasn't escaped COVID-19 unscathed. To keep its operations humming, management had to spend more money on cleaning and safety protocols, in addition to bonuses for front-line employees. Chief Financial Officer Randy Coleman estimates that these expenditures will top $35.0 million for 2020, though some analysts think it will be even higher. (Source: "ScottsMiracle-Gro Announces Second Quarter Results Driven by Strong Growth in Both Major Reporting Segments," Scotts Miracle-Gro Co, May 6, 2020.)
What's behind SMG's Special Dividends?
But the coronavirus pandemic has sparked something of a horticulture boom. With millions of Americans unemployed and most social activities shut down, many have turned to gardening as a way to pass the time. That has resulted in surging demand for everything from seeds and topsoil to fertilizer and pest spray. 
"Our results this year continue to exceed our most optimistic expectations and are a testament to the critical nature of the categories in which we compete, the commitment of our retail partners, and the loyalty of the consumers and cultivators who rely on our products for their success," Jim Hagedorn, the company's chairman and chief executive officer, wrote in a recent note to shareholders. (Source: "ScottsMiracle-Gro Announces Third Quarter Financial Results, Increased Fiscal 2020 Guidance and Approval of Special Dividend," Scotts Miracle-Gro Co, July 29, 2020.)
"Consumer purchases entering August are up 23% at our largest four retail partners and we've seen increases in every product category. We especially have benefitted from a more than 40% increase in branded soils and even higher gains in consumer purchases for most of our Ortho insect control business." (Source: ibid, Scotts Miracle-Gro Co, July 29, 2020.)
This has resulted in blowout financial results. During the third quarter, Scotts crushed Wall Street estimates on both the top and bottom lines. Non-GAAP earnings came in at $4.50 per share, versus $3.64 per share during the same period in 2019. 
More impressively, management also raised its full-year earnings guidance. Executives now see sales growing by between six and eight percent and full-year non-GAAP earnings per share coming in between $4.95 and $5.15. This is absolutely spectacular given that most companies have lowered or eliminated their guidance in recent months. (Source: ibid, Scotts Miracle-Gro Co, July 29, 2020.)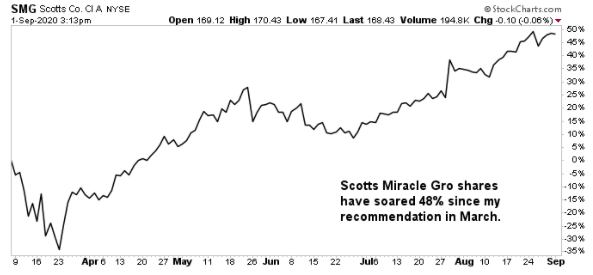 Chart courtesy of StockCharts.com
So, what will management do with all of that extra money?
For the most part, they're paying it out to shareholders. 
On the third-quarter conference call, Scotts executives announced a $5.00-per-share special dividend. Management also said they will boost the regular quarterly distribution by seven percent to $0.62 a share. That brings the forward yield on the stock up to 1.5%. (Source: ibid, Scotts Miracle-Gro Co, July 29, 2020.)898
This all represents an enormous vote of confidence in the underlying business and bodes well for Scotts shares in 2020 and beyond.