This Little-Known Dividend Stock Has Raised Its Dividend for 20 Years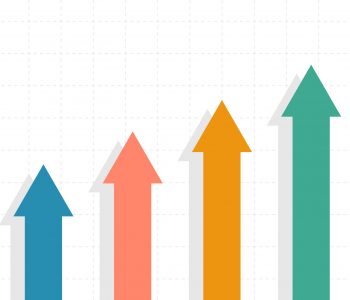 iStock.com/champc
This Dividend Stock Keeps Beating the Market; Here's Why
For the past 20 years, this little-known dividend stock has provided a lucrative income stream. Yet I'll bet dollars to donuts most people have never heard of it.
This business has delivered returns comparable to Tesla Inc (NASDAQ:TSLA), Apple Inc. (NASDAQ:AAPL), and Amazon.com, Inc. (NASDAQ:AMZN). But in the mainstream press, the company has received almost no coverage.
More importantly, this firm hasn't skipped a single dividend payment since going public in 2001. Over the past five years, it has shelled out $3.6 billion to investors. And management has boosted the payout on 19 occasions.
I'm talking about Magellan Midstream Partners, L.P. (NYSE:MMP).
Now, you may be asking yourself why you've never heard of this impressive business before. That might be because Magellan is a master limited partnership (MLP).
Most income investors haven't heard of this asset class before, which is why they tend to stick to traditional dividend stocks. But MLPs represent exactly the kind of off-the-radar investment I look for to feature in my premium advisory, Automated Income.
Thanks to a number of tax loopholes, MLPs pay almost no corporate income taxes. But in exchange for this privilege, their executives must pass on at least 90% of the company's income to investors.
That means MLPs can deliver returns and pay dividend yields that far exceed a regular dividend stock.
Magellan funds these distributions with its energy distribution network.
In total, the partnership owns over 11,000 miles of pipeline, which ship millions of barrels of oil and gas each day. Management supplements this income stream through its collection of energy terminals and storage facilities. (Source: "Who is Magellan Midstream Partners?," Magellan Midstream Partners, L.P., last accessed October 8, 2019.)
These properties serve as the "toll roads" of the oil patch. Rather than drilling for energy itself, Magellan is content to collect a small fee on each barrel that flows through its network.
This toll income topped $2.1 billion in 2015, $2.2 billion in 2016, $2.6 billion in 2017, and $2.9 billion in 2018. That track record looks all the more impressive when you consider that energy prices crashed during this period.
You can attribute that performance to several factors.
First, while oil prices can swing wildly, volumes do not. The total number of barrels flowing through Magellan's network tends to remain steady from year to year. That results in predictable fee income.
Moreover, pipelines face little competition. A new route running parallel to an existing line would only split the business between two points. That tends to result in an unprofitable situation for both companies.
Even if you wanted to build a competing line, new entrants face steep barriers. New routes cost billions of dollars to construct. Pipelines also require the green light from regulators.
And as anyone who has followed the energy industry in recent years knows, landowners and environmentalists provide stiff resistance to new developments.
That allows Magellan to jack up the tolls on its existing routes. In 2018, management hiked fees on existing routes by four percent. Through the first half of 2019, executives passed on another five percent price increase. (Source: "Citi Midstream / Energy Infrastructure Conference," Magellan Midstream Partners, L.P., August 15, 2019.)
All of that money flows straight to the bottom line.
This entrenched market position explains why Magellan's dividend has climbed for years. The company is a marquee member of the Dividend Champions, an exclusive club reserved for dividend stocks that have boosted their payouts for at least 10 straight years.
At today's price, Magellan Midstream Partners stock offers a nice 6.2% yield, about three times more than the average company in the S&P 500.
Combine that with Magellan's 2,200% total return over the past two decades and it's easy to see why Wall Street insiders love this dividend stock.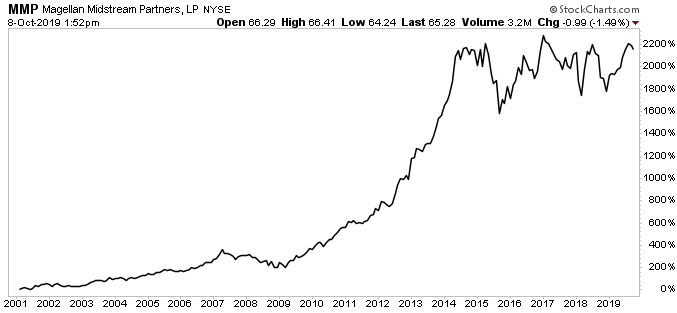 Chart courtesy of StockCharts.com
Bottom line: few people have heard of Midstream Partners, L.P., but this dividend stock has delivered reliable income for the past two decades. And I'm fully confident that MMP stock investors will be collecting dividends for many, many years to come.