McDonald's Corp Serves up Some Tasty Returns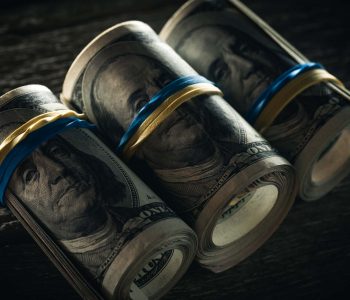 Savvy Marketing Boosts McDonald's Corp Sales, Stock Price
McDonald's Corp (NYSE:MCD) has struggled this year under the weight of increased competition, tight margins, and pandemic shutdowns. But Wall Street, it seems, hasn't noticed.
Since shares of the burger giant bottomed in mid-March, McDonald's stock has posted a total return, including dividends, of 56%. And several research outfits, including BMO, Jefferies, and Morgan Stanley, raised their 12-month price targets.  (Source: "McDonald's Corporation (MCD)," Yahoo! Finance, last accessed October 15, 2020.)
Investors have good reason to expect more upside ahead.
Admittedly, McDonald's Corp faces a number of challenges. Rolling government shutdowns have crippled operations. Those disruptions resulted in a 24% decline in same-store sales during the second quarter. Bottom-line profits fell by a jaw-dropping 68% compared to the same period in 2019. (Source: "Coronavirus Pandemic Squeezes McDonald's Profit," The Wall Street Journal, July 28, 2020.)
But even before COVID-19 struck, McDonald's struggled to fend off rising fast-casual dining chains, long wait times, and soaring labor costs. The company's brand image, known mostly for pushing cheap, processed, and unhealthy meals, has always struggled to connect with millennials. Yet efforts to address these issues have started to pay off.
McDonald's Corp attributed a bump in third-quarter sales to a reduction in average wait times at drive-throughs—a bottleneck executives have long struggled to fix. By simplifying the company's menu, employees could prepare and serve up meals faster. Getting more cars through the service window, quite intuitively, means more money in the cash register. And by keeping line-ups small, McDonald's avoids losing customers scared of a long wait.
New menu and marketing deals have also allowed McDonald's to gain market share, particularly among younger customers. The company rolled out "Spicy Chicken McNuggets," "Mighty Hot Sauce," and the "Chips Ahoy! McFlurry" last month, which turned out to be a big hit with customers. The new offerings quickly sold out in stores across the country. And industry experts have speculated that the limited-time offerings could become permanent additions to the menu. (Source: "McDonald's new Spicy Chicken McNuggets are on the verge of selling out," Today, October 3, 2020.)
McDonald's Corp also surprised industry analysts by signing rap star Travis Scott to a marketing deal. The company released a meal bearing the musician's name, consisting of a "Quarter Pounder" with bacon, lettuce, and cheese,  fries with barbecue sauce, and a "Sprite," in addition to heavily promoting the partnership on television and Instagram. Some stores reported overwhelming demand for the new menu offering, though company executives refused to disclose specifics. And downloads of the McDonald's Corp app, which customers needed to purchase the promotional deal, spiked 20% from September 15 to September 30 compared to two weeks earlier. (Source: "McDonald's Adds Reggaeton Star J Balvin to Menu of Collaborators," The Wall Street Journal, October 5, 2020.)
All of these efforts have started to show up in McDonald's Corp's financial results. Earlier this month, executives said that U.S. same-store sales rose nearly five percent during the third quarter. That figure crushed the consensus Wall Street estimate, sparking a bidding war for shares in after-hours trading. (Source: "McDonald's Reports Third Quarter 2020 Comparable Sales, Raises Quarterly Cash Dividend And Announces November Investor Update," McDonald's Corp, October 8, 2020.)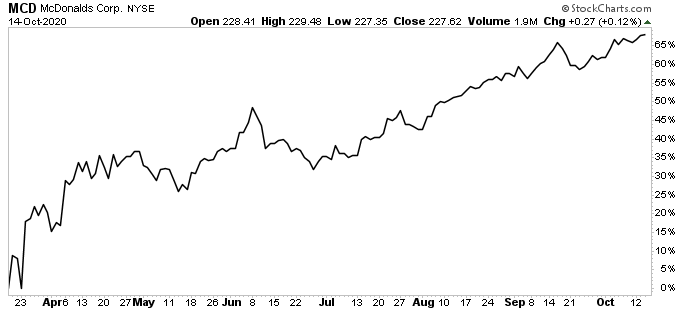 Chart courtesy of StockCharts.com
Robust financial results have also allowed executives to reward shareholders. In the same report, the company announced it would hike its quarterly dividend three percent to $1.29 per share. This measure represents an enormous vote of confidence in the underlying business on the part of management and boosts the forward yield on McDonald's stock to 3.7%.
"Our prior investments in these areas position us to further our competitive advantage and enable restaurant crew to continue to safely provide customers our great tasting food," McDonald's President and Chief Executive Officer Chris Kempczinski wrote in a note to shareholders.
"Today's dividend increase reflects our strong financial position and represents continued confidence in our ability to drive profitable growth and long-term shareholder value while still investing in our people and the business." (Source: Ibid, McDonald's.)
All of this bodes well for the burger giant's prospects. Shareholders have good reason to expect that McDonald's stock will continue serving up tasty returns.