Kimberly Clark Corp's Profits Keep Powering Higher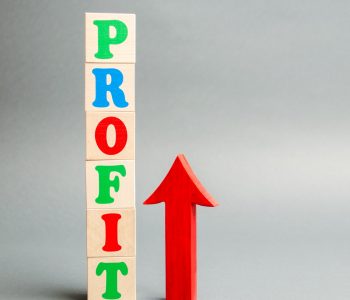 Kimberly Clark Corp Profits Rise on Higher Prices
When Kimberly Clark Corp (NYSE:KMB) hiked prices by more than five percent to offset rising commodity costs, something unexpected happened: shoppers barely noticed.
Kimberly Clark Corp's unit volumes actually increased two percentage points during the second quarter as most people stocked up on "Huggies" diapers and "Cottonelle" bathroom tissue. Driven by the combination of higher prices and steady demand, Kimberly's first-quarter sales and profit crushed analysts' expectations, sending shares to fresh all-time highs. (Source: "Kimberly-Clark Announces Second Quarter 2020 Results," Kimberly Clark Corp, July 23, 2020.)
And it makes sense when you think about it. Even in a recession, people still need household staples like soap, baking soda, and cleaning supplies. So, it's no surprise to see that the companies manufacturing these type of products have held up well through the pandemic.
That's especially true for Kimberly Clark Corp. Thanks to its collection of well-known brands, the paper products manufacturer enjoys pricing power that's the envy of other companies. Entrenched relationships with retailers, which allow management to secure the best shelf space, are another big plus for the 148-year-old company.
Despite a challenging economic backdrop, Kimberly Clark Corp's organic sales have surged over the past few years, supported by higher prices, new product rollouts, and an emphasis on digital marketing. In combination with cost cuts—the company has trimmed its workforce, shuttered old factories, and outsourced parts of the production process—bottom-line profits have grown even faster.
These efforts have resulted in outstanding returns for shareholders. Over the past five years, Kimberly Clark stock has posted a total gain, including dividends, of 61.6%. This handily beats the S&P 500 Consumer Staples index, which posted a return of only 55.9% over the same period.
Management has passed much of those growing profits on to investors. Including a four-percent bump last March, Kimberly Clark Corp has increased its dividend by 78% over the past decade. These collective actions have raised the forward yield on its shares to 2.9%.
And more increases are almost certainly on the way.
In July, executives reinstated their earnings guidance, projecting that full-year sales will grow between one and two percent for 2020. (Source: "Kimberly-Clark Reinstates 2020 Guidance, Higher Than Previous Range," Morningstar, July 23, 2020.)
Such a statement represents a remarkable vote of confidence in the underlying business on the part of management. And it bodes well for income investors going forward.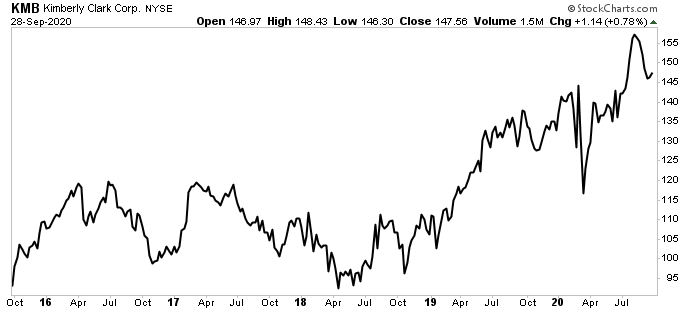 Chart courtesy of StockCharts.com
To be clear, shares aren't cheap. With an earnings multiple closing in on 20-times 2020 estimated profits, investors have been assuming that Kimberly Clark Corp will continue to post robust financial results. But if numbers come in lighter than expected, the stock could come under pressure.
The rich valuation explains why nine of the 16 analysts who follow the business rate shares as a "Hold," with only two "Buys" and one "Strong Buy." The average price target for the next 12 is $159.00 a share—a modest eight-percent premium to the stock's most recent closing price of $147.00.
But the paper products giant continues to find ways to raise the bar.
Earlier this month, Kimberly-Clark announced the $1.2-billion acquisition of Softex Indonesia, which will expand the company's footprint in that fast-growing country. Its largest investments in marketing, especially the company's recent digital initiatives like paid-clicks and social media ads, have started to bear fruit.
Kimberly-Clark Corp's profits continue to power higher. And investors have good reason to expect the share price to rise in lock-step.