Ennis, Inc. One of "the Best Dividend Stocks You've Never Heard Of"?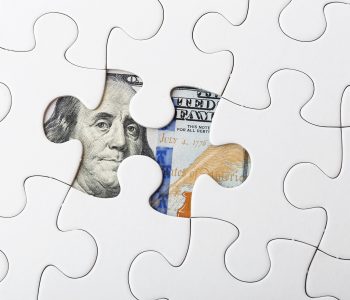 The Best Dividend Stocks for 2020…and Beyond
I have long touted these names as "the best dividend stocks you've never heard of."
This area of the market often gets ignored by most investors. So, for years, I have urged my subscribers to study these little-known companies, because they often deliver outsized dividend payments to shareholders.
These income-producing businesses generate outsized profit margins and free cash flow. For that reason, it's not uncommon to see some companies paying out dividend yields as high as 5%, 7%, and even 12%.
I'm talking specifically about the top small-cap companies in the country.
And one of the best dividend stocks in this space: Ennis, Inc. (NYSE:EBF).
Ennis is one of the largest suppliers of business forms in the United States. The company also manufactures other office supplies like checks, envelopes, and financial documents.
Yet this boring business has produced some exciting returns. Since late-2009, Ennis has produced a total return, including dividends, of 267%. And, since 1980, the value of each share has increased more than 100-fold in value.
Even during the 2008 financial crisis and the recent COVID-19 pandemic, Ennis has continued paying dividends to shareholders. Today, management mails out a check of $0.23 per share. That comes out to an upfront yield of five percent at the current share price.
The secret to the company's success is two-fold.
Firstly, Ennis doesn't have to innovate. While companies that develop new technologies are exciting, their production process is also expensive. And, if a business fails to keep up with the latest trends, it can quickly fall by the wayside (just ask BlackBerry Ltd [NYSE:BB] and Nokia Oyj [NYSE:NOK] shareholders).
But firms that make the same great product year after year don't face this problem. They also don't have to invest piles of cash into research and development. That means more money left over at the end of the day to pay shareholder-friendly dividends and stock buybacks.
Secondly, Ennis has virtually no following on Wall Street. Only one analyst covers the business. And many mutual funds consider the stock too small to include in their portfolios.
This, it turns out, is actually a good thing. Low investor demand keeps the company's valuation depressed. A depressed valuation leads to high dividend yields. And high dividend yields, compounded over years and decades, lead to outrageous returns.
Popular dividend stocks, like Johnson & Johnson (NYSE:JNJ), Exxon Mobil Corporation (NYSE:XOM), and Procter & Gamble Co (NYSE:PG), have similar characteristics. But given that everyone already knows these names, everyone wants to buy them. As a result, you often have to wait a long time to buy these top dividend stocks at reasonable prices.
But I'd bet that not one person in 100 has heard of Ennis. The company has all the same attributes as some of the best dividend stocks, like Exxon and Johnson & Johnson. It just so happens to be much, much smaller.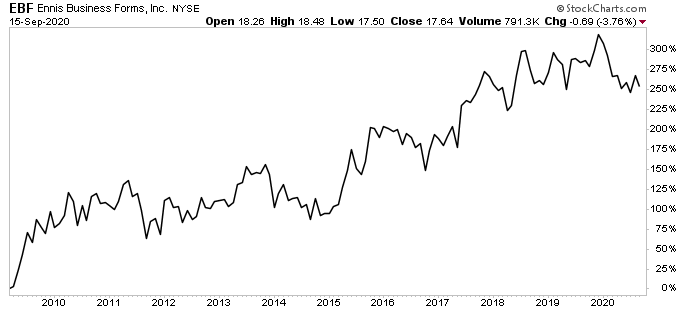 Chart courtesy of StockCharts.com
I've been urging subscribers of my paid advisory Retirement Riches to look into small-cap dividend stocks like Ennis for a while. Many of these names still often respectable payouts, even with the stock market soaring to all-time highs.
But I don't think they will remain a secret for long. Every so often, I see one of these companies getting coverage in the mainstream press. And with income investors desperately searching for yield, it won't be long until they start uncovering these businesses.
If you're interested in this kind of income, be sure to add these names to your watch list soon.