As Farming Goes High Tech, Deere & Company Poised to Soar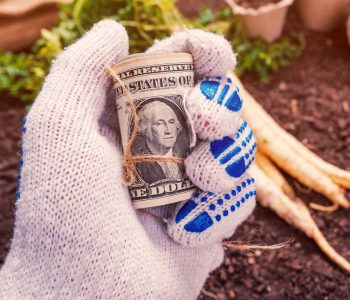 New Technologies Send Deere & Company to All-Time Highs
It's another quarter on the books, and it's another round of record dividends from Deere & Company (NYSE:DE).
Long-time subscribers know that inclusion in my Retirement Riches paid advisory is strictly reserved for companies that pay safe, large, and growing dividends to their shareholders. And Deere & Company represents another member of this elite group.
For almost two centuries, the company has stood as a leading supplier of industrial equipment for farmers. And in more recent years, management has supplemented these income streams by expanding into construction equipment and farmer financing.
Billionaire Warren Buffett has built his fortune in dividend stocks like Deere. And he willingly shared the secret behind the group's systematic wealth creation: it's all about investing in companies with deep, long-standing relationships with customers. Or to put it another way, there's a lot of money to be made investing in the world's top brands.
Deere & Company manufactures everything from tractors and combines to sprayers and harvesters. These machines have been created with durability in mind since the company opened its doors in 1837. As a result, the John Deere brand has become synonymous with quality.
This has created a legion of ravenous fans behind the company. In a recent issue of Farm Equipment Magazine, 77% of "John Deere" tractor owners describe themselves as brand loyal. And fewer than half of long-time customers would ever even consider buying equipment from another manufacturer. (Source: "Most U.S. Farmers Remain Loyal to 'Their' Equipment Brand," Farm Equipment Magazine, August 25, 2017.)
This puts the company in a fortunate position. Other manufacturers have to compete on price to win business. Deere & Company, in contrast, can constantly charge the highest prices without the fear of losing market share to rivals. This allows the business to generate profit margins in the same league as top dividend stocks such as Johnson & Johnson (NYSE:JNJ), Procter & Gamble Co (NYSE:PG), and Coca-Cola Co (NYSE:KO).
But here's what really sets Deere & Company apart from rivals. In recent years, management has developed a suite of new technology products they have dubbed "Precision Ag." In exchange for a monthly subscription fee, farmers can use these technologies to better manage their operations. And by extension, boost the profitability of their businesses. (Source: "Technology Products – Precision Ag Technology," https://www.deere.ca/en/technology-products/precision-ag-technology/#do-more, John Deere Company, last accessed September 27, 2020.)
These growing subscription revenues have become an important source of income for Deere & Company. In the past year, for instance, plunging crop prices have forced farmers to dial back equipment purchases. This has resulted in plunging sales, margins, and profits for equipment manufacturers. (Source: "Tractor Sales Stall on Trade Woes in the Farm Belt," https://www.wsj.com/articles/tractor-sales-stall-on-trade-woes-in-the-farm-belt-1543770011, The Wall Street Journal, December 12, 2018.)
Yet Deere & Company has held up relatively fine. Last quarter, the company posted only a small dip in sales and blowout profit numbers, crushing the consensus estimates on Wall Street. Management, in fact, raised their earnings outlook for the upcoming year, predicting strong growth in subscription revenue. (Source: "Deere Reports Third Quarter Net Income of $811 Million," Deere & Company, August 21, 2020.)
"Although unsettled market conditions and related customer uncertainty are expected to have a moderating effect on key markets in the near term, we believe Deere is well-positioned to help make our customers more profitable and sustainable." the company's chairman and chief executive officer, John May, wrote in a note to shareholders. (Source: "Deere Reports Third Quarter Net Income of $811 Million," Deere & Company, August 21, 2020.)
"In addition, we are encouraged by the early benefits we are experiencing from the company's recently launched smart-industrial operating model. We're confident it will help accelerate our ability to deliver differentiated solutions to our customers, while contributing to improved efficiencies across the company."
For shareholders, this one-two combination has resulted in outstanding returns. Since late-2016, Deere & Company shares have posted a total return, including dividends, of 221%. And in September, shares closed in on a fresh all-time high.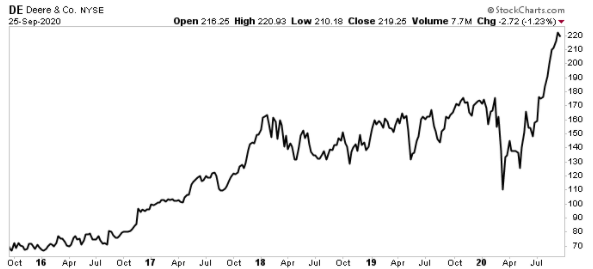 Chart courtesy of StockCharts.com
Deere & Company has also passed on an enormous amount of wealth to shareholders in the form of dividends. Over the past decade, management has almost tripled the payout to investors. Today, the stock pays a quarterly dividend of $3.04 apiece, which comes out to an annual yield of 1.4%.
That dividend will likely keep growing, too. Analysts project ever-increasing demand for farm equipment as the world struggles to feeds a growing population on dwindling supplies of arable land. And, in recent years, management has expanded into the lucrative world of construction equipment.
This should mean more in the way of large, growing cash payouts from Deere & Company.