This Little-Known Real Estate Stock Raises Its Dividend Every Quarter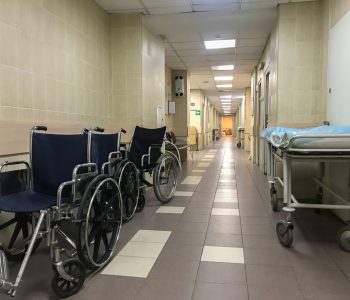 A Dividend Growth Stock You Likely Haven't Considered
In the stock market, most dividend-paying companies would be proud if they could increase their payout every year. As a matter of fact, due to the impact from the COVID-19 pandemic, just being able to maintain the dividend is probably good enough to satisfy most shareholders. And yet, despite the extraordinary economic environment, one little-known company continues to raise its payout every quarter.
I'm talking about Community Healthcare Trust Inc (NYSE:CHCT), a real estate investment trust (REIT) headquartered in Franklin, Tennessee. As the name suggests, Community Healthcare Trust focuses on healthcare properties. At the end of June 2020, the company's portfolio consisted of 131 properties totaling approximately 2.8 million square feet. (Source: "Investor Presentation August 2020," Community Healthcare Trust Inc, last accessed August 27, 2020.)
CHCT stock completed its initial public offering (IPO) in 2015, so it is a relatively new name to stock market investors. With a market capitalization of around $1.0 billion, the company is not really a big player in the real estate business. To give you an idea, Welltower Inc (NYSE:WELL) and Ventas, Inc. (NYSE:VTR)—two REITs that also specialize in healthcare facilities—each command well over $10.0 billion of market capitalization.
Still, Community Healthcare stock deserves investor attention because of its distributions during this challenging time.
On August 3, the board of directors of Community Healthcare Trust Inc declared a quarterly cash dividend of $0.4225 per share to be paid on August 28, 2020 to shareholders of record as of August 17. The amount represented a 0.6% increase from the company's prior quarterly dividend payment. (Source: "Community Healthcare Trust Incorporated Announces Increased Second Quarter Dividend," Community Healthcare Trust Inc, August 3, 2020.)
A 0.6% increase may not seem like much. But keep in mind that we are currently in a time when dividend cuts are not uncommon, even in the healthcare REIT industry. For instance, Welltower and Ventas—two large healthcare REITs that I mentioned earlier—have both cut their dividends in light of the pandemic.
Moreover, since Community Healthcare Trust Inc went public, it has increased its dividend every single quarter. (Source: "CHCT Dividend History," Nasdaq, last accessed August 27, 2020.)
Trading at $47.36 per share, CHCT stock offers an annual dividend yield of 3.5%.
Now, given that the bigger players in the industry have reduced their dividends, you might be wondering whether this healthcare REIT can afford this level of payout.
Well, a look at the latest earnings report should be reassuring.
In the second quarter of 2020, Community Healthcare Trust Inc generated $17.8 million in rental income, which represented a 33.5% increase year-over-year. Adding in the company's other operating interest, the REIT's total revenue grew 27.7% year-over-year to $18.3 million. (Source: "Community Healthcare Trust Announces Results for the Three Months Ended June 30, 2020," Community Healthcare Trust Inc, August 4, 2020.)
Adjusted funds from operations, a critical measure of a REIT's operating performance, came in at $0.52 per share in the second quarter of this year. This marked a substantial improvement from the $0.42 per share it earned in the year-ago period. And considering that CHCT declared and paid a cash dividend of $0.42 per share during the second quarter of 2020, the company's adjusted funds from operations covered the payout with ease.
Looking at its portfolio, the REIT's occupancy rate remained at a fairly stable 89.5% at the end of June. (Source: "Investor Presentation August 2020," Community Healthcare Trust Inc, op. cit.)
It also helps that the portfolio is diversified across tenant, geography, property type, and industry segment. Community Healthcare Trust Inc owns medical office buildings, physician clinics, surgery centers, hospitals, and long-term acute care centers, just to name a few. These facilities are leased to approximately 190 separate tenants across 33 states. Therefore, if one tenant or one region encounters some problems, the impact on the REIT's company-level financials will likely be limited.
Of course, the impact of the COVID-19 pandemic was global and across industries. So, how is the healthcare REIT's portfolio holding up during this tough period?
Well, in the company's latest earnings conference call, Chairman, President, and Chief Executive Officer Timothy Wallace said, "As of July 31, the company has entered into or anticipates entering into deferral agreements with approximately 20 tenants, representing less than 1% of our annualized rent."(Source: "Community Healthcare Trust, Inc. (CHCT) CEO Timothy Wallace on Q2 2020 Results – Earnings Call Transcript," Seeking Alpha, August 5, 2020.)
He continued, "The company is generally providing tenants with 2 to 4 months of base rent deferral and the tenant continues to pay operating expenses. Pursuant to these agreements, the tenants are generally required to repay the deferred amounts in equal monthly installments during the third and fourth quarters of 2020."
Since the coronavirus outbreak, some REITs have been reporting the percentage of rent collected. While Community Healthcare Trust has not historically measured that metric, management did say that the receivables "are in the best shape they've been in." (Source: Ibid.)
Bottom Line on Community Healthcare Trust Inc
With a well-diversified portfolio, strong financials, and a low deferral rate, Community Healthcare Trust Inc should be able to keep collecting rent despite the challenging economic environment.
In an era when we've seen dividend cuts from numerous industries, the small dividend increase from CHCT stock represents a big sign of strength.