George Soros Earning 10.2% Payout from This High-Yield Dividend Stock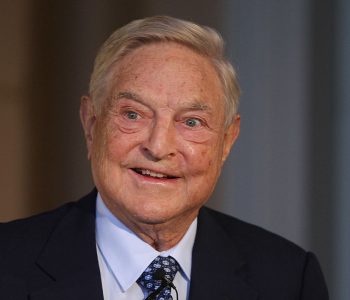 (Photo by Sean Gallup/Getty Images)
George Soros Plows Millions into This High-Yield Dividend Stock; Here's Why
It's one of my favorite high-yield dividend stocks…and apparently, legendary investor George Soros agrees with me.
The company is Blackstone Mortgage Trust Inc (NYSE:BXMT).
Originally spun off from private-equity giant Blackstone Group Inc (NYSE:BX), this real estate finance company lends money to commercial real estate companies in Europe, Australia, and North America. Management then pays these interest coupons out to unitholders in the form of large, growing distribution payments.
That business, as you'd might expect, took a big hit during the COVID-19 pandemic. Much of Blackstone's mortgage portfolio includes loans to office, retail, and other commercial properties. But government lockdowns have turned these buildings into veritable ghost towns.
This could eventually result in defaults in the months ahead. With tenants struggling to pay their bills, landlords have seen their rental income dry up. And eventually, those losses will trickle down to the lenders financing these deals.
That said, Blackstone Mortgage Trust has held up far better than expected.
Last quarter, the partnership crushed Wall Street's top-line expectations. Blackstone's earnings also came in at $0.56 per share, beating the consensus analyst estimate by 14%. (Source: "Blackstone Mortgage Trust Reports Second Quarter 2020 Results," Blackstone Mortgage Trust Inc, July 29, 2020.)
The explanation for these strong results comes from some savvy management decisions ahead of the crisis. The bulk of the company's loan book consists of "senior" mortgages, which means the partnership stands first in line to get paid in the event of a default. So, even with some tenants failing to make payments, the actual risk to Blackstone unitholders remains limited.
Furthermore, executives have taken advantage of the crisis to strengthen their business going forward.
During the second quarter, Blackstone raised a total of $607.0 million in debt and equity capital during the second quarter, raising the partnership's cash on hand to over $1.0 billion. This leaves management with ample liquidity to navigate the current crisis. And, more importantly, it puts the partnership in the driver seat to take advantage of high-return opportunities as they begin to arise. (Source: Ibid.)
In the meantime, unitholders can lock in a respectable income stream.
Much to the surprise of Wall Street, Blackstone has opted to continue paying distributions to investors. Today, the trust pays a quarterly dividend of $0.62 per unit, which comes out to an annual yield of 10.2%. That represents a big vote of confidence in the underlying business and it's a sign that management sees an industry turnaround in the months ahead.
So, it's no surprise to see that smart money has caught on to this high-yield dividend stock.
According to recent filings with the U.S. Securities and Exchange Commission (SEC), billionaire George Soros has quietly purchased an 8.5-million-unit stake in the business.
Based on the time of the filing, he likely paid between $25.00 and $27.00 per unit—slightly higher than where the stock trades right now. (Source: "Soros Fund Management LLC – 13F," SEC, August 14, 2020.)
Moreover, five Wall Street investment banks have slapped a "Buy" rating on the real estate trust.
And, just recently, JPMorgan Chase & Co. issued a bullish report, practically begging their clients to get in. (Source: "Blackstone Mortgage Trust, Inc. (BXMT)," Yahoo! Finance, last accessed September 7, 2020.)
What could George Soros and all of these investors see in this high-yield dividend stock?
I'd say it means one thing.
Blackstone Mortgage Trust Inc has a lot more upside ahead.